Hawk Talk 11/11
Posted November 11, 2022
THANK YOU to all who were able to join us last night at Postino's to support Hill ARTS and the Hill Annual Fund! A huge Thank You to Marina at Where Wood Meets Steel for the beautiful wood slab donated for our Art Project, Joy Wine and Spirits and Mayfair Liquors for their generous donation of wine and of course, to Mrs. Novy and her students for their amazing Art Wine labels!
Hill Staff Thanksgiving Luncheon
Let's show the 90 staff members at Hill how thankful we are for them by serving them a Thanksgiving Luncheon on Wednesday November 16th, 2pm-4pm. The Hill PTSA is providing turkey and ham but we need your help with the rest, please sign up HERE to provide a side dish or to help out that afternoon. Thank you for supporting our amazing staff!
Canned Food Drive – Help us fill our Harvest Baskets. 
Hill's Canned Food Drive will conclude on Wednesday, November 16, we currently have 218 items (Marigold-90, Navy 128) in our drive. Each food item donated will earn your Legacy Squad one point! Navy and Marigold collection boxes are located in the Main Office (Room 135) and points will be tallied at the end of each day.
Our goal is to provide 100 Hill Families in need with enough food to help them get through the week of November Break. The last day to drop off food is Wednesday, November 16th or cash donations can be made anytime HERE. Thank you for supporting your Legacy Squad and the Hill Middle School Community!
Families who would like to receive a Harvest Basket should complete this form to be added to our list. We will contact you the week before School Break with details for distribution.
Thanksgiving Sign-up
Show Hill teachers and staff how thankful you are for all they do! Click to sign up to bring food and other items for next Wednesday's meal- https://www.signupgenius.com/go/4090A48AFA929A46-hill1
Sneaker Ball Eligibility and Details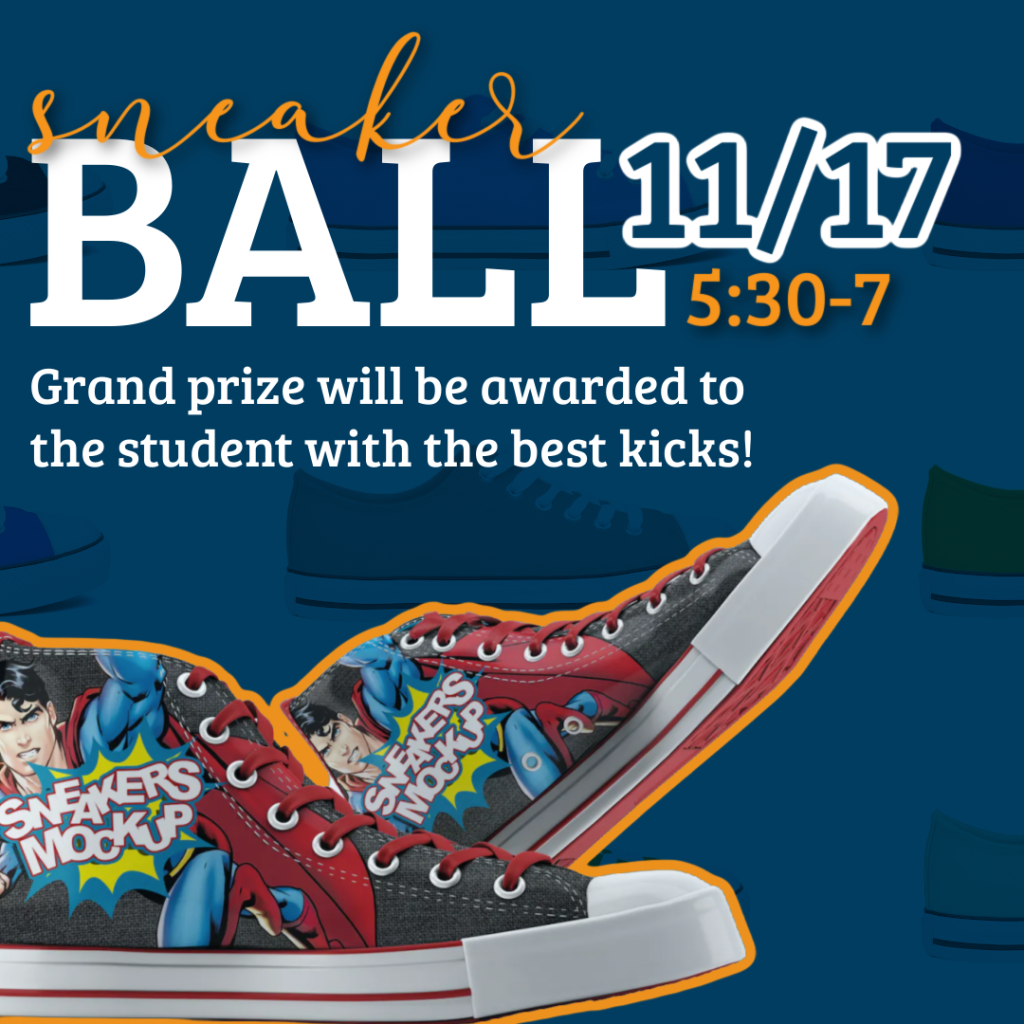 In order to attend the Sneaker Ball students must meet the following to be eligible.
No more than 4 tardies to blocks 2-5 from Nov 7 – Nov 17
No major behavior incidents
Students not meeting these requirements will not be allowed to attend.
Date: Nov. 17
Time: 5:30-6:45pm
Where: Hill Gymnasium
Cost: $3 @ the door
College Pennants for Office of Academics
Show your pride for your Alma Mater by donating the pennant of your college/university to the Office of Academics! We will hang them for kids to have specific colleges that the can aspire to attend. Drop them off in the main office. We would love representation from all over the US!
Attendance Email
Hill Families, we have a new attendance email that you can use in lieu of the attendance phone line. Please email hillattendance.groups@dpsk12.net with your student's name, parent/guardian name, parent/guardian phone number, and the reason for the absence. You may still call in your student's attendance, but this can be helpful for many families.
Hill PTSA Annual Fund
The Hill PTSA Annual Fund is a year-long direct donation campaign and will be our only primary fundraiser for the 22-23 school year. To reach our goal of $65,000 and to continue to support important programs at Hill, our suggested donation amount is $100 per student. To learn more about what these essential donations are used for at Hill and to donate now, go to https://www.coloradogives.org/story/Hillptsaannualfund.
Upcoming Calendar
Nov 16 Early Release Day, 8am-12pm
Nov 17 Sneaker Ball, 5:30pm – 6:45pm
Nov 21-25 No School – November Break, Enjoy!
Nov 28 Classes Resume
Dec 6 CSC Meeting
Dec 7 Early Release Day 8am-12am
---
Colecta de alimentos enlatados: ayúdenos a llenar nuestras canastas de cosecha.
La colecta de alimentos enlatados de Hill concluirá el miércoles 16 de noviembre. Actualmente tenemos 218 artículos (Marigold-90, Navy 128) en nuestra colecta. ¡Cada artículo de comida donado le otorgará un punto a su Legacy Squad! Los buzones de recolección de Navy y Marigold están ubicados en la oficina principal (salón 135) y los puntos se contarán al final de cada día.
Nuestro objetivo es proporcionar a 100 familias de Hill que lo necesitan alimentos suficientes para ayudarlos a pasar la semana de las vacaciones de noviembre. El último día para dejar comida es el miércoles 16 de noviembre o las donaciones en efectivo se pueden hacer en cualquier momento AQUÍ. ¡Gracias por apoyar a Legacy Squad ya la comunidad de Hill Middle School!
Las familias que deseen recibir una canasta de cosecha deben completar este formulario para agregarse a nuestra lista. Nos pondremos en contacto con usted la semana antes de las vacaciones escolares con detalles para la distribución.
Inscripción de Acción de Gracias
¡Muestre a los maestros y al personal de Hill lo agradecido que está por todo lo que hacen! Haga clic para registrarse para traer alimentos y otros artículos para la comida del próximo miércoles: https://www.signupgenius.com/go/4090A48AFA929A46-hill1
Elegibilidad y detalles de Sneaker Ball
Para asistir a Sneaker Ball, los estudiantes deben cumplir con lo siguiente para ser elegibles.
No más de 4 tardanzas a los bloques 2-5 del 7 al 17 de noviembre
Sin incidentes de comportamiento importantes
Los estudiantes que no cumplan con estos requisitos no podrán asistir.
Fecha: 17 de noviembre
Hora: 5:30-6:45 p.m.
Dónde: Gimnasio Hill
Costo: $3 en la puerta
Banderines universitarios para la Oficina de Académicos
¡Muestre su orgullo por su Alma Mater donando el banderín de su colegio/universidad a la Oficina de Asuntos Académicos! Los colgaremos para que los niños tengan universidades específicas a las que puedan aspirar a asistir. Déjalos en la oficina principal. ¡Nos encantaría la representación de todo Estados Unidos!
Correo electrónico de asistencia
Familias de Hill, tenemos un nuevo correo electrónico de asistencia que puede usar en lugar de la línea telefónica de asistencia. Envíe un correo electrónico a hillattendance.groups@dpsk12.net con el nombre de su estudiante, el nombre del padre/tutor, el número de teléfono del padre/tutor y el motivo de la ausencia. Todavía puede llamar a la asistencia de su estudiante, pero esto puede ser útil para muchas familias.
Calendario próximo
16 de noviembre Salida temprano, 8 am-12 pm
17 de noviembre Sneaker Ball, 5:30 p. m. a 6:45 p. m.
21-25 de noviembre No hay clases – Vacaciones de noviembre, ¡Disfrútelo!
28 de noviembre Reanudación de clases
6 de diciembre Reunión del CSC
7 de diciembre Día de salida temprano 8 am-12 am