Hawk Talk 11/18
Posted November 18, 2022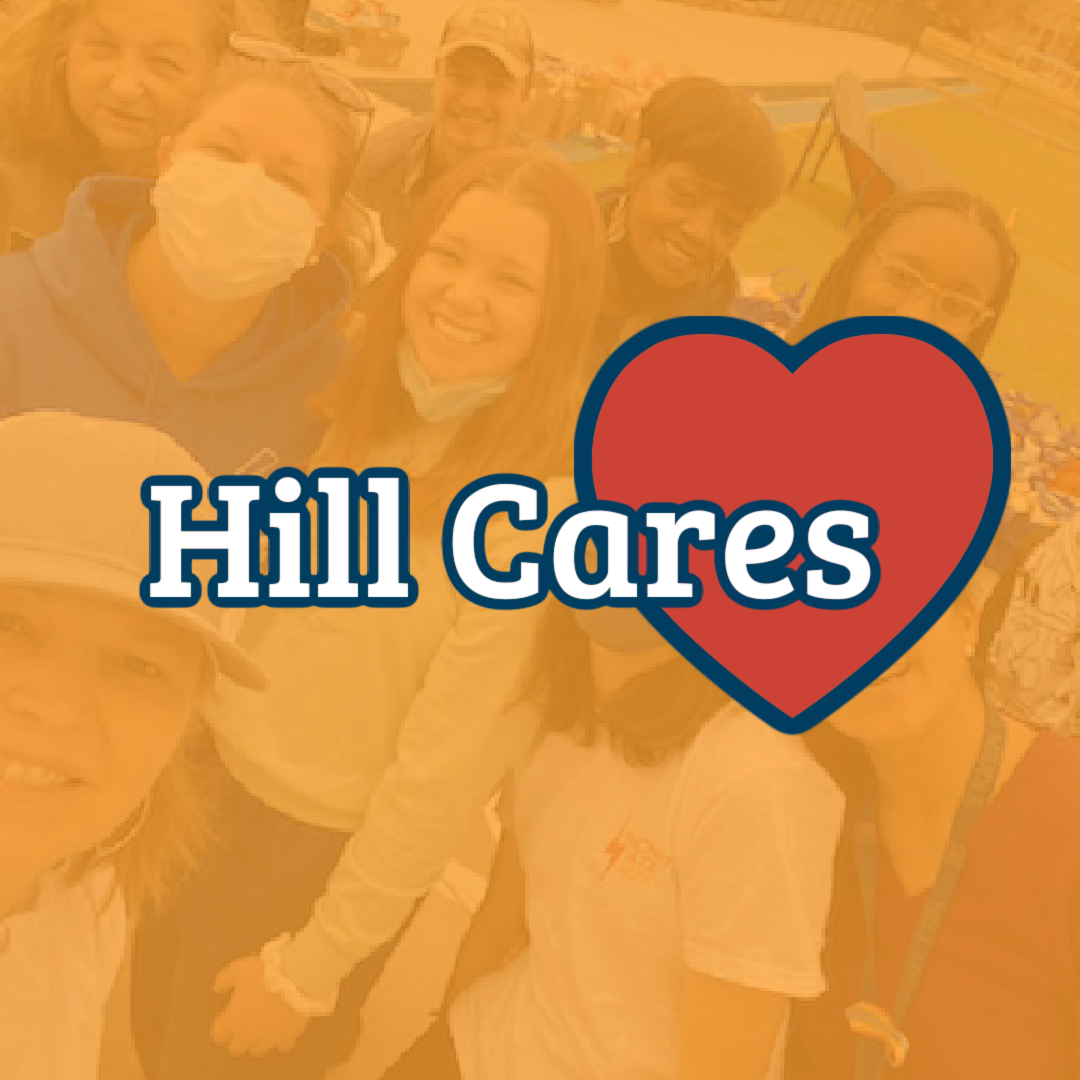 Thank you for Thanksgiving & Canned Food Drive
To all our Hill Families, a heartfelt thank you for your generosity for providing a delicious holiday meal for Hill Teachers and Staff on Wednesday. It was delicious and everyone appreciated the thought and effort of all the dishes. We also want to express our deep gratitude to all the students and families who contributed to the Canned Food Drive. We received 1,152 cans and other packages of dried, non perishable food. CONGRATULATIONS to Team Marigold for bringing in the most cans. They won the Canned Food Drive 732 cans to Navy's 420 cans!
Travel with Hill
Hello families! Hill Campus of Arts and Science is heading to Belize this summer, June of 2023, and we have a few spots still available! It is going to be an amazing adventure that highlights a lot of our social studies and science learning. If you have any questions about the trip, please email Kate Redmond at katie_redmond@dpsk12.org or check out our enrollment page: www.eftours.com/2556290CM  Enroll now to snag one of the last spots! Hope you choose to join us!  
Sign-up for Basketball
Winter sports are about to kick off and be underway. Next up for after school sports are Boys and Girls Basketball! We will send out details for tryout dates and additional info about rosters when we return from break! In order to try out you must complete a sports physical. Attached below are links to sign up, as well as the physical form!
Career Fair for 8th Graders
8th Graders will be going to an in-person Career Fair on Thursday, December 1. Read this letter for more information.
College Pennants for Office of Academics
Show your pride for your Alma Mater by donating the pennant of your college/university to the Office of Academics! We will hang them for kids to have specific colleges that the can aspire to attend. Drop them off in the main office. We would love representation from all over the US!
Hill Holidays
Hill Cares, Hill's Office Student Support, and Office of Family and Student Engagement plan on giving out over 70 Harvest Baskets for the Fall Break. For the holidays, the same groups are planning on distributing gifts to families in December. The Hill Cares Committee and Student Support are committed to making sure all families have gifts for the holidays, but we can really use your help!
Sponsor a Family: You can sign up here, and will be matched with a family when we return from Thanksgiving Break. Last year we had 25 families sponsored and supported almost 70 families with gifts. Sponsor a Family Sign-Up
Donate to Hill Cares: funds will go directly to purchasing gifts for families. Donate
Contribute items for Wish Lists: new PJ's for kids of all sizes, board/card games, legos, toys for toddlers, hats/gloves, fuzzy blankets, gaming gift cards (Microsoft, Sony PlayStation, Nintendo), other gift cards (Nike, Amazon, Victoria's Secret, Ulta, Dick's Sporting Goods).
Fill up a stocking: provide little items such as candy canes, lip balm, mini hand sanitizers, socks, etc.
All donations can be dropped off at Hill (451 Clermont Street), attn: Jennifer I. Thank you for your support!!
Hill PTSA Annual Fund
The Hill PTSA Annual Fund is a year-long direct donation campaign and will be our only primary fundraiser for the 22-23 school year. To reach our goal of $65,000 and to continue to support important programs at Hill, our suggested donation amount is $100 per student. To learn more about what these essential donations are used for at Hill and to donate now, go to https://www.coloradogives.org/story/Hillptsaannualfund
Upcoming Calendar
Nov 21-25 No School – November Break, Enjoy!
Nov 28 Classes Resume
Dec 6 CSC Meeting
Dec 7 Early Release Day 8am-12am
Dec 16 Quarter 2 Ends
---
Gracias por el Día de Acción de Gracias y la colecta de alimentos enlatados
A todas nuestras familias de Hill, un sincero agradecimiento por su generosidad al proporcionar una deliciosa comida festiva para los maestros y el personal de Hill el miércoles. Estaba delicioso y todos agradecieron la idea y el esfuerzo de todos los platos. También queremos expresar nuestra profunda gratitud a todos los estudiantes y familias que contribuyeron con la colecta de alimentos enlatados. Recibimos 1,152 latas y otros paquetes de alimentos secos no perecederos. FELICITACIONES al Equipo Marigold por traer la mayor cantidad de latas. ¡Ganaron la Colecta de alimentos enlatados 732 latas contra las 420 latas de Navy!
Viaja con Hill: ¡Hola familias! Hill Campus of Arts and Science se dirige a Belice este verano, junio de 2023, ¡y todavía tenemos algunos lugares disponibles! Va a ser una aventura increíble que resaltará mucho de nuestro aprendizaje de ciencias sociales y ciencias. Si tiene alguna pregunta sobre el viaje, envíe un correo electrónico a Kate Redmond a katie_redmond@dpsk12.org o consulte nuestra página de inscripción: www.eftours.com/2556290CM ¡Inscríbase ahora para obtener uno de los últimos lugares! ¡Espero que elijas unirte a nosotros!
Inscríbete en Baloncesto
Los deportes de invierno están a punto de comenzar y ponerse en marcha. ¡El próximo deporte después de la escuela es el baloncesto de niños y niñas! ¡Enviaremos detalles para las fechas de prueba e información adicional sobre las listas cuando regresemos de las vacaciones! Para probar debe completar un examen físico deportivo. A continuación se adjuntan los enlaces para registrarse, ¡así como el formulario físico!
Feria de carreras para estudiantes de 8vo grado
Los estudiantes de 8.º grado asistirán a una feria de carreras en persona el jueves 1 de diciembre. Lea esta carta para obtener más información.
Banderines universitarios para la Oficina de Académicos
¡Muestre su orgullo por su Alma Mater donando el banderín de su colegio/universidad a la Oficina de Asuntos Académicos! Los colgaremos para que los niños tengan universidades específicas a las que puedan aspirar a asistir. Déjalos en la oficina principal. ¡Nos encantaría la representación de todo Estados Unidos!
Vacaciones en la colina
Hill Cares
Hill's Office Student Support y Office of Family and Student Engagement planean repartir más de 70 canastas de cosecha para las vacaciones de otoño. Para las fiestas, los mismos grupos planean distribuir regalos a las familias en diciembre. El Comité Hill Cares y el Apoyo Estudiantil están comprometidos a asegurarse de que todas las familias tengan regalos para las fiestas, ¡pero realmente podemos usar su ayuda!
Patrocine a una familia: puede inscribirse aquí y se le asignará una familia cuando regresemos de las vacaciones de Acción de Gracias. El año pasado tuvimos 25 familias patrocinadas y apoyamos a casi 70 familias con regalos. Patrocine una inscripción familiar
Done a Hill Cares: los fondos se destinarán directamente a la compra de regalos para las familias.
Contribuya con artículos para las Listas de deseos: nuevos pijamas para niños de todos los tamaños, juegos de mesa/cartas, legos, juguetes para niños pequeños, gorros/guantes, cobijas afelpadas, tarjetas de regalo para juegos (Microsoft, Sony PlayStation, Nintendo), otras tarjetas de regalo (Nike, Amazon, Victoria's Secret, Ulta, Dick's Sporting Goods).
Llene un calcetín: proporcione pequeños artículos como bastones de caramelo, bálsamo labial, mini desinfectantes para manos, calcetines, etc.
Todas las donaciones se pueden dejar en Hill (451 Clermont Street), a la atención de: Jennifer I. ¡Gracias por su apoyo!
Fondo Anual Hill PTSA
El Fondo Anual de Hill PTSA es una campaña de donación directa de un año y será nuestro único recaudador de fondos principal para el año escolar 22-23. Para alcanzar nuestra meta de $65,000 y continuar apoyando programas importantes en Hill, nuestra donación sugerida es de $100 por estudiante. Para obtener más información sobre para qué se utilizan estas donaciones esenciales en Hill y para donar ahora, visite https://www.coloradogives.org/story/Hillptsaannualfund

Calendario próximo

21-25 de noviembre No hay clases – Vacaciones de noviembre, ¡disfrútelas!
28 de noviembre Reanudación de clases
6 de diciembre Reunión del CSC
7 de diciembre Día de salida temprano 8 am-12 am
16 de diciembre Finaliza el segundo trimestre