Get Involved (PTSA & More)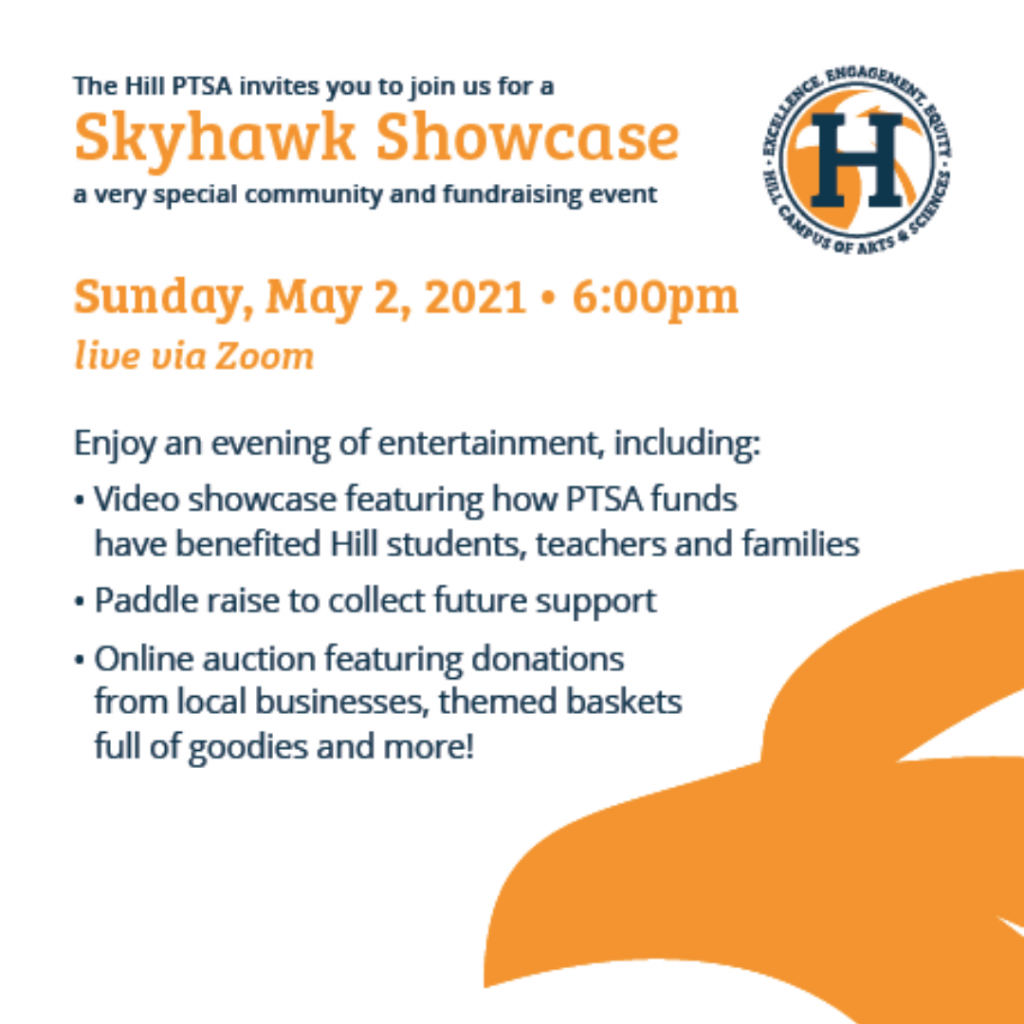 The Hill PTSA invites you to join us for a Skyhawk Showcase!
A Very Special Community and Fundraising Event
Sunday, May 2, 2021, 6:00pm
Live via Zoom Register here: https://hill.bebids.me
Enjoy an evening of entertainment, including:

• Video showcase featuring how PTSA funds have benefited Hill students, teachers and families
• Paddle raise to collect future support
• Online auction featuring donations from local businesses, themed baskets full of goodies and more!• Visit this webpage or stay tuned to school communications for information on how to register to bid, join the event and more!

Why we're having this event: Because of past fundraising success from our parents, the PTSA has been able to step in and provide much needed financial support to students, teachers and families last Spring and into this school year. Now, we are looking ahead and we are full of hope that the 21-22 school year will be amazing! And we are raising money to ensure that it is.
What we're raising money to support: Specifically, we hope to raise $30,000 to fund the following school & community priorities:
Teacher Grants – teachers often dip into their own pockets to pay for specialized equipment, subscriptions, etc. and the PTSA has a grant program to reimburse them.
Clubs – we are raising funds to incentivize and pay teachers to run after-school student clubs, since this is on their own time.
Mental Health – the PTSA has funded two semesters of mental health services by an outside provider and hope to raise enough to cover one more semester to take us through SY 21-22.
Hill Cares – this program provides crucial support to Hill families most in need, including grocery cards during COVID, Harvest baskets for Thanksgiving, Gifts and Food during the Holiday Season and more!
Arts – Hill is lucky enough to have robust Arts programming including dance, theatre, band, orchestra, choir, dance and visual arts, but it takes extra funding to support them fully!
Join us for this FREE event! We'd love to have you join whether you donate or not. The more the merrier!

We're still accepting donations: these will be included in the online auction that will lead up to the live event.  You can ask for donations (gift certificate/card) from businesses you frequent and you can arrange item drop off with Jodi Hullinger – jodi.hullinger@gmail.com or call/text 617.510.3315. Items we're looking for:
wine – red, white, pink or bubbly! These wine "cellars" were very popular last year and this year they will have labels made from student art!
gift cards – popular categories of gift cards include: restaurants, book stores, local businesses, cafes, grocery stores, etc
experiences – such as tours, guided hikes, movie/theatre tickets, comedy shows, museum passes, etc
services – yoga classes, massages, facials, botox, etc.
kid activities/summer camps – discounts on full-week or day camps, museum passes, acting classes, golf passes/lessons, tennis camp, rock climbing pass, etc
any place you do business is likely to be of interest to someone else!
Purpose of the PTSA
Hello there and thank you for stopping by!
Hill Campus of Arts and Sciences Parent Teacher Student Association (PTSA) is dedicated to supporting every child that attends Hill by working directly with teachers and staff. The PTSA raises money to support a variety of activities and initiatives including the Arts, families in need (through Hill Cares), teacher appreciation and teacher grants. And we can't do what we do without YOU!
---
Ways to Engage!
BECOME A MEMBER
Members are the key to the PTSA's success and we would love to have you join us! The more diverse voices we have involved, the more fully we can represent the Hill community. We are stronger together. You can become a member of the PTSA here. Members are able to vote on important decisions.
STAY IN THE KNOW
Meetings – Hill PTSA meets the 3rd Thursday of every month at 6:30pm. For the foreseeable future we will be meeting via Zoom. Link will be provided here 24 hours prior to each meeting.

Minutes/Meeting Videos – The Links to recordings are posted in the tab below.
SHOP, DINE & STYLE TO SUPPORT HILL
Raise money for Hill without spending extra money of your own! Here's how:
SHOP
DINE
Dine Outs – Hill PTSA hosts restaurant dine outs throughout the school year. Restaurants that participate agree to share a hefty percentage (20-25 %) of sales with Hill during each event. Stay tuned to Hill's Facebook Page, school communications and calendar for upcoming Dine Outs!
DONATE
Throughout the year, the PTSA may solicit the community for donations to fund PTSA initiatives such as: the Arts, Hill Cares and Teacher Grants. You can donate online ANYTIME here.
Hill Cares Coat & Outwear Drive: Please help Hill's students with your unwanted, gently used outerwear! As you clean your closets for the winter, set aside coats/jackets, mittens/gloves and hats for Hill. We will then distribute them to families/students at Hill.
Thank you! Drop boxes are located at:
Hilltop: 140 Krameria St
Lowry: 7064 E 2nd Ave
Virginia Village: 627 S Grape St
VOLUNTEER
The PTSA is powered by volunteers. Click here to see what volunteer roles are currently open.
CONTACT THE 20-21 PTSA EXECUTIVE BOARD
Have a question? Just reach out. We'd love to hear from you: HillPTAPresident@gmail.com
Jodi Hullinger, President. 7th grader at Hill and a 3rd grader at Carson.
Alecia Zunker, Vice President. 6th grader at Hill and a 3-year-old.
Keturah Nelson, Treasurer. 7th grader at Hill and 4th grader at Carson.
Christina Heitman, Secretary. 8th grade twins at Hill.
September 18, 2020 Meeting
October 22, 2020 Meeting
November 19, 2020
---
CSC
Each Denver public school has a Collaborative School Committee (CSC) with representation from parents, community, faculty, administrators, and classified staff. The purpose and scope of the CSC is to enhance student achievement and school climate by engaging the school community in collaborative efforts supporting the school and District's goals. The CSC provides strategic direction in support of the school's mission and vision as stated in the Unified Improvement Plan (UIP). Additional information about the purpose and scope of the CSC is available on the DPS website. Hill's CSC meets monthly and meetings are open to the public. There is always opportunity within the agenda for community comment. Meeting dates, agendas, and minutes will be posted on the Hill website here.
Support Us
Email Lillian_Brown@dpsk12.org for more information.