A Message from Principal Adams, 10/15
Posted October 15, 2020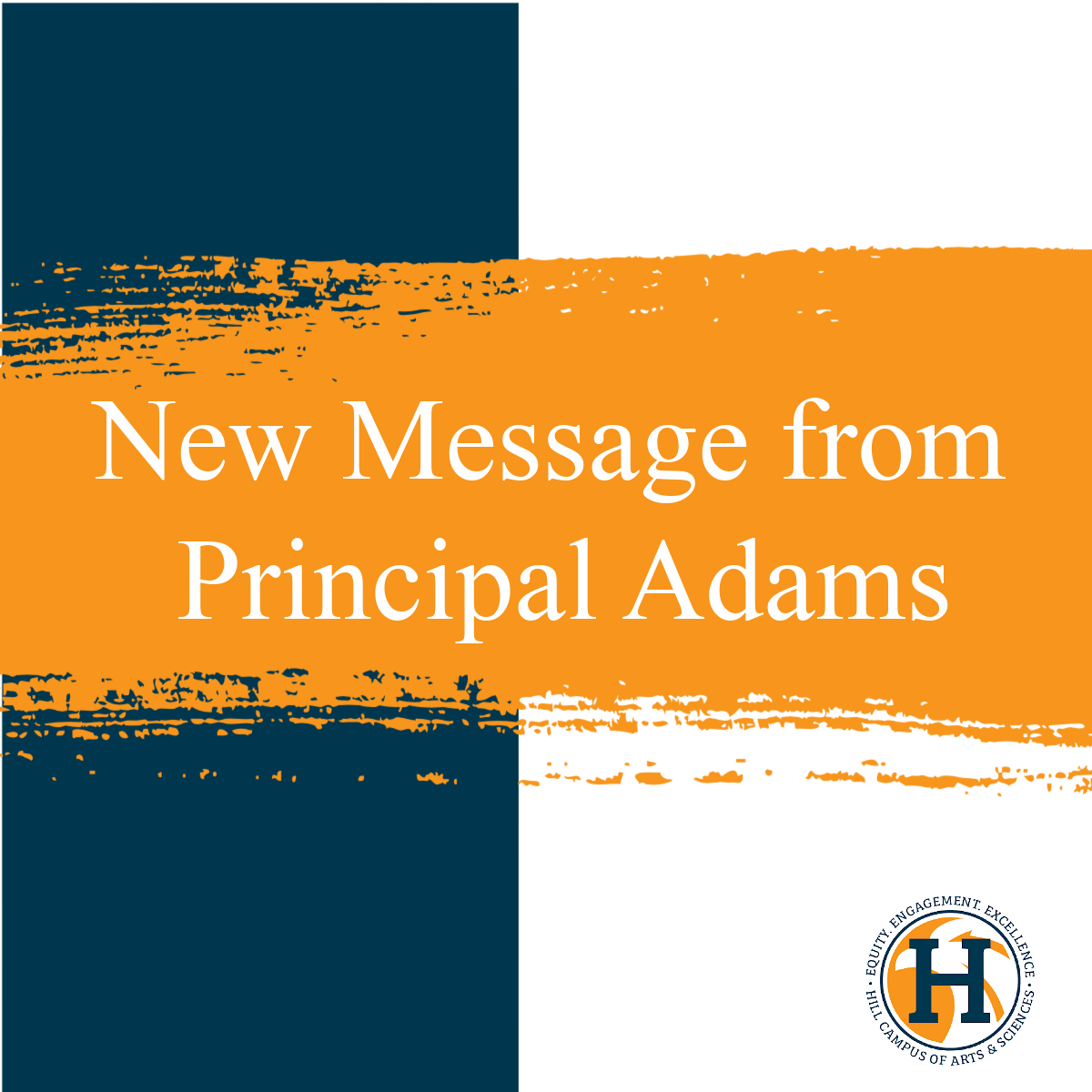 Dear Hill Families,
By now, you have heard the news that students who have selected in-person will not be able to return to in-person until Monday, November 9th. While I understand that this presents so many challenges to our families and is discouraging for students who are so anxious to get back, I want to reiterate that this decision was made to ensure that our students, staff, and community are safe. I know we will be back together soon – my fingers are crossed for a return for all of our students across DPS.
Here are some updates for Hill's return to in-person:
We will continue with schedule changes for Q2. Again, this is not ideal, but our teachers are already planning ways to make this transition a chance for community building and bridging stronger relationships for both our time in remote and when we return in-person. Again, this is hard for us all, but we must change schedules to honor safety guardrails and cohorts. All our teachers are outstanding and plan to build lasting relationships with their new students in Q2.
For the start of Q2, students will continue to receive five days of live instruction remotely, as in our current model. Beginning November 9th, we will move to 3 days of live instruction for virtual and in-person students (aligned to your cohort) with two days of asynchronous work as previously mentioned in last week's Hawk Talk – see links below.
You should have already received your assigned cohort. If not, please call:
Karla Garcia at 720 423 9719
Lilly Brown at 720 423 9777
Remember, all students are cohorted regardless of whether you are in-person or virtual).
Upcoming Dates:
October 16th – 20th – No School
October 21st – school will resume with updated Q2 schedules. These days will be virtual for ALL students. Teachers will share links for students in Schoology. Students in our MI class return to in-person!
October 23rd – This day will be an asynchronous day for students. This means students will be working on independent tasks assigned by their teachers.
Stay tuned for opportunities to ask questions during the Hill Q&A on the Return to In-person for Q2 on Wednesday, October 21st, at 5:30 pm. For families to listen to the TeleHall with the Superintendent tomorrow at 6 pm, we will be postponing our Acceleration Meeting to Thursday, October 22nd, at 5:30: Zoom Link. All families should receive an automated phone for this live session with Susana.
Again, I want you to know that I am looking forward to our students returning and that I am genuinely sorry for the significant impacts these shifts have created in your families.
Wishing you continued health,
Principal Adams
School Store Updates
Because there is No School this Friday, there will be no School Store order pick-ups. We will resume all online school store orders pick up next Friday, October 23rd. We also are selling ALL Hill shirts for $5 and ALL sweatshirts and hoodies for $10 from 3:00-5:00 pm, sizes limited. Come to HCAS and get some Hill Swag for your first day back to in-person learning!! Starting the week of October 26th all online school store orders will be available for pick up on Tuesdays and Fridays from 7:30 am-3:30 pm. If you have questions, please email me at desiree_Romero@dpsk12.org.
---
Estimadas familias de Hill,
A estas alturas, ha escuchado la noticia de que los estudiantes que hayan seleccionado en persona no podrán regresar en persona hasta el lunes 9 de noviembre . Si bien entiendo que esto presenta tantos desafíos para nuestras familias y es desalentador para los estudiantes que están tan ansiosos por regresar, quiero reiterar que esta decisión se tomó para garantizar que nuestros estudiantes, el personal y la comunidad estén seguros. Sé que volveremos a estar juntos pronto; tengo los dedos cruzados para que todos los estudiantes de DPS regresen.
Aquí hay algunas actualizaciones para el regreso de Hill en persona:
Continuaremos con los cambios de horario para el segundo trimestre. Nuevamente, esto no es lo ideal, pero nuestros maestros ya están planeando formas de hacer de esta transición una oportunidad para construir una comunidad y establecer relaciones más fuertes tanto para nuestro tiempo en remoto como cuando regresemos en persona. Nuevamente, esto es difícil para todos nosotros, pero debemos cambiar los horarios para respetar las barandas de seguridad y las cohortes. Todos nuestros maestros son sobresalientes y planean construir relaciones duraderas con sus nuevos estudiantes en el segundo trimestre.
Para el comienzo del segundo trimestre, los estudiantes continuarán recibiendo cinco días de instrucción en vivo de forma remota, como en nuestro modelo actual. A partir del 9 de noviembre, pasaremos a 3 días de instrucción en vivo para estudiantes virtuales y en persona (alineados con su cohorte) con dos días de trabajo asincrónico como se mencionó anteriormente en la charla Hawk de la semana pasada; vea los enlaces a continuación.
Ya debería haber recibido su cohorte asignada. Si no es así, llame al:
Karla García al 720 423 9719
Lilly Brown al 720 423 9777
Recuerde, todos los estudiantes se agrupan independientemente de si es en persona o virtual).
Fechas siguientes:
16 al 20 de octubre – No hay clases
21 de octubre: la escuela se reanudará con los horarios actualizados del segundo trimestre. Estos días serán virtuales para TODOS los estudiantes. Los maestros compartirán enlaces para estudiantes en Schoology. ¡Los estudiantes de nuestra clase de MI regresan en persona!
23 de octubre: este día será asincrónico para los estudiantes. Esto significa que los estudiantes trabajarán en tareas independientes asignadas por sus profesores.
Esté atento a las oportunidades de hacer preguntas durante la sesión de preguntas y respuestas de Hill sobre el regreso a la versión en persona de la Q2 el miércoles 21 de octubre a las 5:30 pm. Para que las familias escuchen el TeleHall con el Superintendente mañana a las 6 pm, pospondremos nuestra reunión de aceleración para el jueves 22 de octubre a las 5:30: Zoom Link . Todas las familias deben recibir un teléfono automático para esta sesión en vivo con Susana.
Nuevamente, quiero que sepan que espero con ansias el regreso de nuestros estudiantes y que lamento sinceramente el impacto significativo que estos cambios han creado en sus familias.
Deseando que continúe con su salud,
Principal Adams
Actualizaciones de la tienda de la escuela
Debido a que no hay clases este viernes, no se recogerán pedidos en la tienda de la escuela. Reanudaremos todos los pedidos de la tienda en línea de la escuela el próximo viernes 23 de octubre . También estamos vendiendo TODAS las camisas de Hill por $ 5 y TODAS las sudaderas y sudaderas con capucha por $ 10 de 3: 00-5: 00 pm, tallas limitadas. ¡Venga a HCAS y obtenga algo de Hill Swag para su primer día de regreso al aprendizaje en persona! A partir de la semana del 26 de octubre, todos los pedidos de la tienda en línea de la escuela estarán disponibles para recoger los martes y viernes de 7:30 am a 3:30 pm . Si tiene preguntas, envíeme un correo electrónico a desiree_Romero@dpsk12.org .