Health & Wellness
Pandemic-EBT, or P-EBT, is returning to Colorado for the 2020-2021 school year! P-EBT provides eligible families with school-aged children with extra funds to help buy food when schools were remote or hybrid due to COVID-19.
There is no separate application for P-EBT this school year. Families eligible for free or reduced-price school meals at schools that participate in the National School Lunch Program may get up to $136.40 per month per student for remote learning models and up to $81.84 per month per student for hybrid learning models.

Families are encouraged to fill out an application for free or reduced-price school meals at their school office or website by the end of the school year. Benefits will begin to be issued starting in late May. Eligible families already participating in SNAP can expect to have P-EBT benefits automatically loaded to their current EBT card in late May. Newly eligible families will receive a new P-EBT card in the mail between late May and mid-June. In order to receive a new P-EBT card, families should ensure address information is up to date. To update household address information, families can contact their school or district. 
Beneficios de EBT de la pandemia, o P-EBT, ¡regresa a Colorado para el año escolar del 2020-2021! P-EBT proporciona dinero a familias con niños de edad escolar elegibles con fondos extras para comprar comida mientras escuelas están funcionando de manera híbrido o remoto debido a COVID-19.
No hay ninguna solicitud separada para P-EBT este año escolar. Las familias elegibles para comidas escolares gratuitas o a precio reducido en las escuelas que participan en el Programa Nacional de Almuerzo Escolar pueden obtener hasta $136.40 por mes por estudiante para modelos de aprendizaje remoto y hasta $81.84 por mes por estudiante para modelos de aprendizaje híbridos. 

Se anima a las familias a llenar una solicitud de comidas escolares gratuitas o a precio reducido en su oficina escolar o sitio web lo más antes posible y antes del final del año escolar. Los beneficios comenzarán a emitirse a partir de finales de mayo. Las familias elegibles que ya participan en SNAP pueden esperar que los beneficios de P-EBT se carguen automáticamente en su tarjeta EBT actual a finales de mayo. Las familias recién elegibles recibirán una nueva tarjeta de P-EBT a su hogar por correo entre finales de mayo y mediados de junio. Para recibir una nueva tarjeta de P-EBT, las familias deben asegurarse de que la información de su dirección del hogar esté actualizada. Para actualizar la información de la dirección del hogar, las familias pueden comunicarse con su escuela o distrito.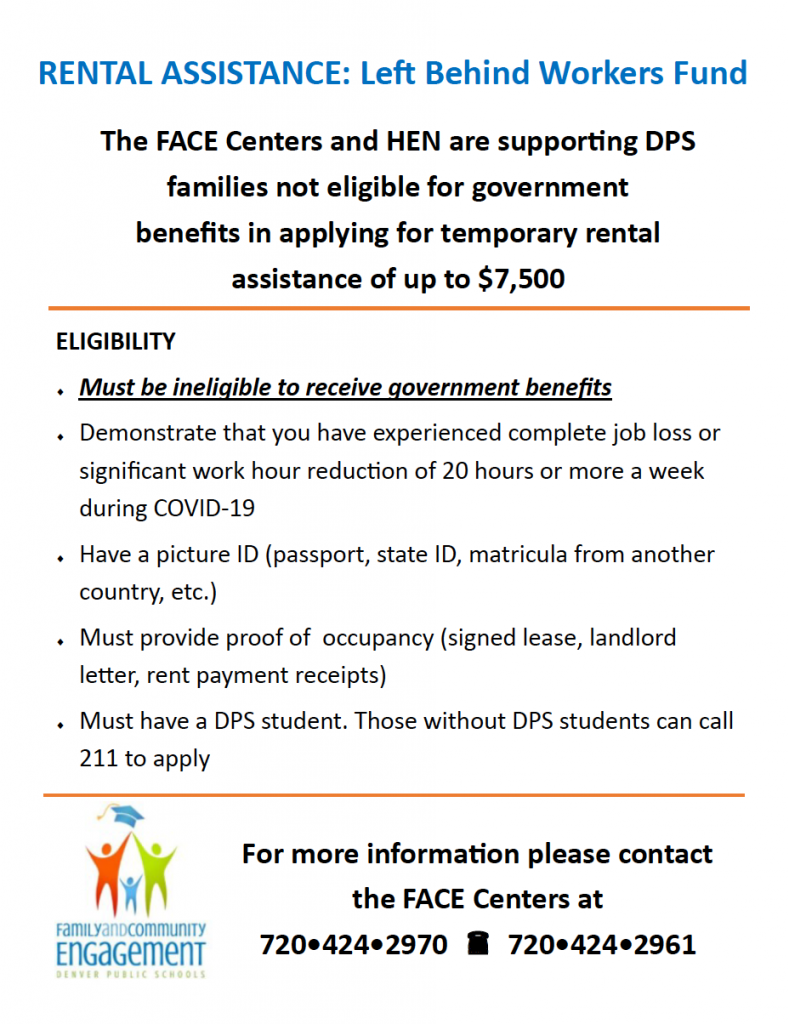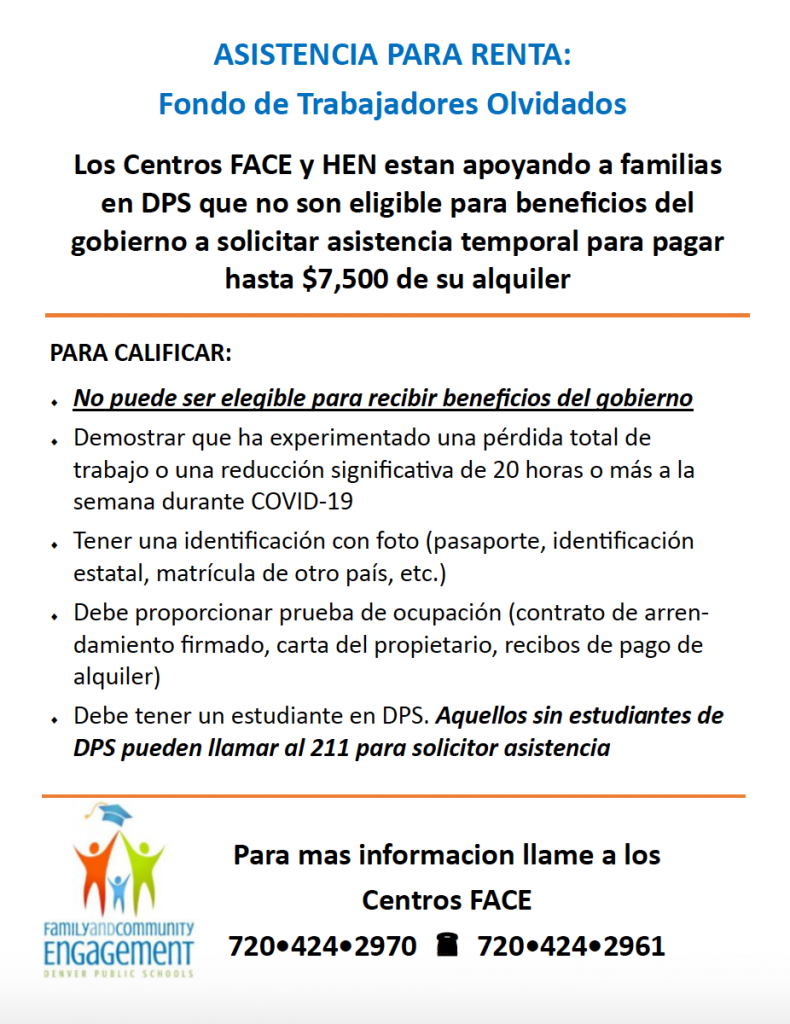 ---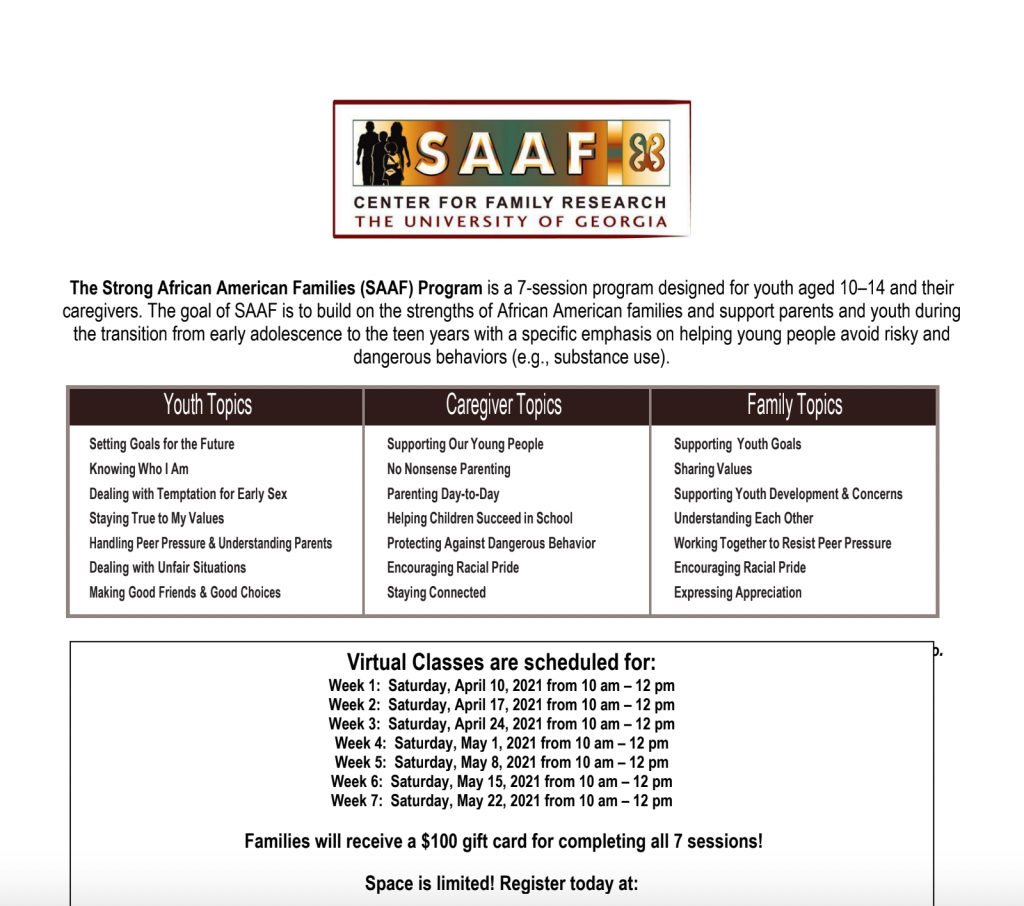 April is Child Abuse Awareness Month. Please click this LINK for additional resources on how to talk about child abuse or report abuse!
COVID-VACCINE UPDATE!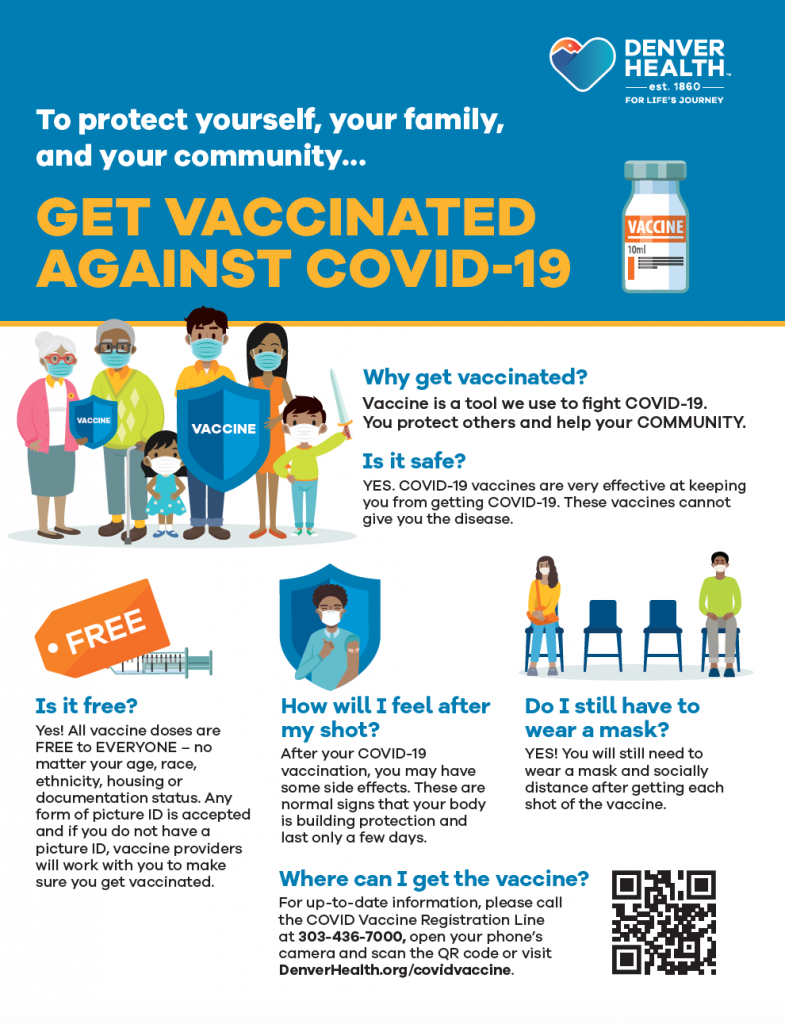 ---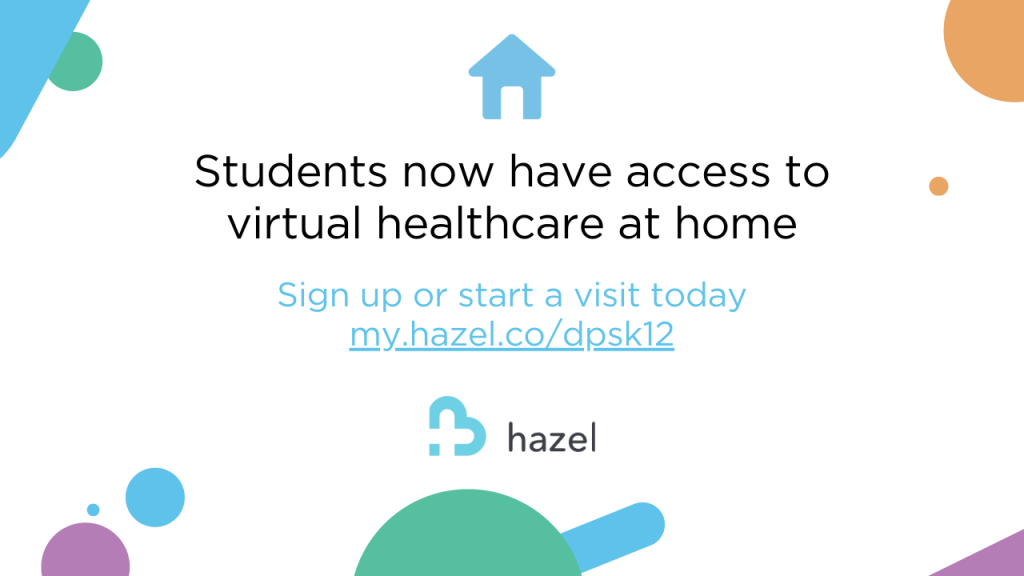 Here at Hill we have partnered with Hazel Health to expand student health services. When your student is feeling sick, they can connect with Hazel for same-day care AT NO CHARGE! Click THIS link to find out more information about Hazel, registration forms and all Hazel Health has to offer for DPS students. If you need more information please contact Nurse Merri Hoffman at merri_hoffman@dpsk12.org or at 720-423-9691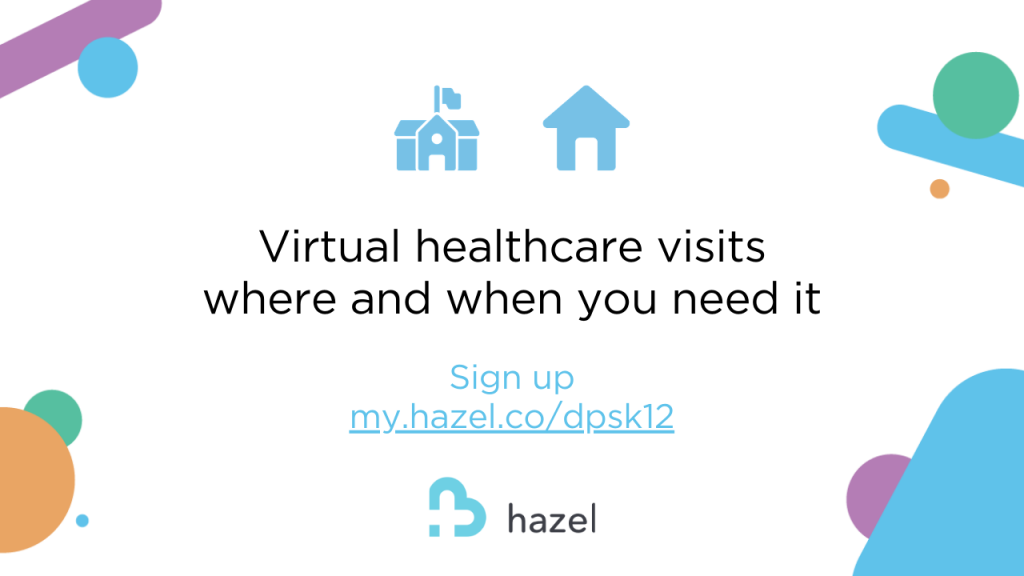 Newsletter Content or Website Post for Families (English)News from Hazel Health: Weekly Blog & Ask a Doctor Webinar Series!Our partner Hazel Health shares useful health tips for families in their Healthy Habits series. This week's blog topic: What You Need to Know about Flu Season this Year You can learn more about this week's topic, or ask one of the Hazel Health providers a question during the upcoming Ask a Doctor webinar. Register to join or watch on Facebook Live on January 6th, 2021 at 3:00 p.m PST. Remember, families can sign up for Hazel or contact a doctor for students at: my.hazel.co/dpsk12
Hazel Health – Holiday Hours Student health services from Hazel Health are available during the winter break but are closed from December 24th until January 3rd. Hazel will be available at all other times during the winter break from 6am-6pm, Monday through Friday. Families can sign up for Hazel or contact a doctor with any questions about their child's health at my.hazel.co/dpsk12
Newsletter Content or Website Post for Families (Spanish) Noticias de Hazel Health: Blog semanal y serie de seminarios web Pregunte a un médico Hazel Health comparte consejos de salud útiles para las familias en su serie Hábitos saludables. Tema del blog de esta semana: Lo que necesita saber sobre la temporada de influenza este año Puede obtener más información sobre el tema de esta semana o hacer una pregunta a uno de los proveedores de Hazel Health durante el seminario web semanal Pregunte a un médico. Regístrese para unirse o mirar en Facebook Live el 1/5/21 a las 10:00 a.m. PST.Recuerde, las familias pueden inscribirse en Hazel o comunicarse con un médico para estudiantes en my.hazel.co/dpsk12
Hazel Health – Horario para los vacaciones Los servicios de salud estudiantil de Hazel Health están disponibles durante las vacaciones de invierno, pero están cerrados desde el 24 de diciembre hasta el 3 de enero. Hazel estará disponible en todos los demás horarios durante las vacaciones de invierno de 6 am a 6 pm, de lunes a viernes. Las familias pueden inscribirse en Hazel o comunicarse con un médico si tienen alguna pregunta sobre la salud de su hijo en my.hazel.co/dpsk12
Health & Wellness
Please check our school community page for multiple community and health resources! Community Resources (Access via STUDENT login)
FREE STUDENT COVID TESTING
DPS is expanding our partnership with COVIDCheck Colorado to offer free COVID-19 testing to students to support a safe return to school. Students will be able to take an initial COVID-19 test before coming back to school as well as ongoing screening tests every other week.
DPS students and team members should use this link to register for a test. Family members and community members should use the community link to register. The tests are free, fast and reliable. Testing sites include Montbello campus, Abraham Lincoln, North High School, All City Stadium, and George Washington. Tests will be completed via nasal PCR test or SalivaDirect™, and results will be returned within 36-72 hours.
FREE VIRTUAL ESL CLASSES FROM FACE
FACE (Family and Community Engagement) Centers is offering free virtual ESL Classes. Designed for students looking to improve their basic English skills.
New students are required to take English Assessment test. Testing window: January 11-14, 2021. Returning students do not need to take a new placement test.
Classes for Spring run: January 19-May 13.
Register for classes or learn more:

Southwest Location: Johnson Elementary (720-424-2970)
Far Northeast Location: John H. Amesse Elementary (720-424-2961)
Or email: FaceCenters@dpsk12.org

Levels I, II, III or IV available
PROTECTIVE FACTORS TRAINING SERIES
The DPALS Program at Denver Human Services is offering a free, 6-session, virtual Protective Factors training series:
Who should attend: Parents, foster care providers, kinship providers, staff, and community members.
About the training: Protective factors are the strengths and resources that families can draw on when life gets difficult. Taking those good characteristics and building on them is a proven way to strengthen the entire family. Participants will learn about the protective factors, ways to help families build protective factors, and learn tools to use the protective factors in your work, and how to use protective factors in your parenting. Participants will receive a certificate of completion for each 2-hour training at the end of the series.
Americans with Disabilities Act Accommodation: For a sign language interpreter, real-time captioning via CART, or any other Americans with Disabilities Act related accommodation, contact leann.fickes@denvergov.org by Jan. 20th. ASL Version, Protective Factors Training: https://youtu.be/SM57vEP-K40