Hawk Talk 1.22
Posted January 22, 2021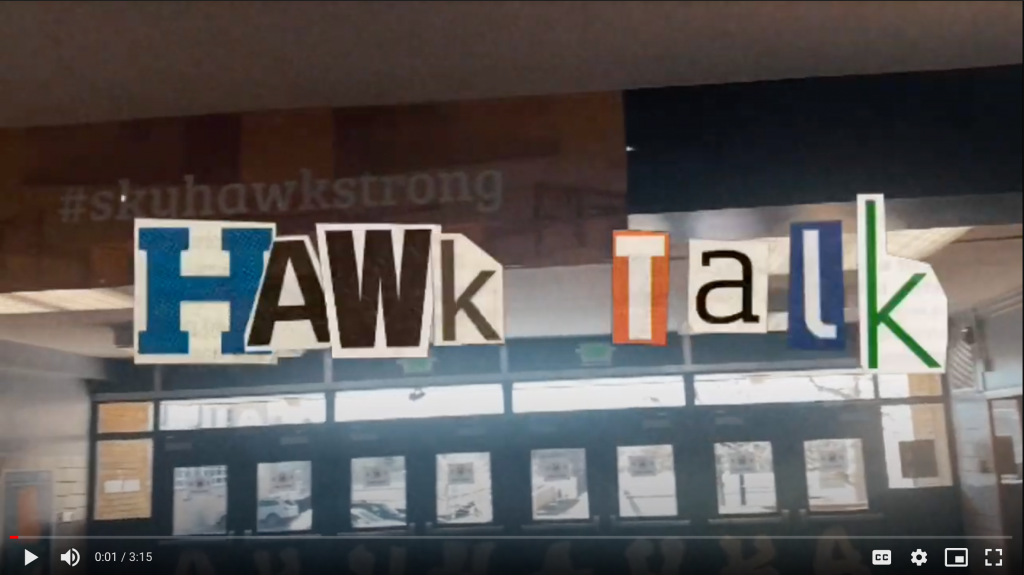 Return to In-Person Presentation
HERE is the link to the Community Meeting Presentation! This presentation includes safety protocols, drop off and pickup information and more!
Attendance Updates
To excuse an absence, do one of the following:
Leave a message on Hill Attendance voicemail at 720-423-9700
Email the Office of Student Support at Jazmin_Sandoval@dpsk12.org or Lucinda_Wagner@dpsk12.org
Students who are attending classes in-person but need to attend class virtually on their assigned cohort day must notify the Office of Student Support so we are aware they are not physically present on that day.
Chromebooks
Students attending classes in-person will need to bring their Chromebook charged and their charger in case they run out of battery.
Return to In-Person Cohorts & Calendar
To our 7th and 8th grade parents, take a moment to view the Return to In-Person information in on the Hill website, under the Principal's Communications tab. Here you will find information on your student's cohort, if they elected in-person learning, and a calendar detailing in-person and remote learning days.
Hill's Black Excellence Plan
We had excellent participation from all Hill Families at our Black Excellence Plan presentation on January 12. This year we are committing to educational rigor, and strong social-emotional supports for all our families with a special focus on our Black students. You can view a recording of the presentation here.
Attendance & Academic Awards Ceremony
Check your email to find out if your child has earned a Semester 1 award for great attendance and/or strong academic performance. In addition to a red carpet awards presentation, our Student Support team (Sequoia Austin, Fred Lewis, and Darian Turner) have planned a fun COVID-safe celebration that will include music with the "Jambulance" dj truck, food truck, and our very own Fred Lewis as MC! The awards ceremony is Saturday, January 30th from 1pm-4pm at Hill. If your student has earned an award but can't attend, please let us know.
Monday afternoon Art Club & Finance Club
Ms. Novy (art teacher) and Mr. Wright (8th grade LA teacher) are ready to host after school clubs for your students starting Monday, January 25.
Art Club with Ms. Novy will be every Monday (except holidays) from 2:45-3:30. All interested Hill students will participate virtually from home at meet.google.com/lookup/hillnovy. There is no fee to participate, and all students will need pencil and paper for most projects, with some days requiring scissors, colored pencils or markers.
Finance Club with Mr. Wright will be every Monday (except holidays). All 7th and 8th grade Hill students interested in learning how the stock market works and trying their hand at investing are invited to participate. Parents must complete this form: Investment Club Parent Permission Form. The investment club meets virtually every Monday at 3:15 at: https://meet.google.com/lookup/HillWright
Virtual High School Options Event
Next Wednesday January 27th, Denver Public Schools will be hosting a Virtual High Schools Option Event for 8th grade students entering into high school for the school year 2021-2022. This event will be open all day from 8am-7pm. You will be able to navigate through the website and gather information around DPS High Schools, the programs they offer, learn the difference between IB classes and AP classes, see how students can earn college credit and so much more! This will be a one time event. If you are unsure about a high school for next year this is the place for you. January 27th 8am-7pm High School Options Event
PTSA Update
PTSA Openings for 21-22 School Year
Along with the Hill Cares co-chair need, the PTSA is looking ahead to next school year and would love to find a place for you if you're interested in helping out! There will be executive board positions available, as well as additional committee chair or co-chair positions to fill.
Spring Gala – Want to Help?
The PTSA is also discussing the options for a Spring Gala and we will need help to pull it off. The Spring Gala raises funds to support multiple things including Hill Cares activities and direct school needs (ie mental health support). If you're looking for a short-term volunteer opportunity (now-Spring) helping out with the Gala might be perfect for you!
For more information on helping out with the Spring Gala or PTSA openings for the 21-22 School year – reach out to PTSA President, Jodi Hullinger, at jodi.hullinger@gmail.com or 617.510.3315.
SPANISH
Actualización de la asistencia
Para excusar una ausencia, haga una de las siguientes cosas:
Deje un mensaje en el buzón de voz de Hill Attendance en el 720-423-9700
Envíe un correo electrónico a la Oficina de Apoyo al Estudiante en Jazmin_Sandoval@dpsk12.org o Lucinda_Wagner@dpsk12.org
Los estudiantes que asisten a las clases en persona pero necesitan asistir a la clase virtualmente en su día asignado de cohorte deben notificar a la Oficina de Apoyo al Estudiante para que seamos conscientes de que no están físicamente presentes en ese día.
Chromebooks
Los estudiantes que asistan a clases presenciales deberán traer su Chromebook cargado y su cargador por si se quedan sin batería.
Volver a Cohortes y calendario en persona
Para nuestros padres de séptimo y octavo grado, tómese un momento para ver la información de Regreso a la persona en el sitio web de Hill, en la pestaña Comunicaciones del director. Aquí encontrará información sobre la cohorte de su estudiante, si eligieron el aprendizaje en persona, y un calendario que detalla los días de aprendizaje en persona y a distancia.
Ceremonia de asistencia y premios académicos
Revise su correo electrónico para averiguar si su hijo ha ganado un premio del Semestre 1 por su excelente asistencia y / o un buen desempeño académico. Además de una presentación de premios de alfombra roja, nuestro equipo de apoyo estudiantil (Sequoia Austin, Fred Lewis y Darian Turner) ha planeado una divertida celebración a prueba de COVID que incluirá música con la camioneta de música Jambulance, el camión de comida y nuestro propio Fred. ¡Lewis como MC! La ceremonia de premiación es el sábado 30 de enero en Hill. Si su estudiante obtuvo un premio pero no puede asistir, háganoslo saber.
Lunes por la tarde Art Club & Finance Club
La Sra. Novy (maestra de arte) y el Sr. Wright (maestro de Los Ángeles de octavo grado) están listos para organizar clubes extracurriculares para sus estudiantes a partir del lunes 25 de enero.
Art Club con Ms. Novy será todos los lunes (excepto festivos) de 2: 45-3: 30. Todos los estudiantes de Hill interesados participarán virtualmente desde casa en https://meet.google.com/lookup/hillnovy. No hay tarifa para participar, y todos los estudiantes necesitarán lápiz y papel para la mayoría de los proyectos, y algunos días requerirán tijeras, lápices de colores o marcadores.
Finance Club con Mr. Wright será todos los lunes (excepto festivos). Todos los estudiantes de 7º y 8º grado de Hill interesados en aprender cómo funciona el mercado de valores y probar suerte en la inversión están invitados a participar. Los padres deben completar este formulario: Formulario de permiso de los padres del club de inversión. El club de inversiones se reúne prácticamente todos los lunes a las 3:15 en: https://meet.google.com/lookup/HillWright
Actualización de PTSA

Aperturas de PTSA para el año escolar 21-22
Junto con la necesidad de copresidente de Hill Cares, la PTSA está mirando hacia el próximo año escolar y le encantaría encontrar un lugar para usted si está interesado en ayudar. Habrá puestos disponibles en la junta ejecutiva, así como puestos adicionales de presidente o copresidente de comité para cubrir.
Gala de primavera – ¿Quieres ayudar?
La PTSA también está discutiendo las opciones para una Gala de Primavera y necesitaremos ayuda para llevarla a cabo. La Gala de Primavera recauda fondos para apoyar varias cosas, incluidas las actividades de Hill Cares y las necesidades escolares directas (es decir, apoyo de salud mental). Si está buscando una oportunidad de voluntariado a corto plazo (ahora en primavera), ¡ayudar con la Gala podría ser perfecto para usted!
Para obtener más información sobre cómo ayudar con la Gala de Primavera o las vacantes de PTSA para el año escolar 21-22, comuníquese con la presidenta de PTSA, Jodi Hullinger, en jodi.hullinger@gmail.com o 617.510.3315.