Hawk Talk 2/5
Posted February 5, 2021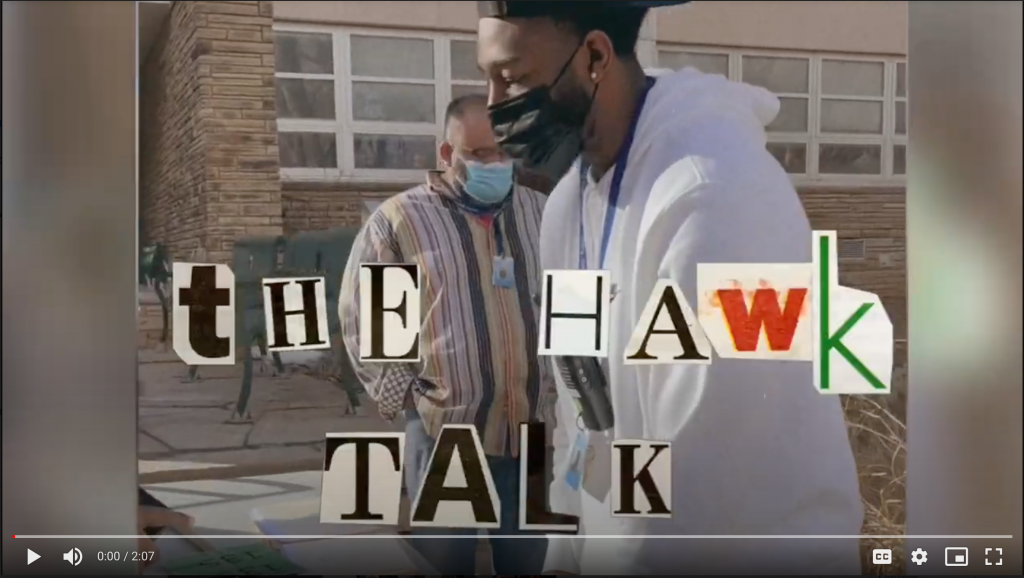 Community Read
"You never really understand a person until you consider things from his point of view… Until you climb inside of his skin and walk around in it." -To Kill A Mockingbird
In alignment with our core values, the entire Hill Community is invited to join us in reading alongside our 8th graders, in the classic text "To Kill A Mockingbird." We will be analyzing race and equity. We have additional copies of the books at Hill for families who would like to join in with us beginning the week of the 17th.
Conferences:
You can still sign up for conferences! Our last day of virtual conferences is February 11th from 3 PM-7 PM. There are 2 sign-ups, one for core classes (Math, Language Arts, Science and Social Studies) and another for electives.
Sign-ups close early in order for the office team to share with teachers who will be attending each conference night. In turn, teachers will prepare to share strengths and areas of growth for each student.
Conferences for Ms. Lulu's class will be scheduled on other dates, reach out to her to schedule your conference at Lulu_Kay@dpsk12.org
SchoolChoice:
The SchoolChoice window for the 2021-22 school year is open now through 4 p.m. Feb. 16. To apply, create an account or sign in using your Parent Portal username and password here. Then, rank your schools in order of preference (up to 12) and submit your SchoolChoice application by 4 p.m. Feb. 16. There is no advantage to submitting early — simply submit your application anytime before the deadline.
SchoolChoice is for any student who wants or needs to attend a new school for the following school year, particularly "transitioning" students, typically eighth-grade students transitioning to ninth-grade. All incoming preschool students, as well as incoming students who reside in an enrollment zone, must complete an application. Visit schoolschoice.dpsk12.org for more information.
Clubs:
We are happy to announce that additional social clubs will be beginning the week of February 22! There are a variety of clubs to choose from but space is limited. Please use THIS link to choose your club preferences by February 2/12!
Hill Block Party!
We're celebrating Black History Month with a block party! On Saturday, February 27th from 3pm-5pm! We will be having activities, raffles, food, music and more! RSVP HERE.
Technology
Families, please make sure your student comes to school in person each day they are assigned with a fully charged Chromebook and their computer charger, clearly labeled with their name and grade. Even on in person days, students are expected to have their Chromebook ready for the day at 100% charge to participate with virtual students in each class. Labeled chargers should be brought each day, stored in a backpack, and labeled so it can be returned if misplaced. Remember to please contact Joel_Niebauer@dpsk12.org if you are having issues with your Chromebook, charger, or other academic technology. 
Upcoming Dates:
February 9

ACCESS for In-Person Students

February 11

3-7 PM- Family-Teacher Conferences

February 12-

ACCESS for Virtual Students
Asynchronous Day
Chinese New Year

February 15

Presidents' Day NO SCHOOL

February 16

Non-Student Contact Day NO SCHOOL
SchoolChoice Round 1 Window Closes

February 19
PTSA
JOIN OUR NEXT MEETING!
Thursday, February 18 @ 6:30PM via ZOOM (every 3rd Thursday!)
CALL FOR VOLUNTEERS
GALA ➤ the Spring Gala is the biggest fundraising push the PTSA does all year to help fund important items (see right) throughout the year – such as mental health and buoying families in need through Hill Cares). Please help us plan this Spring's Gala!
2021-22 LEADERSHIP POSITIONS ➤ we are actively recruiting to fill PTSA executive board positions and committee leadership positions for next school year.
Reach out to learn more! We'd love to have you!
SOME OF THE ITEMS FUNDED SO FAR THIS YEAR
MENTAL HEALTH SERVICES
MULTIPLE TEACHER GRANTS

generation genius subscription
refurbished vibraphone for music class
theatre/arts incentives
snacks for remote learning center & MI class

FOOD TRUCK for Red Carpet Student Celebration
MEALS for teachers during conferences
TEACHER APPRECIATION
TEACHER/STAFF HOLIDAY GIFTS
HILL CARES – families in need supported through

grocery cards
harvest baskets
holiday gifts & meals
EASY WAYS TO SUPPORT – EVERYDAY ACTION = MONEY FOR HILL PTSA
DINE OUTS ➤ keep an eye out for restaurants who share % of sales with Hill
GROCERY SHOPPING ➤ King Soopers, Safeway & Natural Grocers all participate – find out how
AMAZON ➤ start at smile.amazon.com and select "Hill Middle School of Arts & Sciences PTA"
DIRECT GIVING ➤ anytime at hill.ptapal.com
EMPLOYER MATCHING ➤ through Benevity or other corporate matching programs
---
Lectura Comunitaria
"Nunca entiendes realmente a una persona hasta que consideras las cosas desde su punto de vista … Hasta que te metes dentro de su piel y caminas en ella". -Matar a un ruiseñor
En consonancia con nuestros valores fundamentales, se invita a toda la comunidad de Hill a unirse a nosotros para leer junto a nuestros alumnos de octavo grado, en el texto clásico "To Kill A Mockingbird". Estaremos analizando raza y equidad. Tenemos copias adicionales de los libros en Hill para las familias que deseen unirse a nosotros a partir de la semana del 17.
Conferencias:

¡Aún puedes inscribirte en conferencias! Nuestro último día de conferencias virtuales es el 11 de febrero de 3 PM-7 PM. Hay 2 inscripciones, una para las clases básicas (matemáticas, artes del lenguaje, ciencias y estudios sociales) y otra para las electivas.
ENLACES DE REUNIONES VIRTUALES SE ENVIARON POR CORREO ELECTRÓNICO 2/2

La inscripción a las conferencias del 11 de febrero se cerrará el 9 de febrero
Inscripción a la conferencia de clases electivas: https://www.signupgenius.com/go/10C054BACAD29A4FB6-febrero1
Inscripción de la Conferencia de Clase Principal: https://www.signupgenius.com/go/10C054BACAD29A4FB6-febrero
Las inscripciones cierran temprano para que el equipo de la oficina pueda compartir con los maestros que asistirán cada noche de conferencia. A su vez, los maestros se prepararán para compartir fortalezas y áreas de crecimiento para cada estudiante.
Las conferencias para la clase de la Sra. Lulu se programarán en otras fechas, comuníquese con ella para programar su conferencia en Lulu_Kay@dpsk12.org
SchoolChoice:

La ventana SchoolChoice para el año escolar 2021-22 está abierta ahora hasta las 4 p.m. Feb. 16. Para postularse, cree una cuenta o inicie sesión usando su nombre de usuario y contraseña del Portal para Padres aquí. Luego, clasifique sus escuelas en orden de preferencia (hasta 12) y envíe su solicitud SchoolChoice antes de las 4 p.m. 16 de febrero. No tiene ninguna ventaja enviar la solicitud antes de tiempo; simplemente envíe su solicitud en cualquier momento antes de la fecha límite.
SchoolChoice es para cualquier estudiante que quiera o necesite asistir a una nueva escuela para el siguiente año escolar, particularmente estudiantes en "transición", típicamente estudiantes de octavo grado en transición a noveno grado. Todos los estudiantes preescolares entrantes, así como los estudiantes entrantes que residen en una zona de inscripción, deben completar una solicitud. Visite schoolchoice.dpsk12.org para obtener más información.
Clubs:

¡Nos complace anunciar que los clubes sociales adicionales comenzarán la semana del 22 de febrero! Hay una variedad de clubes para elegir pero el espacio es limitado. Por favor, use este enlace para elegir las preferencias de su club antes del 2/12 de febrero!
Tecnología

Familias, asegúrese de que su estudiante venga a la escuela en persona cada día que se les asigne un Chromebook completamente cargado y su cargador de computadora, claramente etiquetado con su nombre y grado. Incluso en los días presenciales, se espera que los estudiantes tengan su Chromebook listo para el día con un cargo del 100% para participar con estudiantes virtuales en cada clase. Los cargadores etiquetados deben llevarse todos los días, guardarse en una mochila y etiquetarse para que se puedan devolver si se extravían. Recuerde contactar a Joel_Niebauer@dpsk12.org si tiene problemas con su Chromebook, cargador u otra tecnología académica.
Fechas siguientes:

9 de febrero:ACCESO para estudiantes en persona
11 de febrero: 3-7 PM- Conferencias de maestros y familias
12 de febrero: ACCESO para estudiantes virtuales, Día asincrónico, año Nuevo Chino
15 de febrero: Día de los presidentes NO HAY CLASES
16 de febrero: Día de contacto sin estudiantes NO HAY CLASES
SchoolChoice Ronda 1 Ventana cerrada
19 de febrero: 2 PM- Foro de la familia Hill
PTSA

¡ÚNETE A NUESTRA PRÓXIMA REUNIÓN!
Jueves 18 de febrero a las 6:30 p.m. a través de ZOOM (¡cada tercer jueves!)
INICIAR SESIÓN A TRAVÉS ZOOM ➤ https://us02web.zoom.us/j/89971353741
ID DE REUNIÓN ➤ 899 7135 3741
PASSCODE ➤ colina

LLAME A VOLUNTARIOS

GALA ➤ la Gala de Primavera es la iniciativa de recaudación de fondos más grande que la PTSA hace durante todo el año para ayudar a financiar artículos importantes (ver a la derecha) durante todo el año, como salud mental y apoyo a familias necesitadas a través de Hill Cares). ¡Ayúdanos a planificar esta Gala de Primavera!

POSICIONES DE LIDERAZGO 2021-22 ➤ Estamos reclutando activamente para cubrir los puestos de la junta ejecutiva de la PTSA y los puestos de liderazgo del comité para el próximo año escolar.
¡Comuníquese para obtener más información! ¡Nos encantaría tenerte!

ALGUNOS DE LOS ARTÍCULOS FINANCIADOS HASTA AHORA ESTE AÑO
SERVICIOS DE SALUD MENTAL
BECAS MÚLTIPLES PARA MAESTROS
Suscripción generación genio
Vibráfono reacondicionado para clase de música
Incentivos de teatro / artes
Bocadillos para el centro de aprendizaje remoto y la clase de MI

CAMIÓN DE ALIMENTOS para la celebración estudiantil de la alfombra roja
COMIDAS para profesores durante conferencias
APRECIACIÓN DEL MAESTRO
REGALOS DE VACACIONES PARA MAESTROS / PERSONAL
HILL CARES – familias necesitadas apoyadas a través de
tarjetas de comestibles
cestas de cosecha
regalos y comidas navideñas
FORMAS FÁCILES DE APOYAR – ACCIÓN DIARIA = DINERO PARA HILL PTSA
SALIDAS A COMER ➤ esté atento a los restaurantes que comparten el% de las ventas con Hill
COMPRAS DE ALIMENTOS ➤ King Soopers, Safeway y Natural Grocers participan – descubra cómo
AMAZON ➤ comience en smile.amazon.com y seleccione "Hill Middle School of Arts & Sciences PTA"
DONACIONES DIRECTAS ➤ en cualquier momento en hill.ptapal.com
PARTICIPACIÓN DE EMPLEADORES ➤ a través de Benevity u otra coincidencia corporativa programas.