Hawk Talk 4/23
Posted April 23, 2021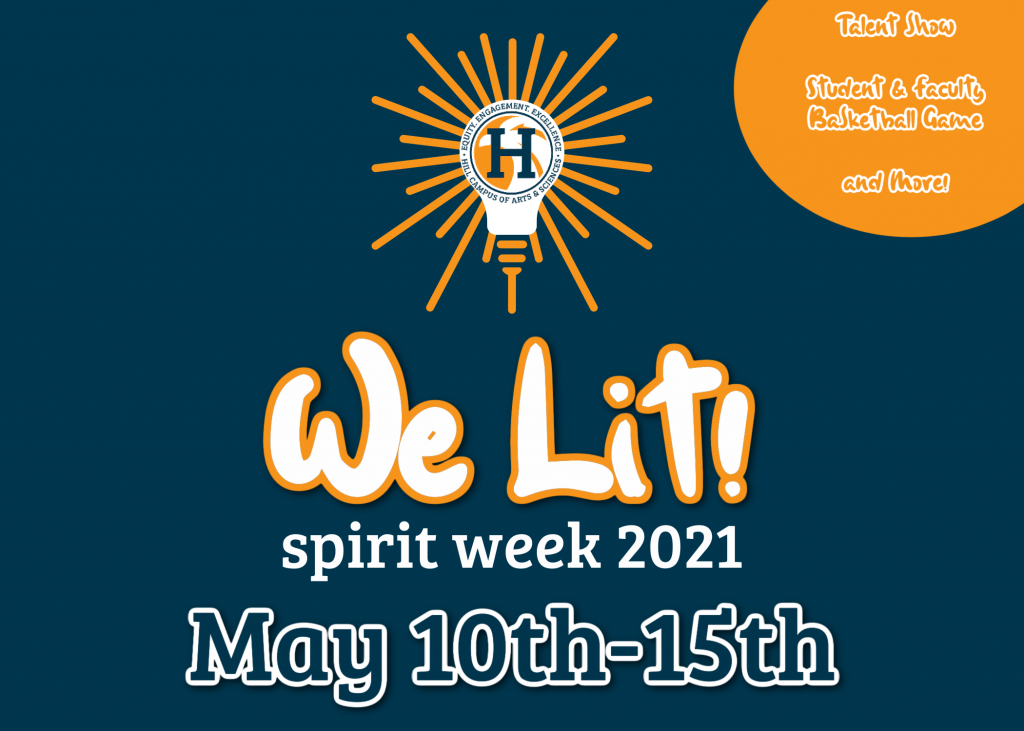 Participation for the Basketball Game and the Talent Show must be pre-registered at the links below:
Student/Employee Basketball Game Sign Up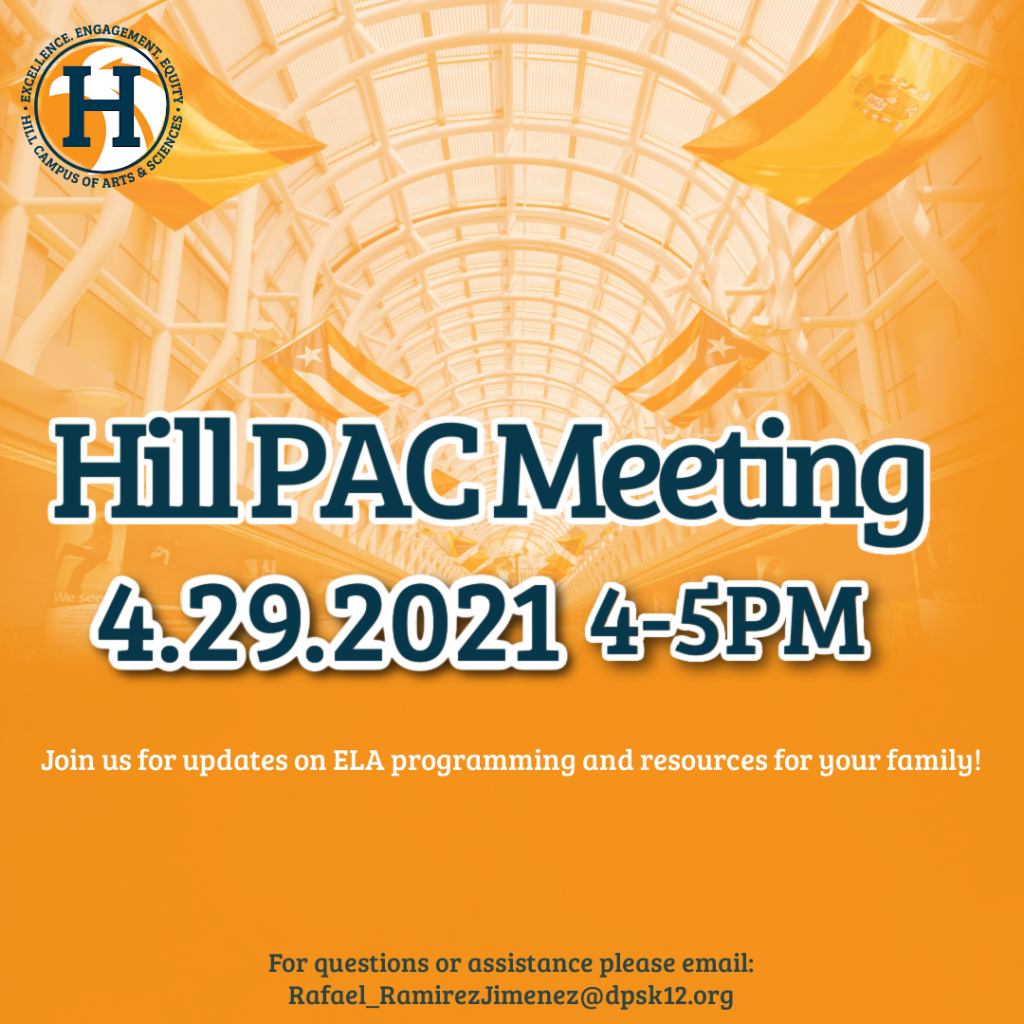 Community Feedback Forum:
Principal Adams would like to extend an invitation to families to join us on May 13th at 5:30 PM for a Community Feedback Forum. During this Forum, we would like to hear your feedback on how we're doing and how we can improve in the following areas:
Communication (whole school & teacher communication)
Front office customer service
Academics
Student support
Technology
Other
Register HERE for the Feedback Forum.
UPDATE: In-Person Learning 5 days A Week!:
We want to remind families that students who are currently in cohort A and B begin attending classes Monday through Friday on Monday, April 26. We understand that due to DPS not providing transportation for secondary students, it will be difficult for some families to bring their students 5 days a week. We want to ensure those students still have the opportunity to attend school in person even if it's only a few days a week. If your family can only provide transportation on certain days of the week we ask that you fill out THIS form. This will ensure student safety in case of an emergency and help us keep accurate records of when to expect students.
21-22 Early Bird Registration:
Avoid waiting in line and multiple packets of paperwork! Early Bird Registration is open from April 26, 2021 to May 2, 2021. You can access this through the Parent Portal if you are a returning family (Returning Family Step-by-Step). If you are a new family to DPS, email Karla (karla_garcia@dpsk12.org) to receive a personalized link (New Families Step-by-Step)
8th Grade Continuation:
8th grade Continuation is scheduled for Thursday, May 20th at 6PM IN-PERSON at Hill Campus of Arts and Sciences. If weather does not permit, then we will hold continuation on Friday, May 21st. Stay tuned for further details. Be sure your student is on track for participation in Continuation by reaching out to Ms. Desiree at desiree_romero@dpsk12.org.
20-21 Yearbook Refunds:
HCAS will NOT have a yearbook for the 20-21 school year. All families who purchased one with TreeRing should have received a cancellation. Refunds will be processed through TreeRing to the original form of payment.
Social Clubs:
Clubs will continue to be cohorted by A and B groups unless you have been contacted by your club leader stating otherwise. Clubs will have a maximum of 15 students in-person at a time.
Upcoming Dates:
April 23

All students will be learning remotely

April 30
May 4

5:30 PM CSC Meeting
8:00 AM – 2:10 PM- Cohort A Students Picture Day
2:30 PM – 3:30 PM- Remote Students Last Name A-J Picture Day

May 6

8:00 AM – 2:10 PM- Cohort B Students Picture Day
2:30 PM – 3:30 PM- Remote Students Last Name K-Z Picture Day

May 10-14
May 11

Student/Staff Basketball Game

May 13
May 14

2:00 PM Last Family Forum

May 19

Last day of school for 8th grade students
12:30 Continuation Practice for all 8th grade students

May 20

6:00 PM 8th Grade Continuation

May 21

Time TBD 8th Grade Continuation if weather doesn't permit on the May 20th

May 28

Last day of school for 6th & 7th grade students
PTSA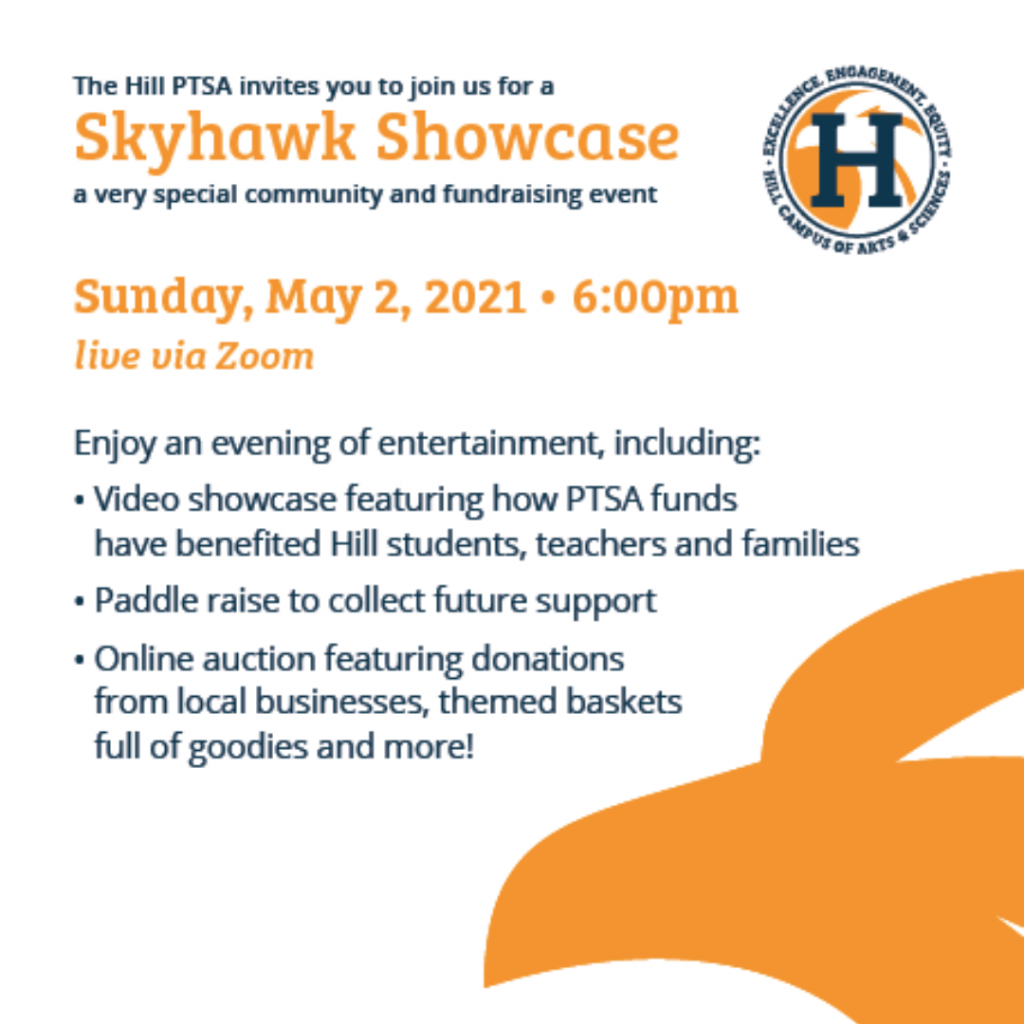 The Hill PTSA invites you to join us for a Skyhawk Showcase!
A Very Special Community and Fundraising Event
Sunday, May 2, 2021, 6:00pm
Live via Zoom Register here: https://hill.bebids.me
Enjoy an evening of entertainment, including:

• Video showcase featuring how PTSA funds have benefited Hill students, teachers and families
• Paddle raise to collect future support
• Online auction featuring donations from local businesses, themed baskets full of goodies and more!• Visit this webpage or stay tuned to school communications for information on how to register to bid, join the event and more!

Why we're having this event: Because of past fundraising success from our parents, the PTSA has been able to step in and provide much needed financial support to students, teachers and families last Spring and into this school year. Now, we are looking ahead and we are full of hope that the 21-22 school year will be amazing! And we are raising money to ensure that it is.
What we're raising money to support: Specifically, we hope to raise $30,000 to fund the following school & community priorities:
Teacher Grants – teachers often dip into their own pockets to pay for specialized equipment, subscriptions, etc. and the PTSA has a grant program to reimburse them.
Clubs – we are raising funds to incentivize and pay teachers to run after-school student clubs, since this is on their own time.
Mental Health – the PTSA has funded two semesters of mental health services by an outside provider and hope to raise enough to cover one more semester to take us through SY 21-22.
Hill Cares – this program provides crucial support to Hill families most in need, including grocery cards during COVID, Harvest baskets for Thanksgiving, Gifts and Food during the Holiday Season and more!
Arts – Hill is lucky enough to have robust Arts programming including dance, theatre, band, orchestra, choir, dance and visual arts, but it takes extra funding to support them fully!
Join us for this FREE event! We'd love to have you join whether you donate or not. The more the merrier!

We're still accepting donations: these will be included in the online auction that will lead up to the live event. You can ask for donations (gift certificate/card) from businesses you frequent and you can arrange item drop off with Jodi Hullinger – jodi.hullinger@gmail.com or call/text 617.510.3315. Items we're looking for:
wine – red, white, pink or bubbly! These wine "cellars" were very popular last year and this year they will have labels made from student art!
gift cards – popular categories of gift cards include: restaurants, book stores, local businesses, cafes, grocery stores, etc
experiences – such as tours, guided hikes, movie/theatre tickets, comedy shows, museum passes, etc
services – yoga classes, massages, facials, botox, etc.
kid activities/summer camps – discounts on full-week or day camps, museum passes, acting classes, golf passes/lessons, tennis camp, rock climbing pass, etc
any place you do business is likely to be of interest to someone else!
FINAL DINE OUT OF THE YEAR!
Tuesday, May 4, 2021 – all day!Please swing by Copper Door Coffee Roasters in Lowry for our last Dine Out for Hill of the year to support our fabulous faculty and staff! You can grab a cup o'joe for yourself and purchase a $5 gift card for a teacher. Copper Door will donate 20% of proceeds back to Hill.
Where: Copper Door Coffee, 7581 E Academy Blvd (next to Lowry Beer Garden)
Won't be able to make it to Copper Door on the 4th or want to pre-pay? No problem! You can still support our hard working teachers by donating to the Teacher Coffee Fund via the Skyhawk Showcase. It will be an item you can pay for during the silent auction.
Or better yet, support an awesome local, Hill family business by stopping in at Copper Door anytime a few days before the 4th to get your coffee and a gift card (or three!). Copper Door will hold on to all purchased gift cards for official distribution during Teacher Appreciation week.
---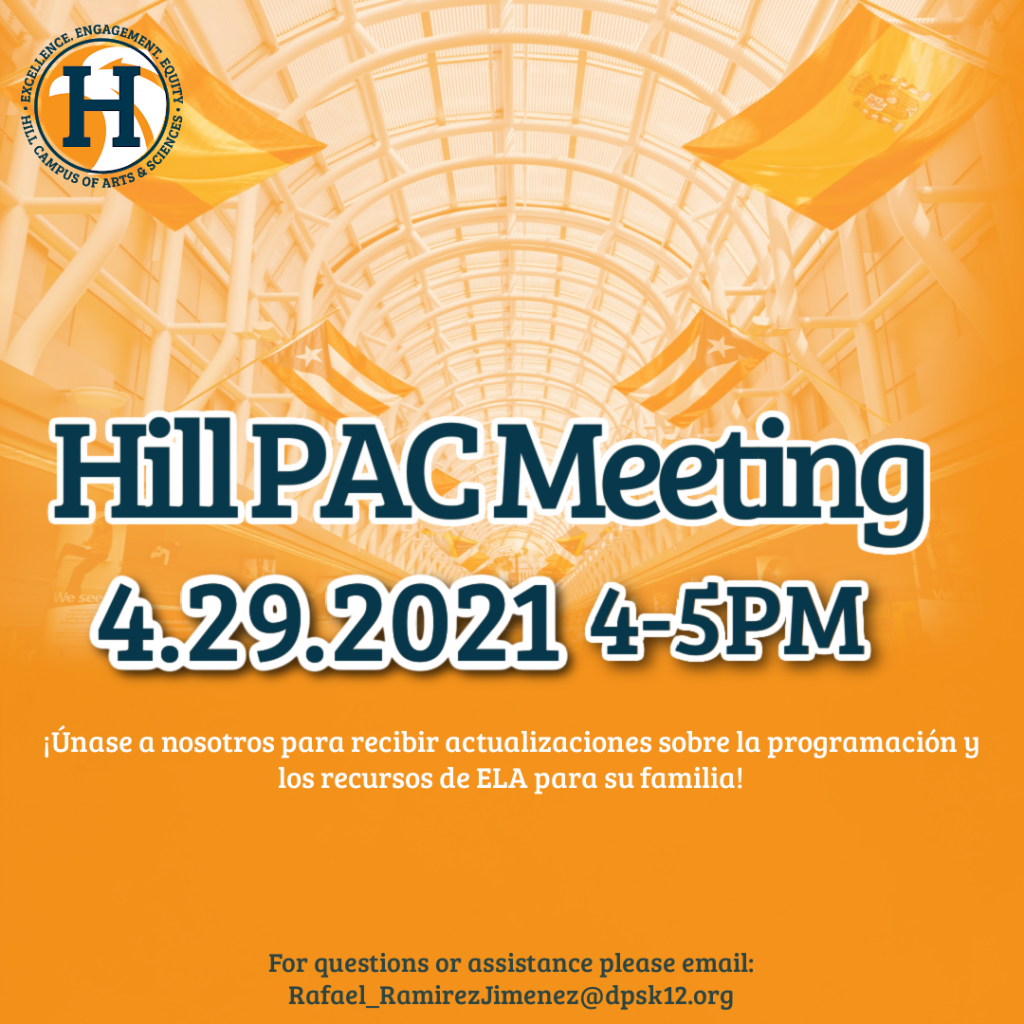 Foro de comentarios de la comunidad:

El director Adams quisiera extender una invitación a las familias para que se unan a nosotros el 13 de mayo a las 5:30 pm para un Foro de comentarios de la comunidad. Durante este Foro, nos gustaría escuchar sus comentarios sobre cómo lo estamos haciendo y cómo podemos mejorar en las siguientes áreas:
Comunicación (comunicación de toda la escuela y del maestro)
Atención al cliente de la oficina principal
Académica
Apoyo al estudiante
Tecnología
Otro
Regístrese AQUÍ para el Foro de comentarios.
ACTUALIZACIÓN: ¡Aprendizaje en persona 5 días a la semana !:

Queremos recordarles a las familias que los estudiantes que están actualmente en la cohorte A y B comienzan a asistir a clases de lunes a viernes el lunes 26 de abril. Entendemos que debido a que DPS no proporciona transporte para los estudiantes de secundaria, será difícil para algunas familias traer sus estudiantes 5 días a la semana. Queremos asegurarnos de que esos estudiantes aún tengan la oportunidad de asistir a la escuela en persona, incluso si solo son unos pocos días a la semana. Si su familia solo puede proporcionar transporte en ciertos días de la semana, le pedimos que complete ESTE formulario. Esto garantizará la seguridad de los estudiantes en caso de una emergencia y nos ayudará a mantener registros precisos de cuándo esperar a los estudiantes.
Reembolsos del Anuario 20-21:

HCAS NO tendrá un anuario para el año escolar 20-21. Todas las familias que compraron uno con TreeRing deberían haber recibido una cancelación. Los reembolsos se procesarán a través de TreeRing a la forma de pago original.
Clubes sociales:

Los clubes continuarán siendo agrupados por grupos A y B a menos que el líder del club se haya puesto en contacto con usted para indicar lo contrario. Los clubes tendrán un máximo de 15 estudiantes en persona a la vez.
8.o grado en la pista / fuera de tachuela letras
Hola familias de Skyhawk de octavo grado. Nos acercamos rápidamente al final del año, su estudiante de octavo grado pronto estará en la escuela secundaria como estudiante de primer año. Las familias recibirán un correo electrónico con respecto a la posición actual de su estudiante con los criterios y requisitos para continuar desde Hill. Una vez que reciba su carta, si tiene alguna pregunta, comuníquese con la Sra. Desiree Romero, la Especialista en Participación Estudiantil. desiree_romero@dpsk12.org
21-22 Inscripción anticipada:
¡Evite esperar en la fila y varios paquetes de papeleo! La inscripción anticipada está abierta desde el 26 de abril de 2021 hasta el 2 de mayo de 2021. Puede acceder a este a través del Portal para padres si es una familia que regresa (Familia que regresa paso a paso). Si es una familia nueva en DPS, envíe un correo electrónico a Karla (karla_garcia@dpsk12.org) para recibir un enlace personalizado (Nuevas familias paso a paso)
Fechas siguientes:
23 de abril

Todos los estudiantes aprenderán de forma remota

30 de Abril
Mayo 4

5:30 PM Reunión CSC
8:00 AM – 2:10 PM- Día de fotos de estudiantes de la cohorte A
2:30 PM – 3:30 PM – Estudiantes remotos Apellido A-J Día de fotos

6 de Mayo

8:00 AM – 2:10 PM- Día de fotos para estudiantes de la cohorte B
2:30 PM – 3:30 PM – Estudiantes remotos Apellido K-Z Día de fotos

10-14 de Mayo
11 de Mayo

Juego de baloncesto para estudiantes / personal

Mayo 13
14 de Mayo

2:00 PM Último foro familiar

19 de Mayo

Último día de clases para estudiantes de octavo grado
12:30 Práctica de continuación para todos los estudiantes de octavo grado

20 de Mayo

6:00 PM Continuación del 8vo grado

21 de Mayo

Tiempo a determinar Continuación del 8vo grado si el clima no lo permite el 20 de mayo

28 de Mayo

Último día de clases para estudiantes de sexto y séptimo grado
PTSA

** Cambio de fecha para Skyhawk Showcase, ahora 2 de mayo **
¡El Hill PTSA lo invita a unirse a nosotros para una exhibición de Skyhawk!
-un evento comunitario y de recaudación de fondos muy especial-
Domingo 2 de mayo de 2021
6:00 pm
en vivo a través de Zoom
Disfrute de una noche de entretenimiento, que incluye:
• Exhibición de videos que muestran cómo los fondos de la PTSA han beneficiado a los estudiantes, maestros y familias de Hill
• Levantar el remo para cobrar apoyo futuro
• ¡Subasta en línea con donaciones de negocios locales, canastas temáticas llenas de golosinas y más!
• ¡Visite tinyurl.com/PTSAinfo y permanezca atento a las comunicaciones de la escuela para obtener más información!
Para qué estamos recaudando dinero para apoyar: Específicamente, esperamos recaudar $ 30,000 para financiar las siguientes prioridades escolares y comunitarias:
Subvenciones para profesores: los profesores suelen echar mano de sus propios bolsillos para pagar equipos especializados, suscripciones, etc., y la PTSA tiene un programa de subvenciones para reembolsarlos.

Clubes: estamos recaudando fondos para incentivar y pagar a los maestros para que administren clubes de estudiantes después de la escuela, ya que esto es en su propio tiempo.

Salud mental: la PTSA ha financiado dos semestres de servicios de salud mental por parte de un proveedor externo y espera recaudar lo suficiente para cubrir un semestre más para completar el ciclo escolar 21-22.

Hill Cares: este programa brinda apoyo crucial a las familias de Hill más necesitadas, incluidas las canastas de cosecha para el Día de Acción de Gracias, regalos y comida durante la temporada navideña y más.

Artes: Hill tiene la suerte de contar con una programación de artes sólida que incluye danza, teatro, banda, orquesta, coro, danza y artes visuales, ¡pero se necesitan fondos adicionales para apoyarlos por completo!

Seguimos aceptando donaciones: se incluirán en la subasta en línea que conducirá al evento en vivo. Puede solicitar donaciones (certificado de regalo / tarjeta) de las empresas que frecuenta y puede organizar la entrega de artículos con Jodi Hullinger – jodi.hullinger@gmail.com o llamar / enviar un mensaje de texto al 617.510.3315. Elementos que buscamos:
vino – ¡tinto, blanco, rosado o burbujeante! ¡Estas "bodegas" de vino fueron muy populares el año pasado y este año tendrán etiquetas hechas con el arte de los estudiantes!
tarjetas de regalo: las categorías populares de tarjetas de regalo incluyen: restaurantes, librerías, negocios locales, cafés, tiendas de comestibles, etc.
experiencias, como visitas guiadas, caminatas guiadas, entradas para el cine / teatro, espectáculos de comedia, pases para museos, etc.
servicios: clases de yoga, masajes, tratamientos faciales, botox, etc.
actividades para niños / campamentos de verano: descuentos en campamentos de una semana o de un día, pases para museos, clases de actuación, pases / lecciones de golf, campamento de tenis, pase de escalada en roca, etc.
¡Es probable que cualquier lugar donde haga negocios sea de interés para otra persona!
¡CENA FINAL FUERA DEL AÑO!

Martes 4 de mayo de 2021: ¡todo el día!

Por favor, pase por Copper Door Coffee Roasters en Lowry para nuestra última cena fuera de Hill del año para apoyar a nuestra fabulosa facultad y personal. Puede tomar una taza de té para usted y comprar una tarjeta de regalo de $ 5 para un maestro. Copper Door donará el 20% de las ganancias a Hill.

Dónde: Copper Door Coffee, 7581 E Academy Blvd (junto a Lowry Beer Garden)
¿No podrá llegar a Copper Door el día 4 o quiere pagar por adelantado? ¡No hay problema! Aún puede apoyar a nuestros maestros que trabajan arduamente donando al Fondo de Café para Maestros a través de Skyhawk Showcase. Será un artículo que podrá pagar durante la subasta silenciosa.
O mejor aún, apoye una increíble empresa local de la familia Hill al pasar por Copper Door en cualquier momento unos días antes del 4 para obtener su café y una tarjeta de regalo (¡o tres!). Copper Door conservará todas las tarjetas de regalo compradas para su distribución oficial durante la semana de agradecimiento a los maestros.