Hawk Talk 8/27
Posted August 27, 2021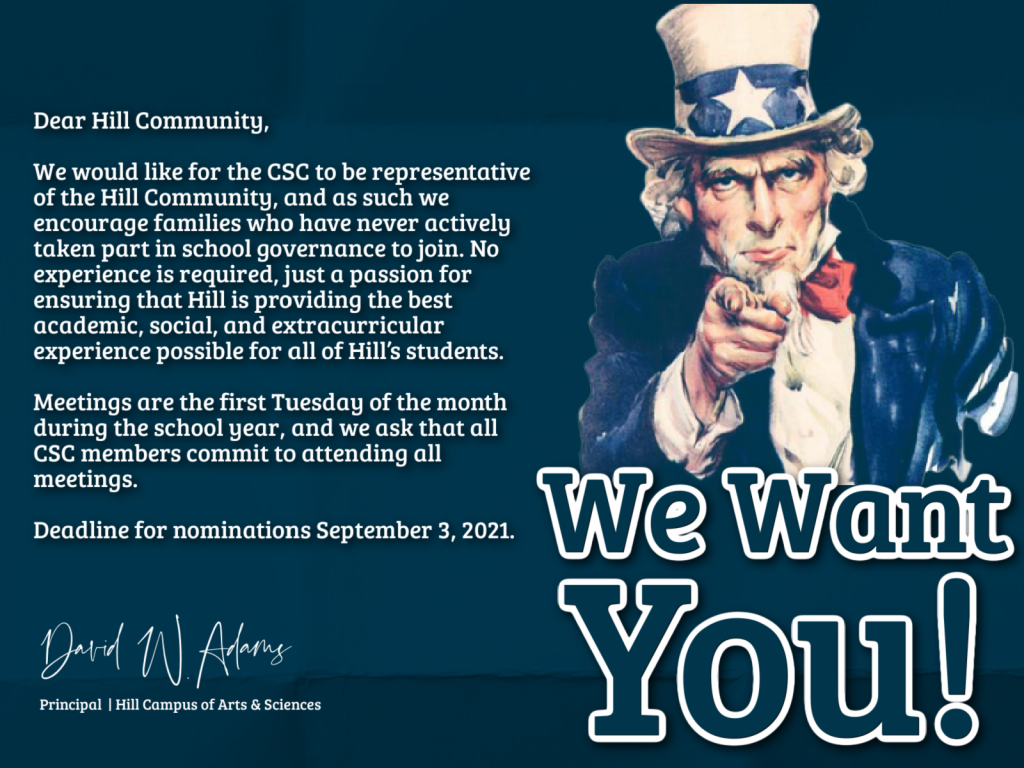 Our CSC Zoom Meeting on September 7th at 5:30pm link HERE
21-22 Half-Day Schedule Reminder:
Every other Wednesday is a half-day for students and they are dismissed from school at 12pm. Our next half-day is Wednesday, September 8, 2021. Half-days are noted on our school calendar with a green triangle occupying the top portion of the date. Here is our calendar for our school year.
Drop-Off Time Reminder:
Our instructional day begins at 8:10 am. Students may arrive at school beginning at 7:45 am, but it is important to know that there is no supervision outside until 7:50 am.
21-22 Transportation:
Make sure to check the DPS Transportation website for information regarding this school year. Parents that need support with transportation may call 720-423-4611 for assistance with routing. Routes assigned to students are found in Parent Portal.
Sports Update
Sign ups are available for our Early Fall sports. These sports include Boys Soccer, Girls Softball, and Co-Ed Cross Country. The signup links are live on our website! The signup links will close Sunday, September 5th @  12:00pm. Student-athletes who plan on competing in sports will need to have a sports physical completed. Tryouts for these sports will occur the week of September 6th. Please contact Director Lewis, frederick_lewis@dpsk12.org, or Mr. Turner, darian_turner@dpsk12.org, if you have any questions! Look forward to seeing you all compete!
WELCOME TO HILL PTSA!
Through strong partnership with administration, parents, students and teachers, Hill's PTSA is an important part of creating community at Hill. Furthermore, the PTSA provides needed financial and other aid to support Hill families in need, teacher initiatives, school-wide celebrations and more! We invite you to join us.
The more voices the better.
HELP WANTED
We still have a few volunteer positions open and would love to have you! We especially need (2) people to review financials (auditors – you do not need to have financial training) and (2) co-chairs of Spring Gala (less work than elementary – promise!) You can sign up at this link: https://tinyurl.com/PTSA2021
MARK YOUR CALENDARS
SEP 08: Park Burger DINE OUT, all day – use promo code "HILL" online, in-person or for takeout!
SEP 23: PTSA MTG @ 6:30p*
OCT 06: Pizzeria Locale DINE OUT, 11a-9p
OCT 21: PTSA MTG @ 6:30p*
NOV 08: Noodles & Co DINE OUT, 4p-8p
NOV 18: PTSA MTG @ 6:30p*
*in-person or via ZOOM, tbd!
STAY IN THE KNOW!
BECOME A 21-22 PTSA MEMBER – SIGN UP @ https://hill.bebids.me – NOTE: Iit will seem like you are "bidding" but just continue signing up, fill in requested info and you'll be able to pay for membership. This is the platform we use for all fundraising throughout the year, including the auction.
MEMBERS RECEIVE PERIODIC EMAILS
WATCH FOR PTSA UPDATES IN THE HAWK TALK
FOLLOW HILL ON FACEBOOK – PTSA POSTS THERE TOO!
EASY WAYS TO SUPPORT PTSA
King Soopers – tie your loyalty card to Hill & give back every time you buy groceries or gas at KS! Choose "Hill Campus of Arts & Sciences PTSA" when you link your rewards # at the following link: https://www.kingsoopers.com/i/community/community-rewards
AMAZON – start at smile.amazon.com & select "Hill Campus of Arts & Sciences PTA"
Put Dine Outs on your calendar – easy way to feed your family & support Hill with $ back from local restaurants!
Box Tops – download the app, attach account to Hill, buy groceries, scan receipt & repeat. Find out how at BTFE.com
Benevity – find out if your employer participates in this matching program.
2021-22 PTSA EXEC BOARD
We'd love to hear from you! Feel free to reach out with questions, comments, or just to introduce yourself!
---
Nuestra reunión de CSC Zoom el 7 de septiembre a las 5:30 pm enlace AQUÍ

Recordatorio de horario de medio día 21-22:

Cada dos miércoles es medio día para los estudiantes y salen de la escuela a las 12 pm. Nuestro próximo medio día es el miércoles 8 de septiembre de 2021. Los medios días se indican en nuestro calendario escolar con un triángulo verde que ocupa la parte superior de la fecha. Aquí está nuestro calendario para nuestro año escolar.
Recordatorio de tiempo de entrega:

Nuestro día de instrucción comienza a las 8:10 am. Los estudiantes pueden llegar a la escuela a partir de las 7:45 am, pero es importante saber que no hay supervisión afuera hasta las 7:50 am.
21-22 Transporte:

Asegúrese de consultar el sitio web de Transporte de DPS para obtener información sobre este año escolar. Los padres que necesiten ayuda con el transporte pueden llamar al 720-423-4611 para obtener ayuda con la ruta. Las rutas asignadas a los estudiantes se encuentran en el Portal para padres.
Actualización de deportes

Las inscripciones están disponibles para nuestros deportes de principios del otoño. Estos deportes incluyen fútbol masculino, softbol femenino y cross-country mixto. ¡Los enlaces de registro están activos en nuestro sitio web! Los enlaces de registro se cerrarán el domingo 5 de septiembre a las 12:00 pm. Los estudiantes-atletas que planean competir en deportes deberán completar un examen físico deportivo. Las pruebas para estos deportes se realizarán la semana del 6 de septiembre. Si tiene alguna pregunta, comuníquese con el Director Lewis, frederick_lewis@dpsk12.org, o con el Sr. Turner, darian_turner@dpsk12.org. ¡Esperamos verlos a todos competir!
¡BIENVENIDO A HILL PTSA!

A través de una sólida asociación con la administración, los padres, los estudiantes y los maestros, la PTSA de Hill es una parte importante de la creación de una comunidad en Hill. Además, la PTSA proporciona la ayuda financiera y de otro tipo necesaria para apoyar a las familias de Hill que lo necesitan, iniciativas de maestros, celebraciones en toda la escuela y más. Te invitamos a que te unas a nosotros.
Cuantas más voces mejor.
SE BUSCA AYUDANTE

¡Todavía tenemos algunos puestos de voluntariado abiertos y nos encantaría tenerlo! Especialmente necesitamos (2) personas para revisar las finanzas (auditores, no necesita tener capacitación financiera) y (2) copresidentes de Spring Gala (menos trabajo que la primaria, ¡lo prometo!) Puede registrarse en este enlace:
https : //tinyurl.com/PTSA2021

MARQUE SUS CALENDARIOS
08 DE SEPTIEMBRE: Park Burger CENA FUERA, todo el día – ¡usa el código de promoción "HILL" en línea, en persona o para llevar!
23 DE SEPTIEMBRE: PTSA MTG @ 6: 30p *
06 DE OCTUBRE: Pizzeria Locale DINE OUT, 11a-9p
21 DE OCTUBRE: PTSA MTG @ 6: 30p *
08 DE NOVIEMBRE: Noodles & Co DINE OUT, 4p-8p
18 DE NOVIEMBRE: PTSA MTG @ 6: 30p *en persona o vía ZOOM, tbd!
¡MANTÉNGASE EN EL CONOCIMIENTO!
CONVIÉRTASE EN MIEMBRO DE PTSA 21-22 – REGÍSTRESE @ https://hill.bebids.me – NOTA: Parecerá que está "haciendo una oferta", pero continúe registrándose, complete la información solicitada y podrá pagar para la membresía. Esta es la plataforma que usamos para todas las recaudaciones de fondos durante el año, incluida la subasta.

LOS MIEMBROS RECIBEN CORREOS ELECTRÓNICOS PERIÓDICOS
MIRAR ACTUALIZACIONES DE PTSA EN HAWK TALK
SIGUE HILL EN FACEBOOK – ¡PTSA TAMBIÉN HAY PUBLICACIONES!
FORMAS FÁCILES DE APOYAR PTSA

King Soopers: ate su tarjeta de fidelidad a Hill y devuelva cada vez que compre alimentos o gasolina en KS. Elija "Hill Campus of Arts & Sciences PTSA" cuando vincule su número de recompensas en el siguiente enlace: https://www.kingsoopers.com/i/community/community-rewards
Si aún no tiene una cuenta digital, puede crearla aquí: https://www.kingsoopers.com/account/create/
AMAZON: comience en smile.amazon.com y seleccione "Hill Campus of Arts & Sciences PTA"
Incluya Salidas a cenar en su calendario: ¡una manera fácil de alimentar a su familia y apoyar a Hill con $ de vuelta de los restaurantes locales!

Box Tops: descargue la aplicación, adjunte una cuenta a Hill, compre alimentos, escanee el recibo y repita. Descubra cómo en BTFE.com
Beneficio: averigüe si su empleador participa en este programa de contrapartida.

JUNTA DE EXEC DE PTSA 2021-22
¡Nos encantaría saber de ti! ¡No dude en comunicarse con nosotros con preguntas, comentarios o simplemente para presentarse!
Presidenta: Jodi Hullinger, jodi.hullinger@gmail.com
Vicepresidenta: Alecia Zunker, alecia.zunker@gmail.com
Tesorera: Julie Seltenhammer, spankyhammer@gmail.com
Secretaria: Pattie Welch, pattiewelch@hotmail.com