Hawk Talk 9/10
Posted September 10, 2021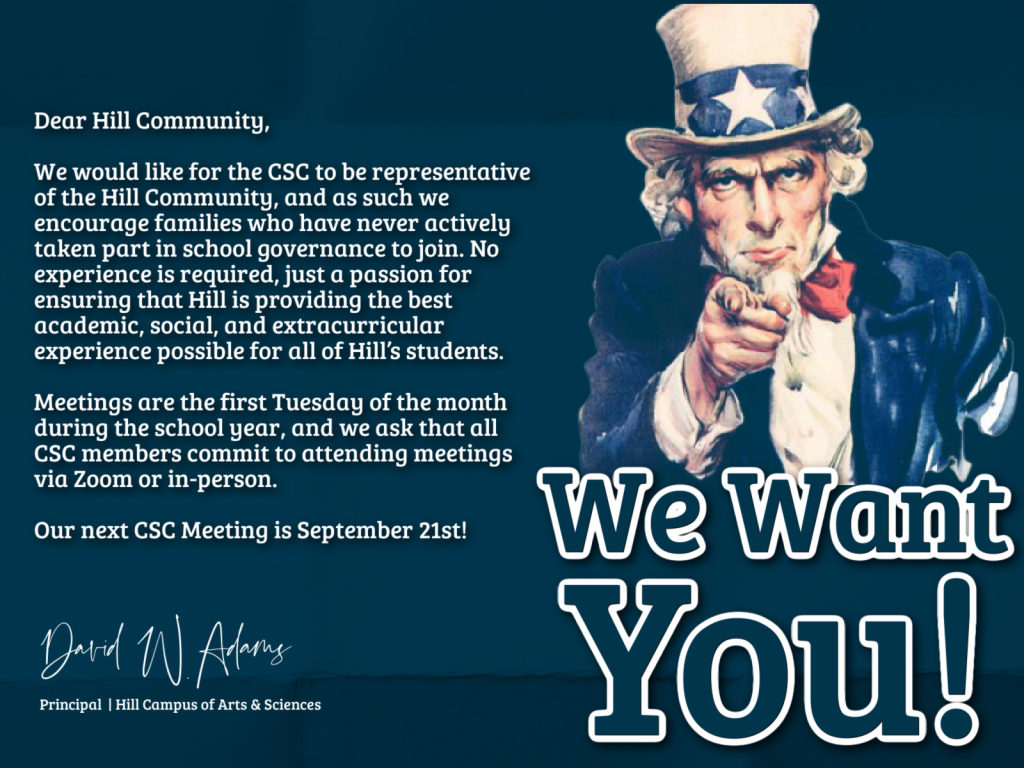 Youth Choir
The youth choir you've been waiting for is coming to Hill! Are you ready for a great adventure? If so, get on the VOCO waiting list now by scanning the QR code on the flyer or visiting vocalcoalition.org/hill today. This youth choir is free for the first 20 Hill students that sign up, and will be connected to the Hill Choir Club that meets on Monday afternoons beginning October 4. Contact Mr. Runyan with questions: randal_runyan@dpsk12.org
Social Clubs
After School Social Clubs will be starting soon. Stay tuned for more information! In support of our clubs, we would like to have snacks available for all students. We plan on holding clubs all year, so we will need a lot of snacks! You can either drop off NUT-FREE snacks at Hill Room 135, or you can donate money for the purchase of snacks hill.bebids.me
School Lockers
Starting Monday, September 13, school lockers will be distributed to students who signed up using the locker request form. Priority is given to students who are participating in sports, and/or have instruments for band/orchestra. Students may still sign-up using this link, tinyurl.com/hilllockerform and will be distributed based on need. Getting a locker for the 2021-2022 school year is not guaranteed.
Pick-Up/Drop-off Reminder:
Please drop-off and pick-up your student from their assigned zone around the school building. This helps mitigate traffic congestion and creates a safer entry/exit routine for all community members. Thank you!
Hispanic Heritage Month
Hispanic Heritage Month is observed from September 15 to October 15. This month corresponds with Mexican Independence Day, which is celebrated on September 16, and recognizes the revolution in 1810 that ended Spanish dictatorship. More information and resources to celebrate Hispanic Heritage Month with our students will be sent out early next week.
Social and Emotional Screening
As part of our effort to support the Whole Child, our school will be implementing a universal social and emotional screening for students called the Behavioral and Emotional Screening for Students (BESS). This is an opportunity for us to learn more about our students and align our supports to support their success. All students will take this 5-10 minute survey on September 17th. Parents will also have an opportunity to take this survey concerning their child(ren). For further information about this screening go to this link.
NNAT Screening Upcoming
The window for fall Naglieri Non-Verbal Abilities (NNAT) Screening is now open! Each year 6th graders participate in this screening to help teachers determine the best educational programming for them. Due to the disruptions of last school year, many 7th graders will also participate in this year's screening. Testing is scheduled to occur on Monday, September, 20th for 6th grade students and Tuesday, September 21st, for 7th graders.
You can read more about our intent to test your child here. Also, find out more about the NNAT by visiting this link. Information about your child's performance will be communicated to families and is usually available around 4 weeks after testing is complete.
If you wish to opt your student out of testing, please email Jeremy Hansen at jeremy_hansen@dpsk12.org.
Intent to Test Translations:
Amharic, Arabic, Burmese, French, Somali, Spanish, Vietnamese
NNAT Test Information Translations:
Amharic, Arabic, Burmese, French, Somali, Spanish, Vietnamese
Upcoming Early Release/No School Days:
Sep 22 – Early Release (12pm)
Sep 27 – No School for Students
Oct 6 – Early Release (12pm)
Oct 15 – No School for Students
Oct 18 – No School for Students
Oct 20 – Early Release (12pm)
HILL PTSA UPDATE!
Thank you to all who have already signed up to be a PTSA member for the 21-22 School Year. The more the merrier for this group – so PLEASE, take the time to sign up and also please put the upcoming meetings and events on your calendars. We'd love to get to know you and work together with you in support of our terrific school. You can sign up to become a member, donate to Hill Arts or to donate to help purchase Afterschool Club Snacks and more at – https://hill.bebids.me
NOTE: it's a little clunky and will seem like you are joining an event and "bidding" but just continue signing up, fill in requested info and you'll be able to see the various options. This is the platform we use for all fundraising throughout the year, including the Spring Gala.

PTSA MEETING UPDATE
We are excited to announce that at least for now, we will be able to meet at the school, in-person! Meetings will be held in the library where we will be able to spread out a bit. Masks will still be required, as this will be indoors.
MARK YOUR CALENDARS
SEP 23: PTSA MTG @ 6:30p – HILL LIBRARY
OCT 06: Pizzeria Locale DINE OUT, 11a-9p
OCT 21: PTSA MTG @ 6:30p*
NOV 08: Noodles & Co DINE OUT, 4p-8p
NOV 18: PTSA MTG @ 6:30p*
*assume in -person, in the library, unless we get different guidance from administration.*
HELP WANTED
We still have a few volunteer positions open and would love to have you! We especially need (2) people to review financials (auditors – you do not need to have financial training) and (2) co-chairs of Spring Gala (less work than elementary – promise!) You can sign up at this link: https://tinyurl.com/PTSA2021
STAY IN THE KNOW!
BECOME A 21-22 PTSA MEMBER – SIGN UP @ https://hill.bebids.me
MEMBERS RECEIVE PERIODIC EMAILS
WATCH FOR PTSA UPDATES IN THE HAWK TALK
FOLLOW HILL ON FACEBOOK – PTSA POSTS THERE TOO!
EASY WAYS TO SUPPORT PTSA
DONATE – to various initiatives at https://hill.bebids.me
KING SOOPERS – we typically raise over $2,000 from King Soopers – and it's so easy for you!! Simply tie your King Soopers loyalty card to Hill & they will give back every time you buy groceries or gas at KS! Choose "Hill Campus of Arts & Sciences PTSA" when you link your rewards # at the following link: https://www.kingsoopers.com/i/community/community-rewards
NATURAL GROCER – if you're a NG shopper and want to find out how to make your shopping also support Hill PTSA, please send an email to Jodi.Hullinger@gmail.com and she will get you the information you need. We typically raise just over $500 from this program.
AMAZON – we raised just over $400 last year – let's break $500 this year!!! Simply start ALL your Amazon shopping at smile.amazon.com & select "Hill Campus of Arts & Sciences PTA". It works with the App too, BTW.
Put DINE OUTS on your calendar – easy way to feed your family & support Hill with $ back from local restaurants! We made over $1500 last year from Dine Outs.
BOX TOPS FOR EDUCATION – download the app, attach account to Hill, buy groceries, scan receipt & repeat. Find out how at BTFE.com – we only made abour $80 last year – lots of possibility here!
BENEVITY – find out if your employer participates in this matching program.
2021-22 PTSA EXEC BOARD
We'd love to hear from you! Feel free to reach out with questions, comments, or just to introduce yourself!
---
Spanish
Coro de jóvenes

¡El coro de jóvenes que estabas esperando llegará a Hill! ¿Estás listo para una gran aventura? Si es así, inscríbase ahora en la lista de espera de VOCO escaneando el código QR en el volante o visitando vocalcoalition.org/hill hoy. Este coro de jóvenes es gratis para los primeros 20 estudiantes de Hill que se inscriban, y estará conectado al Hill Choir Club que se reúne los lunes por la tarde a partir del 4 de octubre. Comuníquese con el Sr. Runyan si tiene preguntas: randal_runyan@dpsk12.org
Clubes sociales

Los clubes sociales después de clases comenzarán pronto. ¡Estén atentos para más información! En apoyo de nuestros clubes, nos gustaría tener bocadillos disponibles para todos los estudiantes. Planeamos tener clubes todo el año, ¡así que necesitaremos muchos bocadillos! Puede dejar bocadillos SIN NUT-FREE en Hill Room 135, o puede donar dinero para la compra de bocadillos hill.bebids.me
Casilleros de la Escuela

A partir del lunes 13 de septiembre, los casilleros escolares se distribuirán a los estudiantes que se inscribieron utilizando el formulario de solicitud de casilleros. Se da prioridad a los estudiantes que participan en deportes y / o tienen instrumentos para banda / orquesta. Los estudiantes aún pueden inscribirse usando este enlace, tinyurl.com/hilllockerform y se distribuirá según sea necesario. No se garantiza la obtención de un casillero para el año escolar 2021-2022.
Recordatorio de recogida / devolución:

Por favor deje y recoja a su estudiante de su zona asignada alrededor del edificio de la escuela. Esto ayuda a mitigar la congestión del tráfico y crea una rutina de entrada / salida más segura para todos los miembros de la comunidad. ¡Gracias!
Mes de la Herencia Hispana

El Mes de la Herencia Hispana se observa del 15 de septiembre al 15 de octubre. Este mes corresponde al Día de la Independencia de México, que se celebra el 16 de septiembre, y reconoce la revolución de 1810 que puso fin a la dictadura española. Más información y recursos para celebrar el Mes de la Herencia Hispana con nuestros estudiantes se enviarán a principios de la próxima semana.
Evaluación Socioemocional:
Como parte de nuestro esfuerzo para apoyar al niño en su totalidad, nuestra escuela implementará una evaluación social y emocional universal para los estudiantes llamada Evaluación conductual y emocional para estudiantes (BESS). Esta es una oportunidad para que aprendamos más sobre nuestros estudiantes y alineemos nuestros apoyos para apoyar su éxito. Todos los estudiantes tomarán esta encuesta de 5 a 10 minutos el 17 de septiembre. Los padres también tendrán la oportunidad de tomar esta encuesta sobre sus hijos. Para obtener más información sobre esta proyección, vaya a este enlace.
Próximos Días de Salida Temprana / No Clases:
22 de septiembre – Salida anticipada (12:00 p.m.)
27 de septiembre – No hay clases para estudiantes
6 de octubre – Salida anticipada (12:00 p. M.)
15 de octubre – No hay clases para estudiantes
18 de octubre – No hay clases para estudiantes
20 de octubre – Salida anticipada (12:00 p.m.)
¡ACTUALIZACIÓN DE HILL PTSA!

Gracias a todos los que ya se han inscrito para ser miembros de la PTSA para el año escolar 21-22. Cuantos más, mejor para este grupo, así que POR FAVOR, tómese el tiempo para registrarse y también coloque las próximas reuniones y eventos en sus calendarios. Nos encantaría conocerte y trabajar junto a ti en apoyo de nuestra magnífica escuela. Puede registrarse para convertirse en miembro, donar a Hill Arts o donar para ayudar a comprar bocadillos del club después de la escuela y más en: https://hill.bebids.me
NOTA: es un poco torpe y parecerá que se está uniendo a un evento y "pujando", pero simplemente continúe registrándose, complete la información solicitada y podrá ver las distintas opciones. Esta es la plataforma que usamos para todas las recaudaciones de fondos durante todo el año, incluida la Gala de Primavera.
ACTUALIZACIÓN DE LA REUNIÓN DEL PTSA
¡Estamos emocionados de anunciar que al menos por ahora, podremos reunirnos en la escuela en persona! Las reuniones se realizarán en la biblioteca donde podremos esparcirnos un poco. Se seguirán necesitando máscaras, ya que será en interiores.
MARQUE SUS CALENDARIOS
23 DE SEPTIEMBRE: PTSA MTG @ 6: 30p – BIBLIOTECA DE HILL
06 DE OCTUBRE: Pizzeria Locale DINE OUT, 11a-9p
21 DE OCTUBRE: PTSA MTG @ 6: 30p *
08 DE NOVIEMBRE: Noodles & Co DINE OUT, 4p-8p
18 DE NOVIEMBRE: PTSA MTG @ 6: 30p *
asumir en persona, en la biblioteca, a menos que obtengamos una orientación diferente de la administración. *
SE BUSCA AYUDANTE
¡Todavía tenemos algunos puestos de voluntariado abiertos y nos encantaría tenerlo! Especialmente necesitamos (2) personas para revisar las finanzas (auditores: no necesita tener capacitación financiera) y (2) copresidentes de Spring Gala (menos trabajo que la primaria, ¡lo prometo!) Puede registrarse en este enlace: https://tinyurl.com/PTSA2021
¡MANTÉNGASE EN EL CONOCIMIENTO!
CONVIÉRTETE EN MIEMBRO DE PTSA 21-22 – REGÍSTRESE @ https://hill.bebids.me
LOS MIEMBROS RECIBEN CORREOS ELECTRÓNICOS PERIÓDICOS
MIRAR ACTUALIZACIONES DE PTSA EN HAWK TALK
SIGUE HILL EN FACEBOOK – ¡PTSA TAMBIÉN HAY PUBLICACIONES!
FORMAS FÁCILES DE APOYAR PTSA
DONAR – a varias iniciativas en https://hill.bebids.me
KING SOOPERS: normalmente recaudamos más de $ 2,000 de King Soopers, ¡y es muy fácil para ti! Simplemente ate su tarjeta de fidelidad King Soopers a Hill y ellos le devolverán cada vez que compre alimentos o gasolina en KS. Elija "Hill Campus of Arts & Sciences PTSA" cuando vincule su número de recompensas en el siguiente enlace: https://www.kingsoopers.com/i/community/community-rewards
Si aún no tiene un número de recompensas / cuenta digital, puede crearlo aquí: https://www.kingsoopers.com/account/create/
TIENDA NATURAL: si usted es un comprador de NG y desea saber cómo hacer que sus compras también sean compatibles con Hill PTSA, envíe un correo electrónico a Jodi.Hullinger@gmail.com y ella le proporcionará la información que necesita. Por lo general, recaudamos un poco más de $ 500 de este programa.
AMAZON: recaudamos un poco más de $ 400 el año pasado. ¡¡¡Vamos a romper $ 500 este año !!! Simplemente comience TODAS sus compras en Amazon en smile.amazon.com y seleccione "Hill Campus of Arts & Sciences PTA". También funciona con la aplicación, por cierto.
Incluya DINE OUTS en su calendario: ¡una manera fácil de alimentar a su familia y apoyar a Hill con $ de vuelta de los restaurantes locales! Ganamos más de $ 1500 el año pasado con Dine Outs.
BOX TOPS FOR EDUCATION: descargue la aplicación, adjunte una cuenta a Hill, compre alimentos, escanee el recibo y repita. Descubra cómo en BTFE.com – solo ganamos alrededor de $ 80 el año pasado – ¡muchas posibilidades aquí!
BENEVIDAD: averigüe si su empleador participa en este programa de contrapartida.

JUNTA DE EXEC DE PTSA 2021-22
¡Nos encantaría saber de ti! ¡No dude en comunicarse con nosotros con preguntas, comentarios o simplemente para presentarse!
Presidenta: Jodi Hullinger, jodi.hullinger@gmail.com
Vicepresidenta: Alecia Zunker, alecia.zunker@gmail.com
Tesorera: Julie Seltenhammer, spankyhammer@gmail.com
Secretaria: Pattie Welch, pattiewelch@hotmail.com