Hawk Talk 9/17
Posted September 17, 2021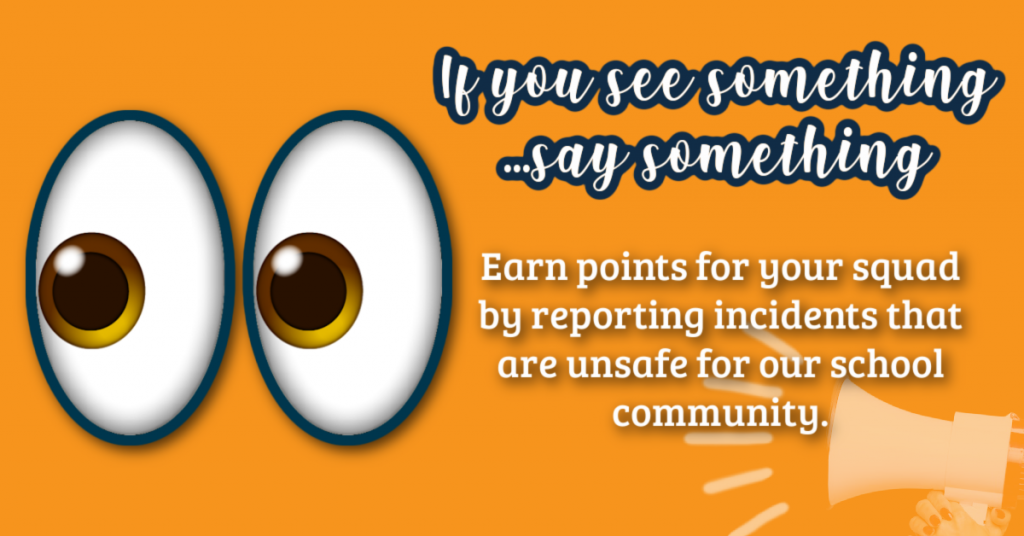 CSC: WE STILL NEED PARENTS TO JOIN THE CSC PLEASE CLICK THE LINK HERE TO JOIN!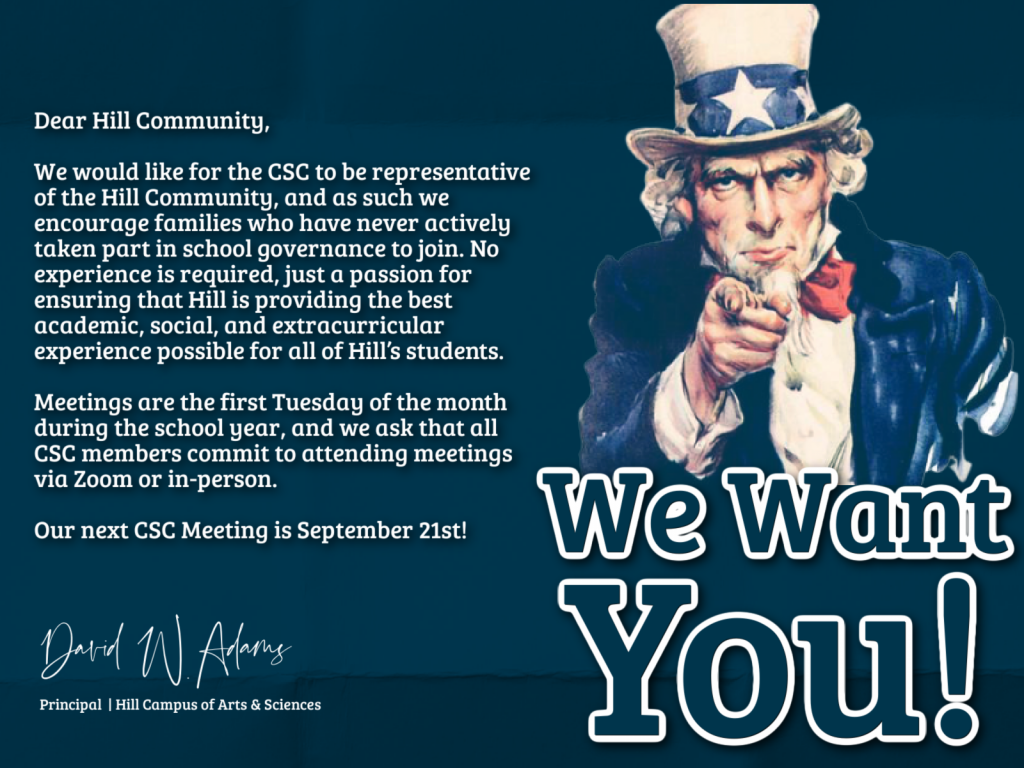 Standards Based Grading:
Read this important information about how Hill is grading this year in the letter HERE
Nurse Information

Denver Health is proud to offer the Pfizer COVID vaccine at the Denver Health Pediatrics clinic at Place Bridge Academy! This vaccine is available to Denver Public School students, families of students, and DPS faculty/staff. Anyone ages 12 and up can receive their 1st or 2nd dose; and, if you receive your 1st dose at our clinic, we will make sure to schedule you for the 2nd dose. With vaccination, we're hoping we can all stay in school, keep playing sports, see our friends, and do our favorite activities! To get a vaccine, or for more information, please call the clinic at Place Bridge Academy at 720-424-2050.

Late Fall Sports

Late Fall sports are now available to sign up. These sports include Volleyball and Flag Football. Student sign up links are live on the website! Students will need to complete a Sports Physical in order to compete. Sign up links will close Sunday, October 3rd @12:00pm. Reach out to Mr. Turner or Director Lewis for any questions.
Social Media Reminder:
Please be aware of what your student is watching on social media or with their technology devices (TikTok, Snapchat, YouTube, etc). If you or your student see anything concerning, we encourage you or your student to report it to a trusted adult in school or by using Safe-to-Tell.
Social Clubs:
Skyhawk Parents, After School Social Club sign-ups will be released to students next week during SEL Time.
This year, we are excited to offer over 40 club options that cover athletics, arts, social justice, leadership, music, and more. Clubs will take place Monday, Tuesday, Thursday, and Friday from 3:15pm-4:00pm, and most clubs will start the week of September 28 or Monday, October 4 unless otherwise noted. Most clubs are free to all students, unless you hear directly from the club leader.
DPS provided transportation (aka: School Buses) will NOT be available to support clubs, so students will need to have a way home. If your student is able to get home by RTD, and you need support with a bus pass, please contact Jennifer I or your club leader.
Families will be able to view the After School Sign-Up Genius today, but sign-ups will open on Monday.
You can support snacks for Hill Clubs by donating here. Recommended donation is $1/week for the duration of the club or $25 for each club your child joins. hill.bebids.me
Picture Retake Day 9/24:
Picture Retake Day is Friday, September 24, from 8:30am – 10:30am ONLY. If your student was absent for Picture Day or would like retakes, they may take advantage of this opportunity.
Hispanic Heritage Month
We are honoring our Hispanic communities every Friday during Block 1 morning meetings and ending our month on October 28th from 5-7pm with a Dias De Las Muertos Festival! We will be showing the movie Coco on the jumbo screen in the courtyard and celebrating with our Hispanic Families in honoring our ancestors and one another!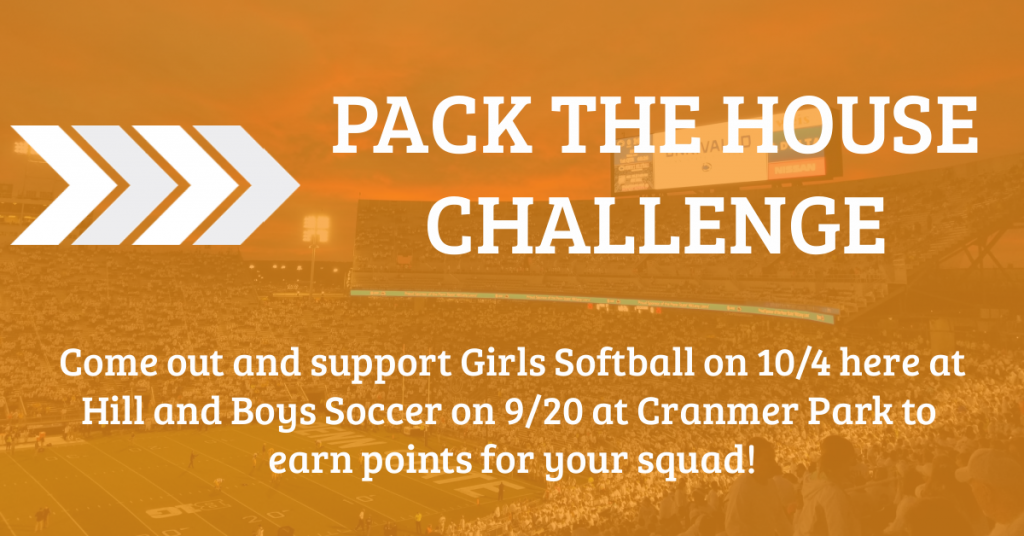 Pack The House Challenge:
Navy or Marigold? Students and Teachers have their next opportunity to earn points for their Legacy team by Packing the House at the Boys Soccer Match on September 20 against Slavens at Cranmer Park and at the Girls' Softball game on October 4 against McAuliffe at Hill. The team with the best representation will earn points, and the Teachers will win a free lunch for their ENTIRE cohort!
Upcoming Early Release/No School Days:
Sep 22 – Early Release (12pm)
Sep 27 – No School for Students
Oct 6 – Early Release (12pm)
Oct 15 – No School for Students
Oct 18 – No School for Students
Oct 20 – Early Release (12pm)
HILL PTSA UPDATE
– short and sweet this week!
First PTSA Meeting is THURSDAY, September 23 @ 6:30pm. We welcome ALL – parents, teachers and students – to come! Here are the deets:
IN-PERSON @ Hill in the Library (masks required)
TOPICS: among other topics, we will be voting on some important budget issues – in order to vote, you must be a registered PTSA member. But no worries…you can do that here. And, if paying for membership gives you even an ounce of concern, please just let me know – we have sponsored spots available too!!
CAN'T JOIN?: even if you can't join the meeting, please consider joining the PTSA as a member! Link above!
Questions, comments? Reach out to me @ jodi.hullinger@gmail.com
Best,Jodi on behalf of the PTSABecome a member/support the PTSA @ https://hill.bebids.me
---
Información de la enfermera
¡Denver Health se enorgullece de ofrecer la vacuna Pfizer COVID en la clínica de pediatría de Denver Health en Place Bridge Academy! Esta vacuna está disponible para los estudiantes de las Escuelas Públicas de Denver, las familias de los estudiantes y el personal docente y administrativo de DPS. Cualquier persona de 12 años en adelante puede recibir su primera o segunda dosis; y, si recibe su primera dosis en nuestra clínica, nos aseguraremos de programarle la segunda dosis. Con la vacunación, esperamos que todos podamos permanecer en la escuela, seguir practicando deportes, ver a nuestros amigos y hacer nuestras actividades favoritas. Para recibir una vacuna o para obtener más información, llame a la clínica de Place Bridge Academy al 720-424-2050.
Deportes de finales de otoño

Los deportes de finales de otoño ya están disponibles para inscribirse. Estos deportes incluyen voleibol y fútbol de bandera. Los enlaces de registro de estudiantes están disponibles en el sitio web. Los estudiantes deberán completar un examen físico deportivo para poder competir. Los enlaces de registro se cerrarán el domingo 3 de octubre a las 12:00 p. M. Comuníquese con el Sr. Turner o el Director Lewis si tiene alguna pregunta.
Recordatorio de redes sociales:

Tenga en cuenta lo que su estudiante está viendo en las redes sociales o con sus dispositivos tecnológicos (TikTok, Snapchat, YouTube, etc.). Si usted o su estudiante ven algo preocupante, lo alentamos a usted o su estudiante a informarlo a un adulto de confianza en la escuela o usando Safe-to-Tell.
Clubes sociales:

Padres de Skyhawk, las inscripciones al Club Social Después de la Escuela serán entregadas a los estudiantes la próxima semana durante SEL Time.
Este año, nos complace ofrecer más de 40 opciones de clubes que cubren atletismo, artes, justicia social, liderazgo, música y más. Los clubes se llevarán a cabo los lunes, martes, jueves y viernes de 3:15 pm a 4:00 pm, y la mayoría de los clubes comenzarán la semana del 28 de septiembre o el lunes 4 de octubre, a menos que se indique lo contrario. La mayoría de los clubes son gratuitos para todos los estudiantes, a menos que escuche directamente del líder del club.
El transporte proporcionado por DPS (también conocido como: autobuses escolares) NO estará disponible para apoyar a los clubes, por lo que los estudiantes deberán tener un camino a casa. Si su estudiante puede llegar a casa por RTD y necesita apoyo con un pase de autobús, comuníquese con Jennifer I o con el líder de su club.
Las familias podrán ver el Genio de inscripción después de la escuela hoy, pero las inscripciones se abrirán el lunes.
Puede apoyar bocadillos para Hill Clubs donando aquí. La donación recomendada es de $ 1 por semana durante la duración del club o $ 25 por cada club al que se una a su hijo. hill.bebids.me
Día de retomar la fotografía 9/24:

El día para retomar las fotografías es el viernes 24 de septiembre, de 8:30 a. M. A 10:30 a. M. ÚNICAMENTE. Si su estudiante estuvo ausente para el día de fotos o le gustaría volver a tomarlas, puede aprovechar esta oportunidad.
Mes de la Herencia Hispana

¡Honramos a nuestras comunidades hispanas todos los viernes durante las reuniones matutinas del Bloque 1 y terminamos nuestro mes el 28 de octubre de 5 a 7 pm con un Festival Dias De Las Muertos! ¡Mostraremos la película Coco en la pantalla gigante en el patio y celebraremos con nuestras familias hispanas en honor a nuestros antepasados ​​y unos a otros!
Empacar el desafío de la casa:

¿Azul marino o caléndula? Los estudiantes y los maestros tienen la próxima oportunidad de ganar puntos para su equipo Legacy al empacar la casa en el partido de fútbol masculino el 20 de septiembre contra Slavens en Cranmer Park y en el juego de softbol femenino el 4 de octubre contra McAuliffe en Hill. ¡El equipo con la mejor representación ganará puntos y los Maestros ganarán un almuerzo gratis para TODA su cohorte!
Próximos Días de Salida Temprana / No Clases:

22 de septiembre – Salida anticipada (12:00 p.m.)
27 de septiembre – No hay clases para estudiantes
6 de octubre – Salida anticipada (12:00 p. M.)
15 de octubre – No hay clases para estudiantes
18 de octubre – No hay clases para estudiantes
20 de octubre – Salida anticipada (12:00 p.m.)
PTSA
ACTUALIZACIÓN DE HILL PTSA – ¡breve y dulce esta semana!

La primera reunión de la PTSA es el JUEVES 23 de septiembre a las 6:30 pm. ¡Damos la bienvenida a TODOS – padres, maestros y estudiantes – por venir! Aquí están los detalles:

EN PERSONA @ Hill in the Library (se requieren máscaras)
TEMAS: entre otros temas, votaremos sobre algunos temas presupuestarios importantes; para poder votar, debe estar registrado como miembro de la PTSA. Pero no te preocupes … puedes hacerlo aquí. Y, si pagar por la membresía le da una pizca de preocupación, hágamelo saber, ¡también tenemos espacios patrocinados disponibles!
¿NO PUEDE UNIRSE ?: incluso si no puede unirse a la reunión, ¡considere unirse a la PTSA como miembro! Enlace de arriba!

¿Preguntas, comentarios? Comuníquese conmigo @ jodi.hullinger@gmail.com
Mejor,
Jodi en nombre de la PTSA
Conviértase en miembro / apoye la PTSA @ https://hill.bebids.me