Hawk Talk 9/24
Posted September 24, 2021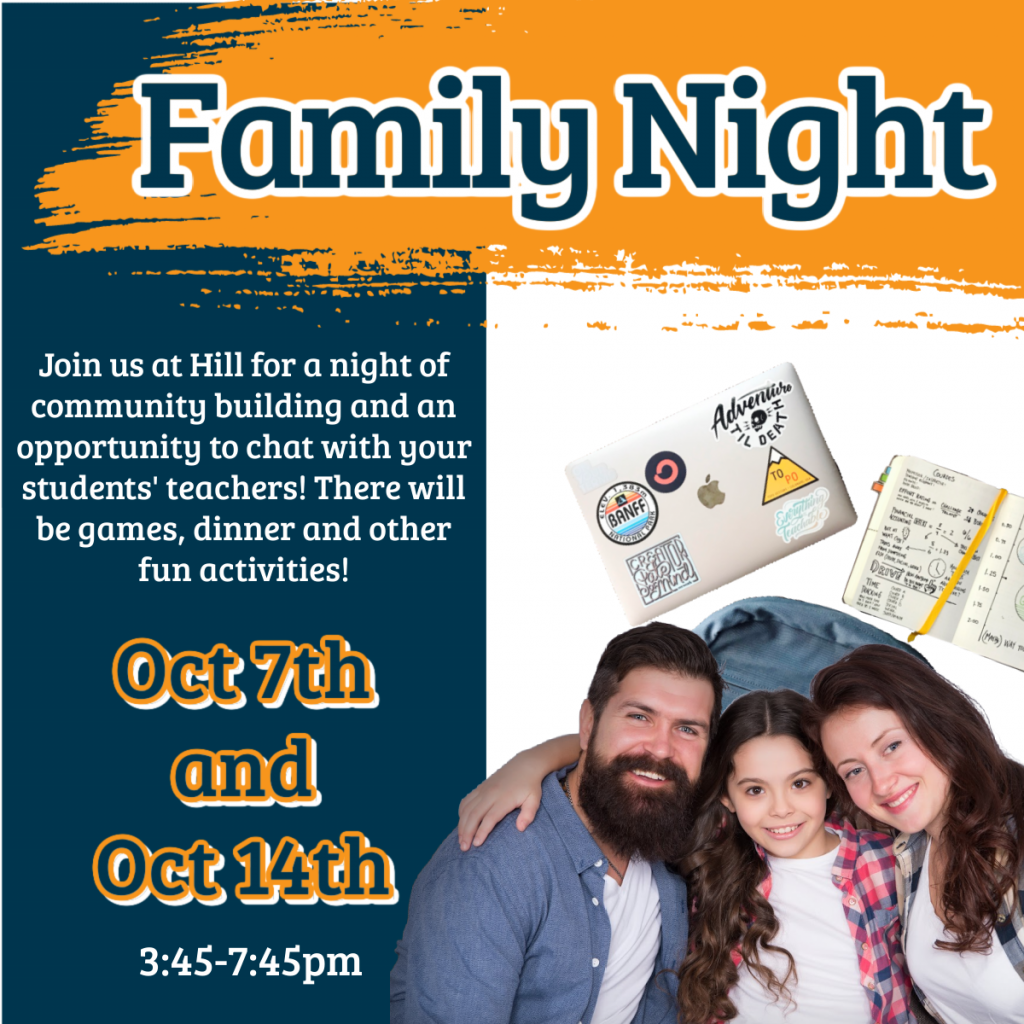 No School Monday – Sep 27
There is no school on Monday, Sep 27 due to Teacher Inservice Day.
Standards Based Grading
View Hill's new grading system HERE
8th Grade Continuation Requirements:
The requirements for 8th grade students to participate in the continuation ceremony, which will be held on Thursday, May 26th, 2022 are in the letter HERE and talk through the requirements with your student. Please also fill out this FORM to acknowledge that you have read and recognized the requirements for this year. There are attendance, academic, behavior, ICAP, and community service requirements for every single quarter and these requirements should be considered throughout the school year and not just during quarter four. At this time we do not have the time nor the Covid specific details for the ceremony. If you have any questions about the requirements, please email Director of Student Culture, Darian Turner (darian_turner@dpsk12.org).
Fall Coat Drive:
As you are preparing for the winter, set aside all of your gently used jackets, coats, and sweatshirts for donation to our Annual Fall Coat Drive. We are particularly in need of Youth Large, Youth XL, Adult Small, and Adult Medium size jackets. The Coat Drive will run October 1-31, and coats may be dropped off at Hill, room 135.
Late Fall Sport Reminders
Late Fall sports are now available to sign up. These sports include Volleyball and Flag Football. Student sign up links are live on the website! Students will need to complete a Sports Physical in order to compete. Sign up links will close Sunday, October 3rd @12:00pm. Reach out to Mr. Turner or Director Lewis for any questions.
Student Athlete Support
This will be the norm for student-athlete progress reports. Athletes will pick up their progress reports on every Monday morning either from their coaches or from a folder hanging on the Athletic Directors doors. They will have until Thursday to get progress reports signed by teachers and returned into the basket in the AD's office. Coaches and AD's will look at progress reports Thursday in order to determine eligibility for the following week.
After School Clubs start on September 28
Students who signed up for a club will receive a reminder email from Sign-Up Genius. They will be dismissed normally and then meet their club leader on the turf behind the school at 3:20pm.
Over 400 students have signed up for clubs. Please help us support them with snacks by contributing to our After School Club Snack Fund. You can either bring a healthy nut-free snack to Hill, Room 135, or you can contribute at hill.bebids.me. The suggested donation is $25/club. 
---
No hay clases Lunes – 27 de septiembre

No hay clases el lunes 27 de septiembre debido al día en servicio del maestro.
Calificación basada en estándares

Vea el nuevo sistema de calificación de Hill AQUÍ
Requisitos de continuación del octavo grado:

Los requisitos para que los estudiantes de octavo grado participen en la ceremonia de continuación, que se llevará a cabo el jueves 26 de mayo de 2022, están en la carta AQUÍ y habla sobre los requisitos con su estudiante. Complete también este FORMULARIO para reconocer que ha leído y reconocido los requisitos para este año. Hay requisitos de asistencia, académicos, de comportamiento, ICAP y de servicio comunitario para cada trimestre y estos requisitos deben considerarse durante todo el año escolar y no solo durante el cuarto trimestre. En este momento no tenemos el tiempo ni los detalles específicos de Covid para la ceremonia. Si tiene alguna pregunta sobre los requisitos, envíe un correo electrónico al Director de Cultura Estudiantil, Darian Turner (darian_turner@dpsk12.org).
Recogida de abrigos de otoño:

Mientras se prepara para el invierno, deje a un lado todas sus chaquetas, abrigos y sudaderas poco usados ​​para donarlos a nuestra colecta anual de abrigos de otoño. En particular, necesitamos chaquetas de talla grande para jóvenes, XL para jóvenes, pequeñas para adultos y medianas para adultos. La colecta de abrigos se llevará a cabo del 1 al 31 de octubre y los abrigos se pueden dejar en Hill, salón 135.
Recordatorios deportivos de finales de otoño

Los deportes de finales de otoño ya están disponibles para inscribirse. Estos deportes incluyen voleibol y fútbol de bandera. Los enlaces de registro de estudiantes están disponibles en el sitio web. Los estudiantes deberán completar un examen físico deportivo para poder competir. Los enlaces de registro se cerrarán el domingo 3 de octubre a las 12:00 p. M. Comuníquese con el Sr. Turner o el Director Lewis si tiene alguna pregunta.
Apoyo a los estudiantes deportistas

Esta será la norma para los informes de progreso de estudiantes-atletas. Los atletas recogerán sus informes de progreso todos los lunes por la mañana, ya sea de sus entrenadores o de una carpeta que cuelga en las puertas de los directores atléticos. Tendrán hasta el jueves para obtener los informes de progreso firmados por los maestros y devueltos a la canasta en la oficina de la AD. Los entrenadores y AD verán los informes de progreso el jueves para determinar la elegibilidad para la semana siguiente.
Los clubes extracurriculares comienzan el 28 de septiembre

Los estudiantes que se inscribieron en un club recibirán un correo electrónico de recordatorio de Sign-Up Genius. Saldrán normalmente y luego se reunirán con el líder del club en el césped detrás de la escuela a las 3:20 pm.
Más de 400 estudiantes se han inscrito en clubes. Ayúdenos a apoyarlos con refrigerios contribuyendo a nuestro Fondo de refrigerios del club después de la escuela. Puede traer un bocadillo saludable sin nueces a Hill, Room 135, o puede contribuir en hill.bebids.me. La donación sugerida es de $ 25 / club.