Hawk Talk
Posted December 18, 2021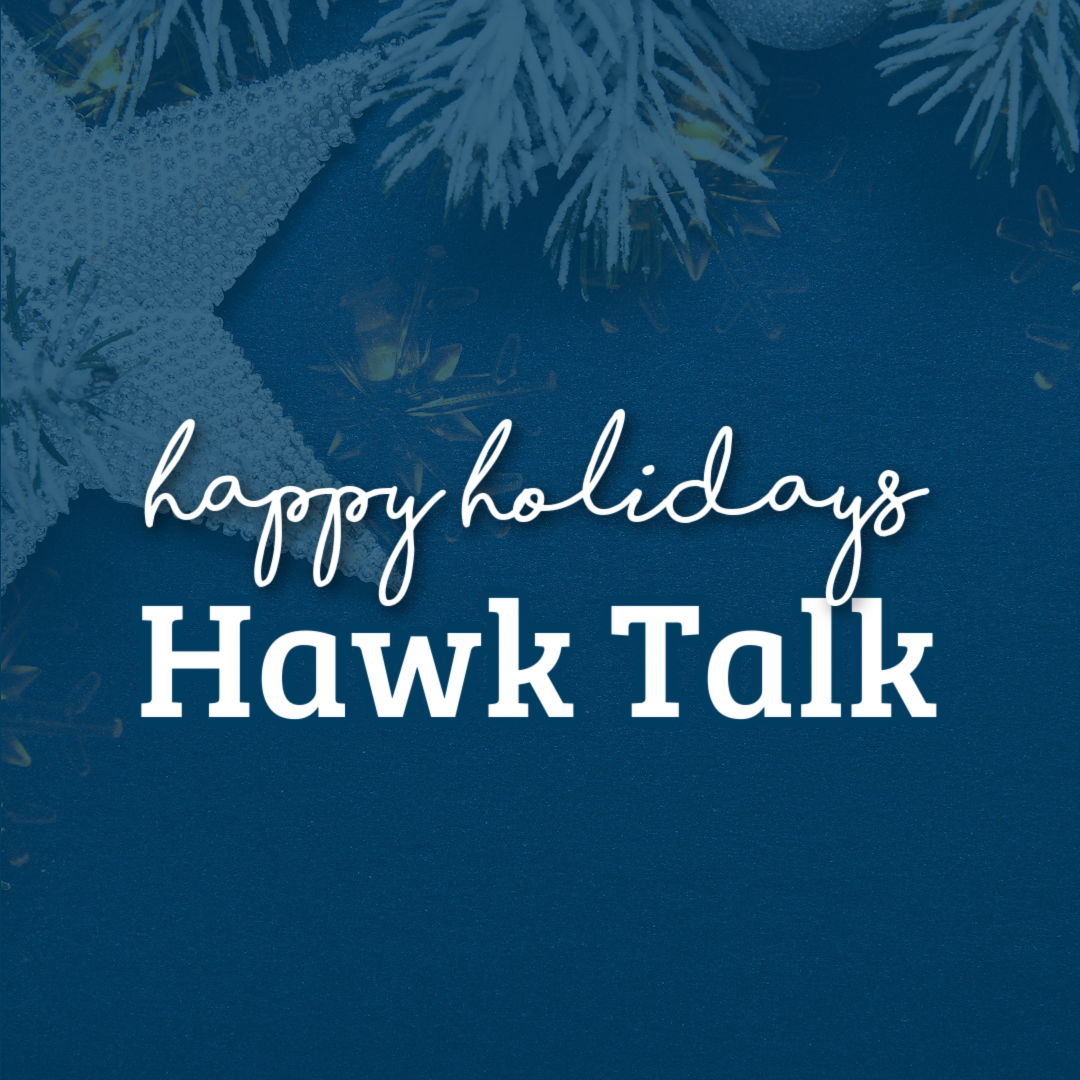 Season's Greetings:
Hill Families, as we all enjoy some much needed time off from work, learning, and daily life, we want to celebrate our students and staff who have worked so hard this semester on learning in the classroom, adjusting to being together, and becoming a community again. After the last year and a half of remote/hybrid learning, we truly appreciate the opportunity for us all to be together again.
For 2022, we plan on continuing to challenge our students academically through accelerated course work. Also, stay connected with Hill by joining us for Family Forum meetings with families every third Thursday of the month at 2:00pm, and by watching our new video series below. Save the date for January 20, our first Family Forum of the new year! Family Forum Link
Happy Holidays, Skyhawks!
Principal Adams & The Hill Staff
#theUltimateClimb Video Series, Episodes 1 & 2
We just posted the latest episode in our video series featuring Mr. Adams and other Skyhawk personalities. Click on the links below to catch episode 1 if you missed it, and episode 2 which drops today!
Staff Holiday Gifts
In case Winter Break snuck up on you, and you would like to send some appreciation to Hill's hard-working teachers and staff, you can contribute to staff holiday gifts organized by the PTSA. Your contribution will be given to all staff at Hill in recognition of all they do every day to help our students be successful.
Grade-Level Newsletters:
Report Cards:
Nice job, Skyhawk Students! We wrapped up Quarter 2 of the school year this Friday, December 17. Teachers will work on finalizing grades after Winter Break so that families can access report cards starting January 14 in the Parent Portal. Report cards will not be mailed.
Bell Time Update:
Based on feedback from the Hill Community, families and staff, we will be keeping our bell time the same for the 2022-2023 school year, and plan on revisiting start times once the district has fully implemented the Healthy Start Time initiative for 2023-2024.
---
Felices Fiestas:

Hill Families, ya que todos disfrutamos de un tiempo libre muy necesario del trabajo, el aprendizaje y la vida diaria, queremos celebrar a nuestros estudiantes y al personal que han trabajado tan duro este semestre para aprender en el aula, adaptarse a estar juntos y convertirse en comunidad de nuevo. Después del último año y medio de aprendizaje remoto / híbrido, realmente apreciamos la oportunidad para que todos estemos juntos nuevamente.
Para 2022, planeamos continuar desafiando académicamente a nuestros estudiantes a través del trabajo de curso acelerado. Además, manténgase conectado con Hill uniéndose a nosotros para las reuniones del Foro Familiar con las familias cada tercer jueves del mes a las 2:00 pm y viendo nuestra nueva serie de videos a continuación. ¡Reserve la fecha para el 20 de enero, nuestro primer Foro Familiar del nuevo año! Vínculo al foro familiar
¡Felices vacaciones, Skyhawks!
El director Adams y el personal de The Hill
Serie de videos #theUltimateClimb, episodios 1 y 2

Acabamos de publicar el último episodio de nuestra serie de videos con el Sr. Adams y otras personalidades de Skyhawk. ¡Haga clic en los enlaces a continuación para ver el episodio 1 si se lo perdió, y el episodio 2 que sale hoy!

el último episodio de escalada. 2
Regalos de vacaciones para el personal

En caso de que las vacaciones de invierno se le acerquen y le gustaría enviar un agradecimiento a los maestros y al personal de Hill que trabajan arduamente, puede contribuir a los obsequios de vacaciones para el personal organizados por la PTSA. Su contribución será entregada a todo el personal de Hill en reconocimiento a todo lo que hacen todos los días para ayudar a nuestros estudiantes a tener éxito.
Regalos de vacaciones para el personal
Boletines informativos de nivel de grado:

Boletín de 6to grado
Boletín de 7mo grado
Boletín de 8vo grado
Las boletas de calificaciones:

¡Buen trabajo, estudiantes de Skyhawk! Terminamos el segundo trimestre del año escolar este viernes 17 de diciembre. Los maestros trabajarán para finalizar las calificaciones después de las vacaciones de invierno para que las familias puedan acceder a las boletas de calificaciones a partir del 14 de enero en el Portal para padres. Las boletas de calificaciones no se enviarán por correo.
Actualización de la hora de la campana:

Según los comentarios de la comunidad de Hill, las familias y el personal, mantendremos la hora de la campana igual para el año escolar 2022-2023, y planearemos volver a visitar las horas de inicio una vez que el distrito haya implementado por completo la iniciativa Healthy Start Time para 2023-2024. .