Hawk Talk 1/14
Posted January 14, 2022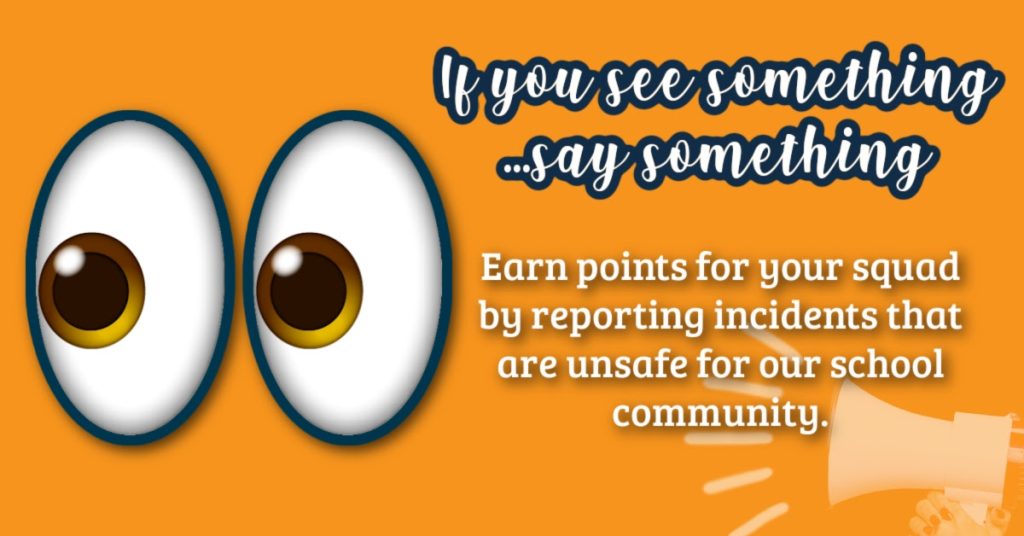 Update on COVID Guidance
IMPORTANT: Please see this letter HERE for more information on the changing guidance and protocols related to COVID from our school leaders and nurse.
School Choice
All 8th graders are expected to complete School Choice for High School.
SchoolChoice Round 1 begins at 10 a.m. Jan. 14 and ends at 4 p.m. Feb. 15.
Letters and emails with personalized instructions are being sent to all 8th grade students and families from the district.
Families can join DPS' Facebook Live event on Jan. 13 from 5-7 p.m. Find more information here.
Family Forum
Hear directly about Hill happenings in a monthly Zoom meeting with Mr. Adams, and special guests Sequoia Austin (AP Student Support) and Kate Redmond (AP Academics.) Our first Family Forum of 2022 will be on January 21 at 2:00pm. We invite all families to attend. .
See Something, Say Something
We encourage all students and families to alert school leadership of any unsafe or threatening behaviors that would impact our Hill students or community. We want to keep our school safe and you can partner with us to achieve that goal! Connect with any staff member at Hill if you or your student sees or hears anything concerning.
Remote Learning Plan
In the event we see an increase in absences among students and staff, there could be a possibility of transitioning to remote learning. Principal Adams, in conjunction with the Senior Leadership Team, is developing a remote learning plan, and shifting to this plan would be communicated to families as soon as a decision was made. However, we are grateful that as of now, there is no plan for Hill Skyhawks to shift to remote learning.
8th Grade Continuation
Calling all 8th grade families!!! It's hard to believe that your student's time at Hill is drawing to an end. This letter explains the requirements for 8th grade continuation. There will be opportunities in February for students to make up their grades and attendance.
Report Cards
Grades for Quarter 2 have been finalized. Parents can access and monitor their student's progress by logging into Parent Portal: If you have not set up your Parent Portal Account and need help doing it, check out our Parent Schoology Guide. Report cards will not be mailed. If you want to know more information about grades please email your student's teacher. All DPS staff emails are firstname_lastname@dpsk12.net
PTSA Updates
GRATITUDE
Thank you so much for donating your time and money to support various PTSA efforts, especially over the last couple of months. We wanted to share some notable highlights and say THANK YOU – we cannot do this without you:
$6,400 was donated on CO Gives Day!
$2,300 donated for Hill Staff Holiday Gifts – we were able to purchase and distribute gift cards for all staff!
More than $2,000 raised for Hill Cares – Harvest Baskets & Holidays (plus more in-kind!)
$1300 raised for Hill Staff Appreciation – we've already been able to provide burritos during conferences, bagels and cream cheese as a mid-week surprise, helped support their holiday party and have plans to bring in coffee to keep our awesome teachers/staff caffeinated and appreciated!
Over $900 raised for afterschool club snacks!
WISHES
In this new year, we hope to see you continue to plug in to how you can be a part of supporting our school. Here's how:
Tune in to our next PTSA meeting – we will be reviewing some teacher/staff grants and checking in with out committees.

THU, 1/20/22, 6:30 PM MT, via ZOOM
Meeting ID: 894 8499 2838
Passcode: hill

Get involved in PTSA next year. We will have open positions on the Exec Board and Committees and would love to have you start learning the ropes now before the school year ends. Either pop onto a PTSA meeting, or email Jodi directly – jodi.hullinger@gmail.com
Continue to donate to support the PTSA, items are updated often! hill.bebids.me
Calendar
Jan 17 Martin Luther King Holiday (no school)
Jan 20 PTSA Meeting, 6:30pm by Zoom
Jan 21 Family Forum, 2:00pm by Zoom
Jan 26 Early Release, 12:00pm
---
Actualización sobre la guía de COVID
IMPORTANTE: consulte esta carta AQUÍ para obtener más información sobre los cambios en la orientación y los protocolos relacionados con COVID de nuestros líderes escolares y enfermera.
Elección de escuela
Se espera que todos los estudiantes de 8º grado completen la Opción de Escuela para la Escuela Secundaria.
La Ronda 1 de Elección Escolar comienza a las 10 a. m. el 14 de enero y finaliza a las 4 p. m. 15 de febrero.
Se están enviando cartas y correos electrónicos con instrucciones personalizadas a todos los estudiantes y familias de 8.° grado del distrito.
Las familias pueden unirse al evento Facebook Live de DPS el 13 de enero de 5 a 7 p.m. Encuentre más información aquí.
Foro familiar
Escuche directamente sobre los acontecimientos de Hill en una reunión mensual de Zoom con el Sr. Adams y los invitados especiales Sequoia Austin (AP Student Support) y Kate Redmond (AP Academics). Nuestro primer Foro familiar de 2022 será el 21 de enero a las 2:00 p.m. Invitamos a todas las familias a asistir. .
Ver algo, decir algo
Alentamos a todos los estudiantes y familias a alertar a los líderes escolares de cualquier comportamiento inseguro o amenazante que pueda afectar a nuestros estudiantes o la comunidad de Hill. ¡Queremos mantener nuestra escuela segura y usted puede asociarse con nosotros para lograr ese objetivo! Comuníquese con cualquier miembro del personal de Hill si usted o su estudiante ven o escuchan algo preocupante.
Plan de aprendizaje remoto
En caso de que veamos un aumento en las ausencias entre los estudiantes y el personal, podría haber una posibilidad de transición al aprendizaje remoto. El director Adams, junto con el equipo de liderazgo sénior, está desarrollando un plan de aprendizaje remoto, y el cambio a este plan se comunicará a las familias tan pronto como se tome una decisión. Sin embargo, estamos agradecidos de que, a partir de ahora, no haya ningún plan para que Hill Skyhawks cambie al aprendizaje remoto.
Continuación de 8vo Grado
¡¡¡Llamando a todas las familias de 8º grado!!! Es difícil creer que el tiempo de su estudiante en Hill está llegando a su fin. Esta carta explica los requisitos para la continuación del 8vo grado. Habrá oportunidades en febrero para que los estudiantes recuperen sus calificaciones y asistencia.
Las boletas de calificaciones
Las calificaciones para el segundo trimestre han sido finalizadas. Los padres pueden acceder y monitorear el progreso de sus estudiantes iniciando sesión en el Portal para padres: si no ha configurado su cuenta del Portal para padres y necesita ayuda para hacerlo, consulte nuestra Guía de Schoology para padres. Las boletas de calificaciones no se enviarán por correo. Si desea obtener más información sobre las calificaciones, envíe un correo electrónico al maestro de su estudiante. Todos los correos electrónicos del personal de DPS son nombre_apellido@dpsk12.net
Actualizaciones de la PTSA
GRATITUD
Muchas gracias por donar su tiempo y dinero para apoyar varios esfuerzos de PTSA, especialmente durante los últimos meses. Queríamos compartir algunos aspectos destacados notables y decir GRACIAS, no podemos hacer esto sin usted:
¡Se donaron $6,400 en CO Gives Day!
$2,300 donados para los regalos navideños del personal de Hill: ¡pudimos comprar y distribuir tarjetas de regalo para todo el personal!

Más de $2,000 recaudados para Hill Cares – Harvest Baskets & Holidays (¡y más en especie!)
$1300 recaudados para la apreciación del personal de Hill: ya hemos podido proporcionar burritos durante las conferencias, bagels y queso crema como sorpresa a mitad de semana, ayudamos a apoyar su fiesta navideña y tenemos planes de traer café para mantener a nuestros increíbles maestros/personal con cafeína y apreciado!

¡Más de $900 recaudados para refrigerios del club después de la escuela!
DESEOS
En este nuevo año, esperamos verlo continuar participando en cómo puede ser parte del apoyo a nuestra escuela. Así es cómo:
Sintonice nuestra próxima reunión de PTSA: revisaremos algunas subvenciones para maestros/personal y nos comunicaremos con nuestros comités.
JUEVES, 20/1/22, 6:30 p. m. MT, a través de ZOOM
Identificación de la reunión: 894 8499 2838
Código de acceso: colina
Participe en PTSA el próximo año. Tendremos puestos vacantes en la Junta Ejecutiva y los Comités y nos encantaría que comenzara a aprender las cuerdas ahora, antes de que termine el año escolar. Vaya a una reunión de PTSA o envíe un correo electrónico a Jodi directamente: jodi.hullinger@gmail.com

Continúe donando para apoyar a la PTSA, ¡los artículos se actualizan con frecuencia! hill.bebids.me

Calendario
17 de enero Día festivo de Martin Luther King (no hay clases)
20 de enero Reunión de PTSA, 6:30 p. m. por Zoom
21 de enero Foro familiar, 2:00 p. m. por Zoom
26 de enero Salida temprano, 12:00 p. m.