22-23 SY: 1st Hawk Talk 8/19
Posted August 19, 2022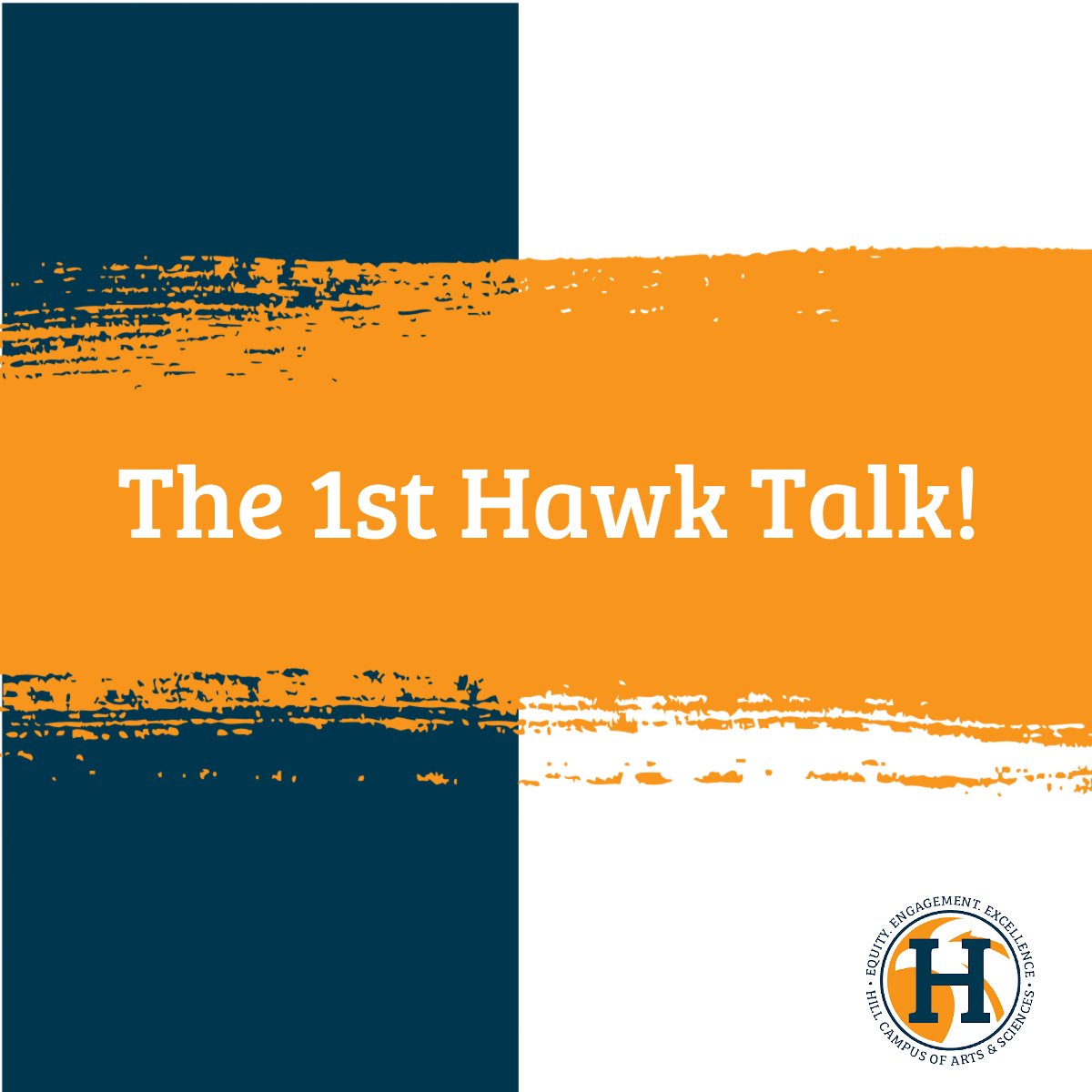 First Day, First Week Reminder:
Monday is the first day of school, and we are eagerly awaiting your students! The school day is 8:10am until 3:10 pm. The first bell rings at 8:05 am, and students can be dropped off as early as 7:45am.
Wednesday, August 24 is our first early release day. The school day on Wednesday and for all future early release days will be 8:10am-12:00pm. The DPS provided school bus will run on early release days.
Check Student Portal
We are excited to welcome to you to Hill on Monday! Start the school year right by checking these things in your Student Portal:
Check your schedule for your 1st period teacher on Marigold Day.
If you are a bus rider, check under "Transportation" tab to find your Bus Route, pick-up location and pick-up time.
Backpack Drive
We would love to see you on Saturday, but if you can't make it, then drop off your backpack donations in the Main Office (135). Our goal is 100 backpacks!
Chromebook Check
In order to be best prepared for our first weeks of learning, please have your Skyhawks charge and check their Chromebooks. Students should bring their Chromebooks with them on the first day of school and every day after.
Drop Off Reminder/Pick up
For Monday, note your drop off locations: 6th & 7th grade drop-off on 5th avenue, 8th grade will drop off on 4th avenue. If you are dropping off after 8:05 drop off, all students will drop-off at front doors.
When picking your student up after school, parents should avoid picking up on Clermont. This is a safety issue for our students as the school buses pick-up here. Agree with your student on a pick-up location where you can safely wait, and your student can safely find.
Upcoming Calendar
Aug 20: Backpack Drive @ Highline Lounge
Aug 22: First Day of School
Aug 24: Early Release Wednesday
Sep 5: No School (Labor Day)
Sep 15: Back to School Night
Sep 15 & 16: School Photo Days
---
Primer día, recordatorio de la primera semana:

¡El lunes es el primer día de clases y estamos esperando ansiosamente a sus estudiantes! El día escolar es de 8:10 am a 3:10 pm. El primer timbre suena a las 8:05 a. m. y se puede dejar a los estudiantes a las 7:45 a. m.

El miércoles 24 de agosto es nuestro primer día de salida temprana. El día escolar el miércoles y para todos los días futuros de salida temprana será de 8:10 a. m. a 12:00 p. m. El autobús escolar proporcionado por DPS funcionará los días de salida temprana.
Ver Portal del Estudiante

¡Estamos emocionados de darle la bienvenida a Hill el lunes! Comience bien el año escolar revisando estas cosas en su Portal del Estudiante:
Consulte su horario para su maestro de 1er período en el Día de la Marigold.
Si viaja en autobús, consulte la pestaña "Transporte" para encontrar la ruta del autobús, el lugar de recogida y la hora de recogida.
Unidad de mochila

Nos encantaría verlo el sábado, pero si no puede asistir, deje sus donaciones de mochila en la oficina principal (135). ¡Nuestra meta es 100 mochilas!
Comprobación de Chromebook

Para estar mejor preparados para nuestras primeras semanas de aprendizaje, cargue sus Skyhawks y revise sus Chromebooks. Los estudiantes deben traer sus Chromebooks el primer día de clases y todos los días posteriores.
Recordatorio de entrega/recogida

Para el lunes, tenga en cuenta sus lugares de entrega: 6.° y 7.° grado se dejarán en 5.° avenida, 8.° grado se dejará en 4.° avenida. Si va a dejar después de las 8:05, todos los estudiantes lo dejarán en las puertas delanteras.
Al recoger a su estudiante después de la escuela, los padres deben evitar recogerlo en Clermont. Este es un problema de seguridad para nuestros estudiantes ya que los autobuses escolares pasan por aquí. Acuerde con su estudiante un lugar de recogida donde pueda esperar de manera segura y su estudiante pueda encontrarlo de manera segura.
Calendario próximo

20 de agosto: Colecta de mochilas en Highline Lounge
22 de agosto: primer día de clases
24 de agosto: miércoles de salida temprana
5 de septiembre: No hay clases (Día del Trabajo)
15 de septiembre: Noche de regreso a clases
15 y 16 de septiembre: Días de fotos escolares