Hawk Talk 9/23
Posted September 23, 2022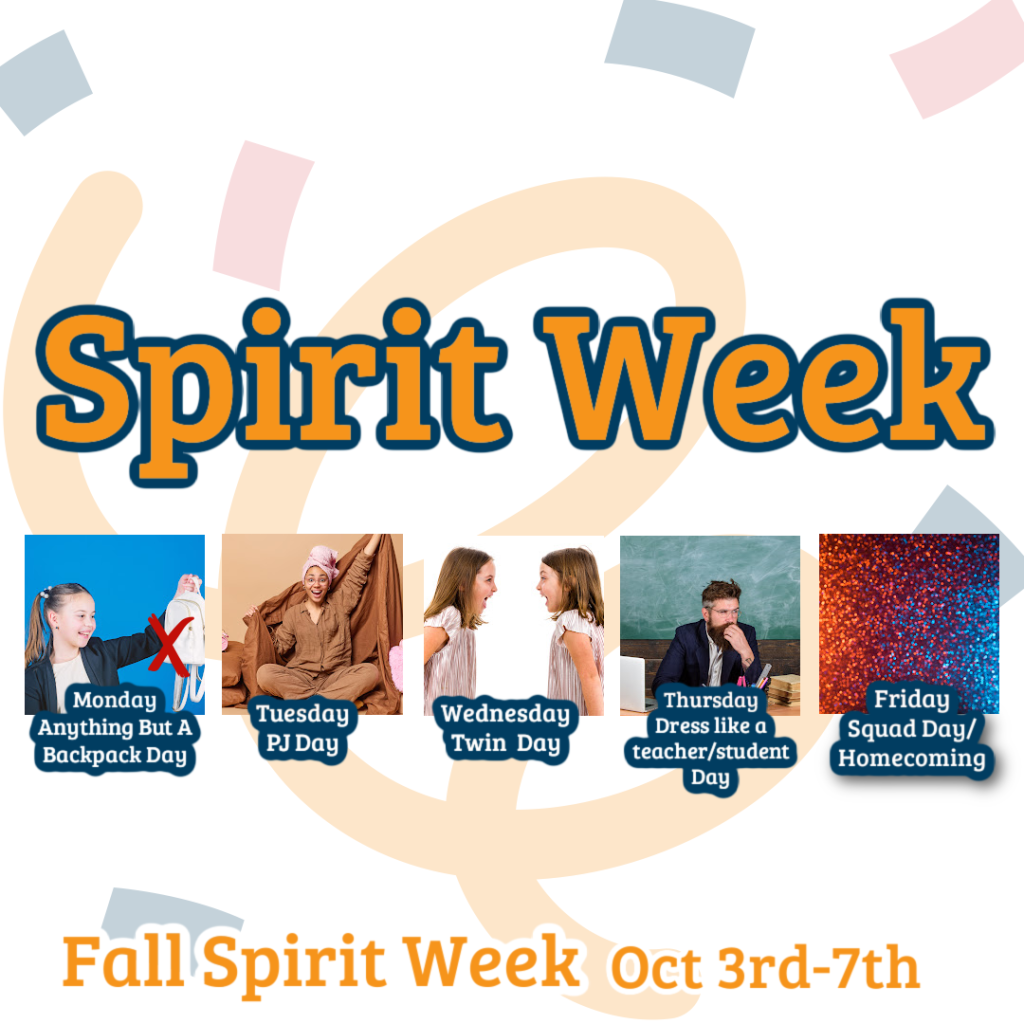 Monday (10/3) – Anything but a Backpack Day (students will bring any item except a backpack to carry school supplies in like, a wagon, briefcase, trashcan, etc.) Students will not be permitted to use the school elevators and must be able to physically carry their item.
Tuesday (10/4) – PJ Day
Wednesday (10/5) – Twin Day
Thursday (10/6) – Students Dress Like Teachers, Teachers Dress Like Students Day
Friday (10/7) – Squad Day (Wear your legacy squad colors or Hill Gear)
For each day please remember to be in alignment with our school dress code. If you have any questions please email Ms.Brown
Here is the list of Homecoming events:
-Homecoming Royal Court and Celebration
-Pep Rally
Drop-off Zone Reminder

It is really important that Hill Skyhawk families drop-off students at their designated morning spots. 8th grade should be dropped at 4th Ave & Clermont. 7th and 6th grades should be dropped at 5th & Clermont. Please do not drop your student in front of the school, as this blocks the bus lanes and has caused delays.
Quarter 1 Ends Oct 13

Our first quarter of school is ending soon! Make sure your student is caught up on work by checking their Schoology page – it is easy!
Ask your student to log in to their Schoology page (they know how to do this)
Click the 'Denver Public Schools' logo in the upper right corner of the screen
A list of overdue and upcoming assignments will appear on the right
Click into each assignment to see if it has been submitted
Chromebook Update:

If your student has any damage to their Chromebook, they need to complete a form in the school main office to report it so that it may be addressed. If your student has lost their charger, they can buy a new one from school for $20. If your student has a charger that is not working, they may exchange it without cost.
Upcoming Calendar
Sep 30: No School
Oct 4: CSC Meeting (in-person and by Zoom), 5:30 pm at Hill Parent Nomination Form
Oct 5: Early Release Day, 12:00pm dismissal
Oct 3-7: Spirit Week, Mon: Anything but a backpack day, Tue: Pajama Day, Wed: Twin Day, Thu: Dress Like a Teacher, Dress Like a Student, Fri: Legacy Squad Challenge
Oct 10: Photo Retakes
Oct 11: Dine Out @ Mici Italian (727 Colorado Blvd)
HILL PTSA UPDATE!

Thank you to all who have already signed up to be a PTSA member for the 22-23 School Year! You can sign up to become a PTSA member, donate to Hill Arts, donate to Hill Cares and more at – https://hill.bebids.me
NOTE: You will sign up as if you are bidding on an auction item. This is the platform we use for all fundraising throughout the year, including the Spring Fundraiser.

MARK YOUR CALENDARS:
OCT 11: DINE OUT @ MICI ITALIAN – 7th & Colorado 11a – 8p – USE CODE "SCHOOL" – 20% to Hill!
OCT 20: PTSA MTG @ 6:30p – LIBRARY
NOV 9 : DINE OUT @ CHIPOTLE – 745 CO Blvd 5-9p – 33% to Hill!
NOV 17: PTSA MTG @ 6:30p – LIBRARY

HELP SUPPORT THE HILL ARTS PROGRAM WITH THE ARTS BUTTER BRAID FUNDRAISER!!

Welcome to our annual 'ARTS Butter Braid Fundraiser'! Please use the link below to register your student and order delicious goodies. The link to your students account can be shared with friends, family and neighbors to make a purchase. The Butter Braid sale will run until Oct. 3rd and any orders will be distributed to your student to bring home on Oct. 12th.
https://store.myfundraisingplace.com/RegisterSeller/ff7111a3-2e34-4a48-9a7f-55a842bf7624
HELP WANTED!
We are still looking for two co-chairs to take the lead on planning our Spring 2023 Hill Auction fundraiser and would love your help!! We have a location ready to host our school now we need two volunteers to lead the way in making this very important event happen! You will have tons of PTSA support and volunteers to help you! Sign up here: https://bit.ly/3BarYlv
2021-22 PTSA EXEC BOARD
We'd love to hear from you! Feel free to reach out with questions, comments, or just to introduce yourself!
President: Cat Holmes, cath0513@yahoo.com
Vice Pres: Jamie Resnik, jadunn99@yahoo.com
Treasurer: Liz Kaplansky, elizabeth.kaplansky@gmail.com
Secretary: Pattie Welch, pattiewelch@hotmail.com
---
Lunes (3/10) – Cualquier cosa menos un día de mochila (los estudiantes traerán cualquier artículo excepto una mochila para llevar útiles escolares, como un carro, maletín, bote de basura, etc.) Los estudiantes no podrán usar los ascensores de la escuela y deben ser capaz de llevar físicamente su artículo.
Martes (10/4) – Día PJ
Miércoles (5/10) – Día de gemelos
Jueves (10/6) – Los estudiantes se visten como maestros, Día de los maestros se visten como estudiantes
Viernes (7/10) – Día del escuadrón (Use los colores de su escuadrón heredado o Hill Gear)
Para cada día, recuerde estar alineado con nuestro código de vestimenta escolar. Si tiene alguna pregunta, envíe un correo electrónico a la Sra. Brown
Aquí está la lista de eventos de Homecoming:
-Homecoming Royal Court and Celebration
-Reunión de ánimo
-Dia de campo
Recordatorio de zona de entrega
Es muy importante que las familias de Hill Skyhawk dejen a los estudiantes en los lugares designados por la mañana. El 8.° grado debe dejarse en 4th Ave & Clermont. Los grados 7 y 6 deben dejarse en 5 y Clermont. Por favor, no deje a su estudiante frente a la escuela, ya que esto bloquea los carriles de autobús y ha causado demoras.
Trimestre 1 termina el 13 de octubre
Nuestro primer trimestre de la escuela está terminando pronto! Asegúrese de que su estudiante esté al día con el trabajo consultando su página de Schoology: ¡es fácil!
Pídale a su estudiante que inicie sesión en su página de Schoology (ellos saben cómo hacerlo)
Haga clic en el logotipo de 'Denver Public Schools' en la esquina superior derecha de la pantalla
Aparecerá una lista de tareas vencidas y próximas a la derecha
Haga clic en cada tarea para ver si se ha enviado
Actualización de Chromebook:
Si su estudiante tiene algún daño en su Chromebook, debe completar un formulario en la oficina principal de la escuela para informarlo y que se pueda abordar. Si su estudiante ha perdido su cargador, puede comprar uno nuevo en la escuela por $20. Si su estudiante tiene un cargador que no funciona, puede cambiarlo sin costo.
Calendario próximo
30 de septiembre: No hay clases
4 de octubre: Reunión de CSC (en persona y por Zoom), 5:30 p. m. en Hill Formulario de nominación de padres
5 de octubre: Día de salida temprana, salida a las 12:00 p. m.
3-7 de octubre: Semana del espíritu escolar, lunes: cualquier cosa menos un día de mochila, martes: día de pijama, miércoles: día de gemelos, jueves: vístete como un maestro, vístete como un estudiante, viernes: Desafío de escuadrón heredado
10 de octubre: retomas de fotos
11 de octubre: Cene fuera @ Mici Italian (727 Colorado Blvd)
¡ACTUALIZACIÓN DEL PTSA DE HILL!
¡Gracias a todos los que ya se han inscrito para ser miembros de la PTSA para el año escolar 22-23! Puede registrarse para convertirse en miembro de PTSA, donar a Hill Arts, donar a Hill Cares y más en: https://hill.bebids.me
NOTA: Se registrará como si estuviera pujando por un artículo de subasta. Esta es la plataforma que usamos para toda la recaudación de fondos durante todo el año, incluida la recaudación de fondos de primavera.
MARQUE SUS CALENDARIOS:
11 DE OCTUBRE: CENA EN MICI ITALIANO – 7th & Colorado 11a – 8p – USA EL CÓDIGO "SCHOOL" – ¡20% a Hill!
20 DE OCTUBRE: PTSA MTG @ 6:30p – BIBLIOTECA
9 DE NOVIEMBRE: CENA EN CHIPOTLE – 745 CO Blvd 5-9p – ¡33 % a Hill!
17 DE NOVIEMBRE: PTSA MTG @ 6:30p – BIBLIOTECA
¡¡AYUDA A APOYAR EL PROGRAMA HILL ARTS CON LA RECAUDACIÓN DE FONDOS ARTS BUTTER BRAID!!
¡Bienvenido a nuestra recaudación de fondos anual 'ARTS Butter Braid'! Utilice el enlace a continuación para registrar a su estudiante y ordenar deliciosos obsequios. El enlace a su cuenta de estudiante se puede compartir con amigos, familiares y vecinos para realizar una compra. La venta de Butter Braid se extenderá hasta el 3 de octubre y cualquier pedido se distribuirá a su estudiante para que lo lleve a casa el 12 de octubre.
https://store.myfundraisingplace.com/RegisterSeller/ff7111a3-2e34-4a48-9a7f-55a842bf7624
¡SE BUSCA AYUDANTE!
¡Todavía estamos buscando a dos copresidentes para que tomen la iniciativa en la planificación de nuestra recaudación de fondos de la Subasta Hill de primavera de 2023 y nos encantaría su ayuda! ¡Tenemos un lugar listo para albergar nuestra escuela ahora necesitamos dos voluntarios para liderar el camino para hacer que este evento tan importante suceda! ¡Tendrá toneladas de apoyo de PTSA y voluntarios para ayudarlo! Regístrate aquí: https://bit.ly/3BarYlv
JUNTA EJECUTIVA DE LA PTSA 2021-22
¡Nos encantaría saber de usted! ¡No dude en comunicarse con preguntas, comentarios o simplemente para presentarse!
Presidente: Cat Holmes, cath0513@yahoo.com
Vicepresidente: Jamie Resnik, jadunn99@yahoo.com
Tesorera: Liz Kaplansky, elizabeth.kaplansky@gmail.com
Secretaria: Pattie Welch, pattiewelch@hotmail.com