Hawk Talk 1/6
Posted January 6, 2023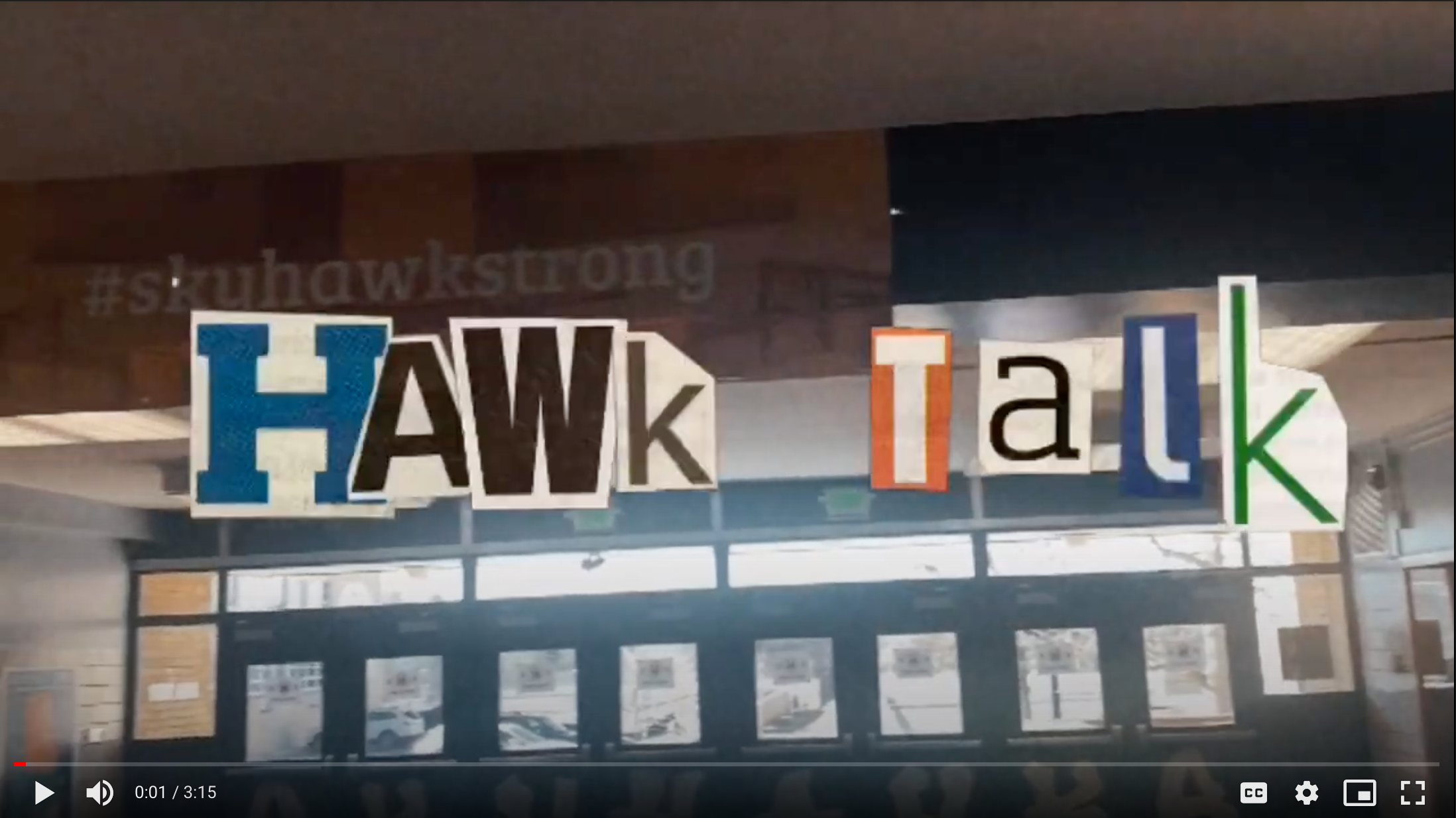 A HUGE Thank you to the Hill Community
Hill Teachers and Staff are incredibly grateful for the generous outpouring of support from the Hill Community. We really enjoyed the 12 days of fun, with donuts, hot cocoa/apple cider, and breakfast burritos sponsored by the HIll PTSA. Those who were able to attend, had a fantastic time at the Staff Holiday party also sponsored by the PTSA. And all Hill teachers and staff loved receiving some much needed holiday financial relief in the form of a cash gift for all of Hill's staff. Thank you Hill Community!!
Also, Hill Cares would like to say thank you to everyone who supported Harvest baskets and Hill Holidays. With your contributions, we were able to provide gifts to over 50 families or almost 200 students in our Hill Community. Needless to say, all our families are incredibly grateful to be a part of this amazing community!!
Quarter 2 Grades Available
Parents and students are now able to access Standards Based Grades for Quarter 2 which ended December 16. Physical report cards will not be sent to families. Here are two guides If you need help with accessing your Parent Portal Account, and grades through Schoology. If you have a question about a grade, please contact that teacher as the first line of communication.
Tech Policy
Only student chromebooks are allowed in school. This means that cell phones are not permitted at any point throughout the day. Cell phones must be powered down and turned off prior to entering the building each day. In addition, earphones are not permitted on campus either. Research shows that music and additional stimulation distracts from learning. We are not responsible for any lost or stolen air pods or headphones.
Also, remind your students to charge their chromebooks every night for a successful learning experience each day!
Access Testing Letter
Families of our Multi-Language Learners, please read this link to learn more about ACCESS testing taking place starting January 9 – February 10. Scroll through the letter to read in other languages.
DINE OUT at Chop Shop Lowry
Support Hill PTSA and have a nice meal out! Dine Out on Tuesday, Jan. 10th all day! 20% of all purchases go to Hill! Location: Lowry Town Center, 200 Quebec St Unit 101, Denver, CO 80230
Use "Hill" when ordering
Tardy Policy reminder
With the new semester, it is good to remind your student about our Tardy Policy.
CMAS
The Colorado Measure Academic Standards testing window will be March 20-April 28. Hill's CMAS schedule will be published in Semester 2. Please read the CMAS Letter to learn more about CMAS and opting out.
Hill PTSA Annual Fund
Thank you so much to the 73 people who have already donated to the Hill Annual Fund!! We have raised $9,750 so far towards our $65,000 goal. If you have not donated to the Annual Fund yet, please consider donating today! The Hill PTSA Annual Fund is a year-long direct donation campaign and will be our only primary fundraiser for the 22-23 school year. To reach our goal of $65,000 and to continue to support important programs at Hill, our suggested donation amount is $100 per student. To learn more about what these essential donations are used for at Hill and to donate now, go to: https://www.coloradogives.org/story/Hillptsaannualfund
Calendar Update
Jan 10 Dine Out, Chop Shop Lowry, 11:00 am – 8:00 pm,20% to Hill. Mention "Hill" at checkout
Jan 16 Martin Luther King Jr. Day, No School
Jan 17 CSC Meeting, 5:30pm Hill Library
Jan 18 Early Release Day, 12:00pm dismissal
---
UN ENORME agradecimiento a la comunidad de Hill
Los maestros y el personal de Hill están increíblemente agradecidos por el generoso apoyo de la comunidad de Hill. Realmente disfrutamos los 12 días de diversión, con donas, chocolate caliente/sidra de manzana y burritos de desayuno patrocinados por HIll PTSA. Aquellos que pudieron asistir, pasaron un tiempo fantástico en la fiesta de vacaciones del personal también patrocinada por la PTSA. Y a todos los maestros y el personal de Hill les encantó recibir un alivio financiero muy necesario para las fiestas en forma de un regalo en efectivo para todo el personal de Hill. ¡Gracias comunidad de la colina!
Además, Hill Cares quisiera agradecer a todos los que apoyaron las canastas de cosecha y las vacaciones de Hill. Con sus contribuciones, pudimos brindar obsequios a más de 50 familias o casi 200 estudiantes en nuestra comunidad Hill. ¡No hace falta decir que todas nuestras familias están increíblemente agradecidas de ser parte de esta increíble comunidad!
Trimestre 2 Grados Disponibles
Los padres y los estudiantes ahora pueden acceder a las calificaciones basadas en estándares para el segundo trimestre que finalizó el 16 de diciembre. Las boletas de calificaciones físicas no se enviarán a las familias. Aquí hay dos guías si necesita ayuda para acceder a su cuenta del Portal para padres y las calificaciones a través de Schoology. Si tiene alguna pregunta sobre una calificación, comuníquese con ese maestro como primera línea de comunicación.
Política tecnológica
Solo se permiten Chromebooks de estudiantes en la escuela. Esto significa que los teléfonos celulares no están permitidos en ningún momento durante el día. Los teléfonos celulares deben estar apagados y apagados antes de ingresar al edificio todos los días. Además, tampoco se permiten auriculares en el campus. Las investigaciones muestran que la música y la estimulación adicional distraen del aprendizaje. No nos hacemos responsables de las cápsulas de aire o los auriculares perdidos o robados.
¡Además, recuerde a sus alumnos que carguen sus Chromebooks todas las noches para tener una experiencia de aprendizaje exitosa todos los días!
Carta de prueba de acceso
Familias de nuestros estudiantes multilingües, lea este enlace para obtener más información sobre las pruebas ACCESS que se llevarán a cabo del 9 de enero al 10 de febrero. Desplácese por la carta para leer en otros idiomas.
Carta de prueba de ACCESS
CENA AFUERA en Chop Shop Lowry
¡Apoye a Hill PTSA y disfrute de una buena comida! ¡Cene fuera el martes 10 de enero todo el día! ¡El 20% de todas las compras van a Hill! Ubicación: Lowry Town Center, 200 Quebec St Unidad 101, Denver, CO 80230
Utilice "Hill" al realizar el pedido
Recordatorio de la política de tardanzas
Con el nuevo semestre, es bueno recordarle a su estudiante acerca de nuestra Política de Tardanzas.
CMAS
El período de prueba de los Estándares Académicos de la Medida de Colorado será del 20 de marzo al 28 de abril. El horario de CMAS de Hill se publicará en el Semestre 2. Lea la Carta de CMAS para obtener más información sobre CMAS y optar por no participar.
Fondo Anual Hill PTSA
¡Muchas gracias a las 73 personas que ya han donado al Fondo Anual de Hill! Hemos recaudado $9,750 hasta ahora para alcanzar nuestra meta de $65,000. Si aún no ha donado al Fondo Anual, ¡considere donar hoy! El Fondo Anual de Hill PTSA es una campaña de donación directa de un año y será nuestro único recaudador de fondos principal para el año escolar 22-23. Para alcanzar nuestra meta de $65,000 y continuar apoyando programas importantes en Hill, nuestra donación sugerida es de $100 por estudiante. Para obtener más información sobre para qué se utilizan estas donaciones esenciales en Hill y para donar ahora, visite: https://www.coloradogives.org/story/Hillptsaannualfund

Actualización del calendario
10 de enero Cene fuera, Chop Shop Lowry, 11:00 am – 8:00 pm, 20% a Hill. Mencione "Hill" al finalizar la compra
16 de enero Día de Martin Luther King Jr., no hay clases
17 de enero Reunión del CSC, 5:30 p. m. Biblioteca Hill
18 de enero Día de salida temprana, salida a las 12:00 p. m.