Hawk Talk 2/10
Posted February 10, 2023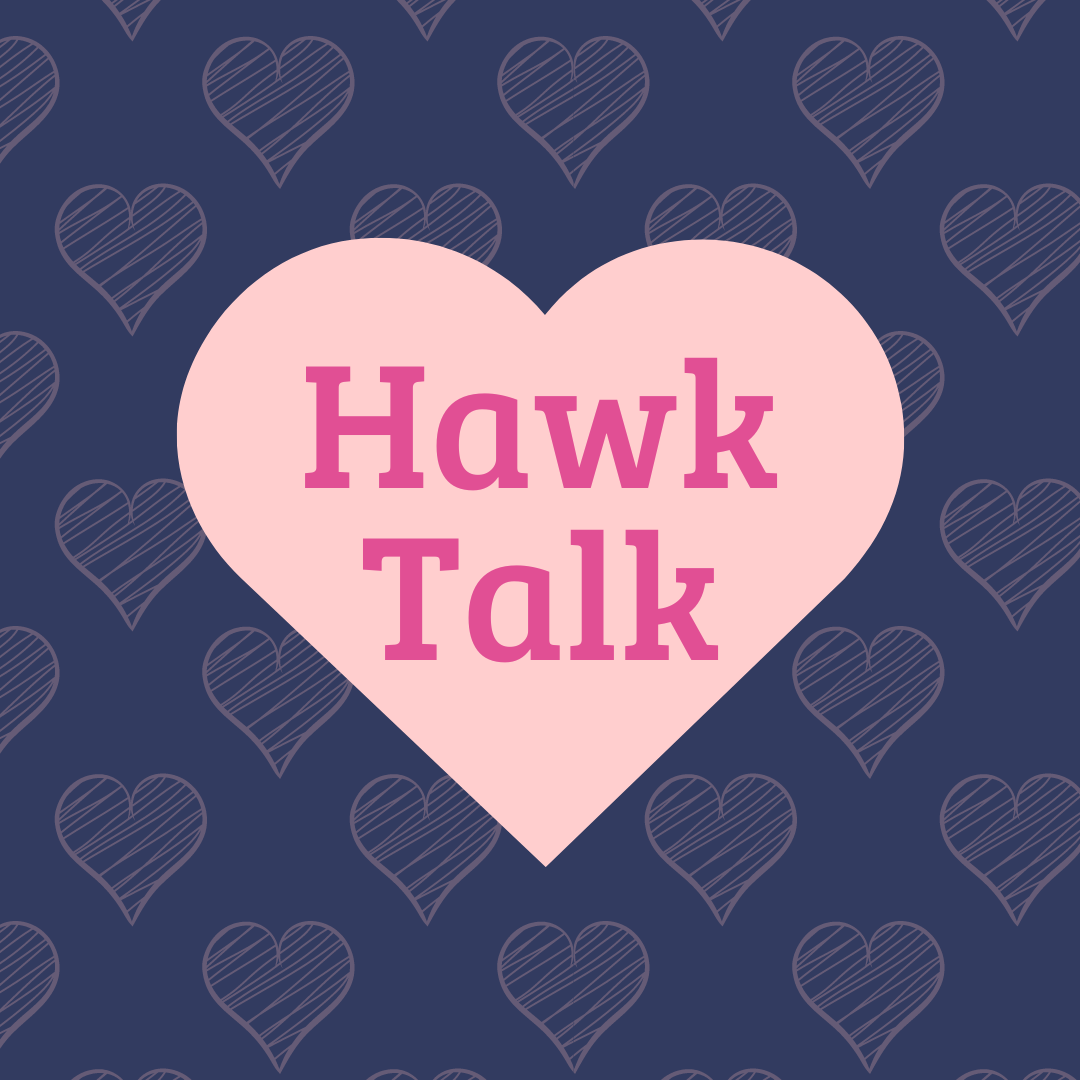 CMAS
Our CMAS testing will take place between March 20-April 28, 2023. CMAS is one measure of student proficiency on the Colorado Academic Standards. These standards provide clear and consistent guidelines on what students should know and be able to do at the end of the year, across grade levels and subject areas. And although CMAS is just one measurement of learning, results help to provide answers to important questions about your student's academic achievement.
Your support during CMAS is appreciated as state assessments are vital tools that contribute towards student success. If you do plan on excusing or opting your student out from CMAS your, please do so in the Parent Portal by February 28. This allows our school enough time to plan and schedule.
Hill's "Week of Love" Staff Appreciation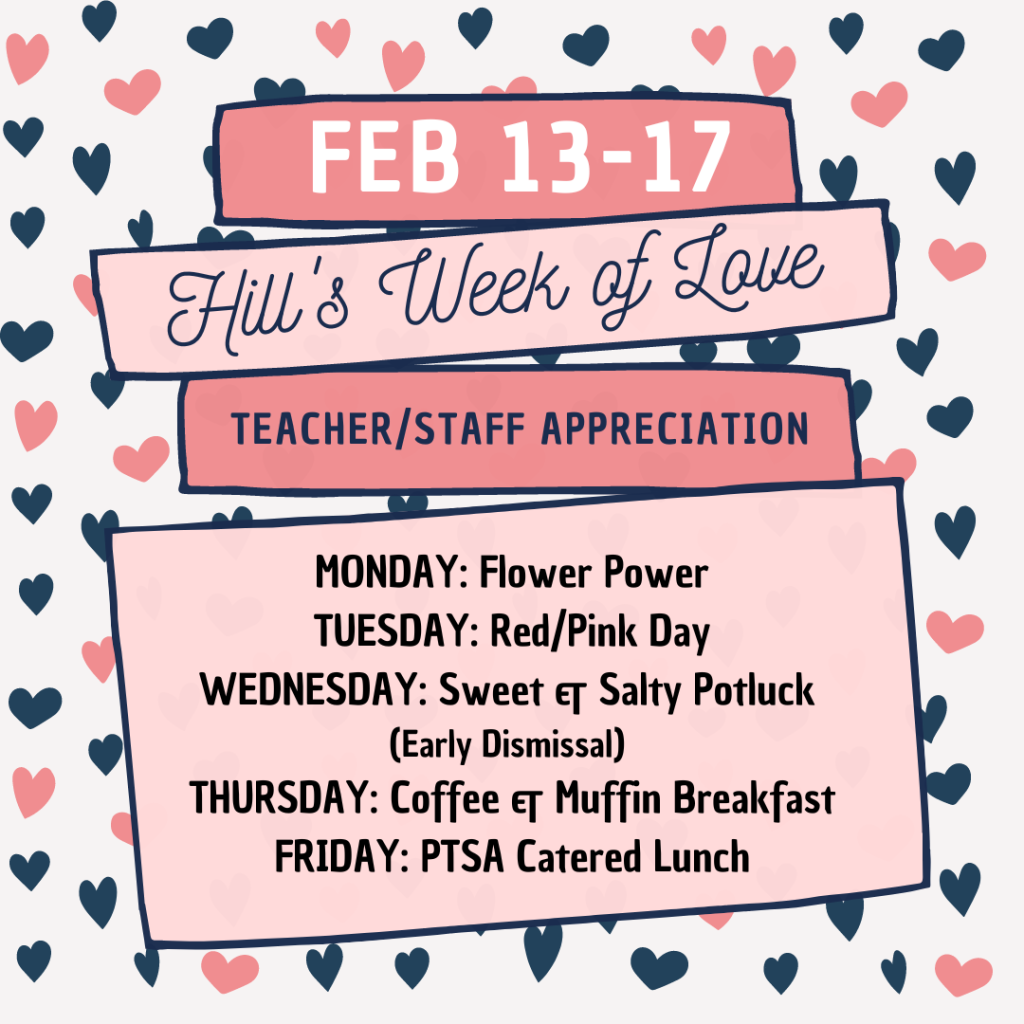 Show Hill's teachers some love next week! You and your student can support our fun week of activities by: 1) giving your favorite teacher(s)/staff member a valentine any day of the week, 2) contributing to the PTSA for the Friday staff lunch https://www.coloradogives.org/story/Hillptsaannualfund, 3) anything else you feel would show our teachers and staff how much you appreciate all they do. Thank you!
Before and After School Campus Hours
Please note that supervision on Hill Campus starts at 7:45am every morning, and ends at 3:20pm on regular days or 12:15pm on early release days. The Hill Campus should be clear of students before and after these times unless they are participating in a school sanctioned club or sport.
Ester's Dine Out
Support Hill and get a good meal, too! On February 13, dine-out at Esters on Holly St from 4 – 10pm and they will donate 20% back to Hill! Make sure you mention "Hill" when you order.
Book Bin
Cleaning out your bookshelves, but don't know what to do with your unwanted books? Bring them to Hill's Book Bin where they will be sorted and reused. Hill teachers and staff will be doing the same around the school in order to make room for their high interest books. Find the Book Bin in the front of the school. It won't be here long, so use it while you can!
Hill PTSA Annual Fund
A few words about why the Hill PTSA moved away from an auction fundraiser this year and chose to have an Annual Fund instead. Historically Hill has held an auction in the Spring to do the bulk of our fundraising, this requires overhead capital to host and requires families to purchase tickets to attend. This year, we wanted to focus on offering free community events to our Hill families instead. Our goal is to build our Hill community and hold events that everyone can enjoy at no cost. However, providing our students with educational and social opportunities beyond what the district provides requires additional funding from our Hill community. Our Annual Fund gives all families a chance to invest in enhancing the daily school experience for our children. Our hope is that since all of our students benefit from enriching programs and classroom activities, all of our families will want to participate in making them a reality by donating. Please consider making a donation to the Hill Annual Fund today! Does your employer match charitable donations? Ask if they will match your donation to Hill! https://www.coloradogives.org/story/Hillptsaannualfund
Calendar Updates
Feb 13 Dine-out at Esters on Holly St from 4 – 10pm! Esters will donate 20% to Hill! (1950 S Holly St., www.estersdenver.com)
Feb 14 DPS Citywide Vocal Festival, 10am @ the Newman Center
Feb 15 Early Release Day, 12:00 pm dismissal
Feb 20 President's Day, No School
Feb 21 No School, teacher planning day
Feb 23 Hill Block Party, 12pm-3pm