Hawk Talk 4/7
Posted April 7, 2023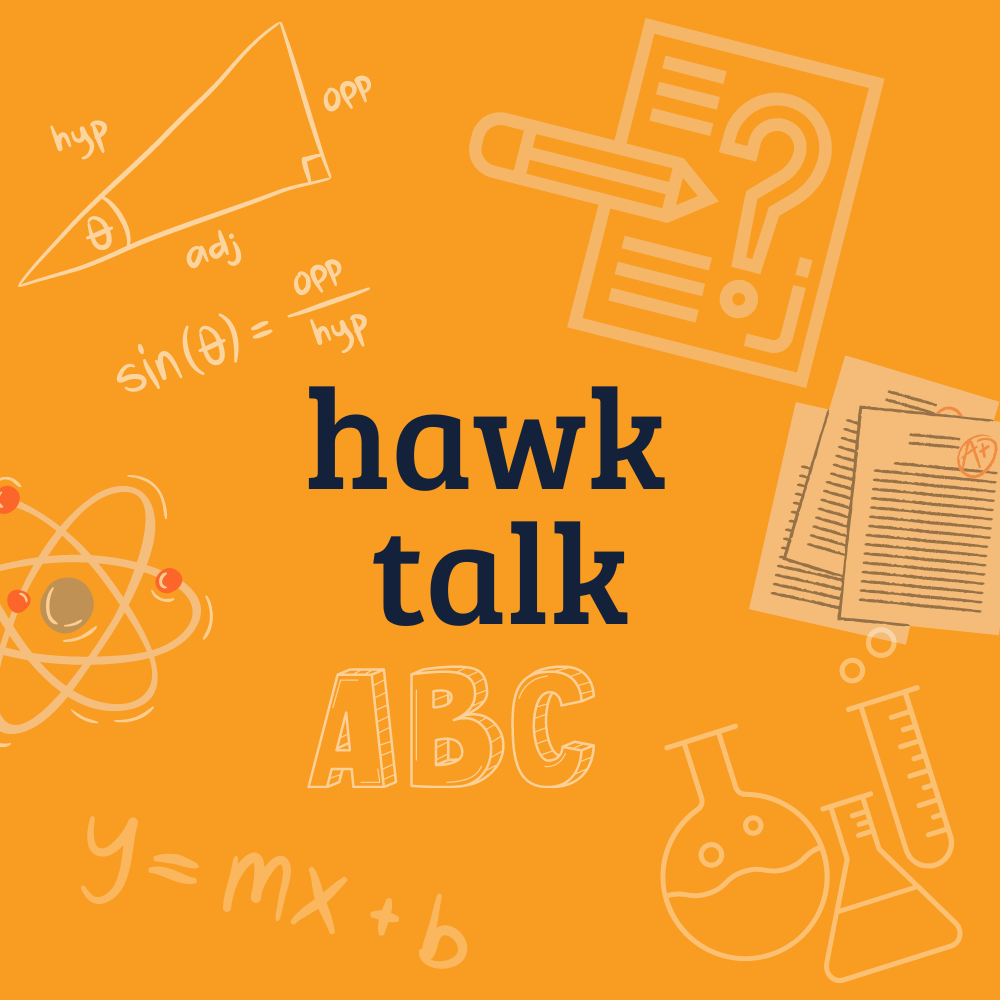 CMAS – April 11 & 12 for all students, April 13 for 8th graders
Thanks to families and students for a successful first day of testing! All grades have testing the morning of April 11 & 12, and 8th grade only has testing all day on April 13. 
Please remind your students that for CMAS to be smooth and productive:
Be on-time to school. Tardy or absent students will make up tests during regular instruction time
Have a Chromebook charged at 100% to ensure they can function for the entirety of testing and learning
Get a good night's sleep and have a good meal. Snacks are provided, but nothing beats a good breakfast. Students can get a free breakfast at school.
Enjoy this video about CMAS testing Do's & Don'ts at Hill!
CMAS Raffle
All students who participate in CMAS will receive a raffle ticket that will enter them into a drawing for prizes. Check out our winners from the first day of testing!

The raffle prize for the last day of testing will be tickets to ELITCH's!! Please be sure your student is at school and ready to test each day next week so they can earn a chance to win!
CMAS Volunteers
Part of our CMAS success this week was the help that we received from Parent Volunteers. If you want to help out, please sign-up HERE. We especially need lunch help. Background checks are strongly encouraged. Click on this LINK for a background check, then the purple button on the right hand side. It's easy!!
Thank you for helping!
Kindness winners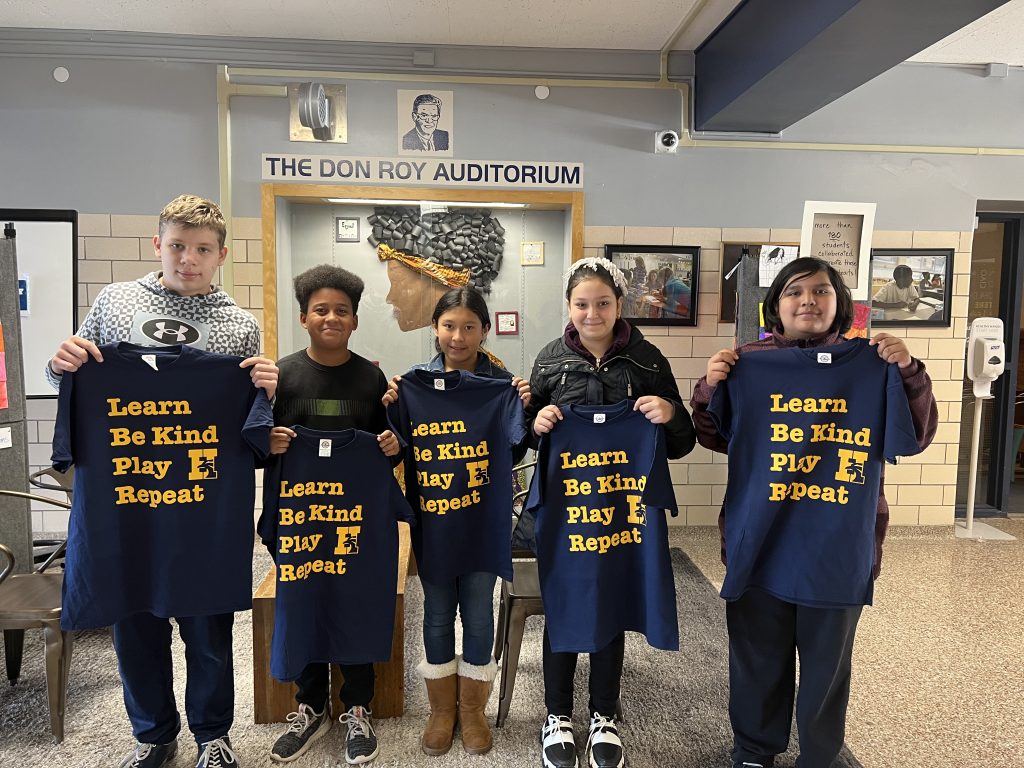 In March, we focused on the trait of Kindness. Students earned stickers every time they were "caught" being kind, and at the end of the month we celebrated students who were exemplars of kindness! Congratulations to: 6th Graders – Keyla Nunez, Ayaa Alhariri, Gregory Johnson; 7th Graders – Angelo Hernandez, Deshawna McReynolds, Andre Hylton; and 8th Graders – Dimitris Kanatas, Rosmary Lovera, Adam Nehal. 
Shakespeare in the Parking Lot
To celebrate the conclusion of CMAS testing, we will be hosting Shakespeare in the Parking Lot during the day on Friday, April 14. Each grade will watch a condensed performance of A Midsummer's Night Dream by the DCPA in the Hill Parking Lot! 
Skyhawk Community Workshop
All members of our Skyhawk Community are invited to join Principal Williams for  the Skyhawk Community Workshop. We will start with an update from the last meeting, and then focus on Family Engagement and Communication. April 18, from 5:00pm-6:00pm. 
8th Grade Continuation
It's hard to believe that Hill's 8th graders are one quarter away from continuation! If it is important to you and your 8th grader that they participate in continuation and the week of activities leading up to it, visit the 8th Grade Continuation tab on the Hill Website to learn about the requirements. Students can see the definitive list on Schoology. Parents can also check grades on Parent Portal. Our goal is to have as many students as possible participate in our week of events, and will partner with students and families to help them meet requirements.
Dress Code
As temperatures warm, and we move into Spring, we would like to remind you of Hill's Dress Code. At Hill, we understand that clothing is a means of outward expression for students, especially during a time of establishing identity in middle school. The dress code is meant to be a guideline for maintaining order, safety, and appropriateness within the learning environment without stifling individuality.
No private parts or undergarments visible
Hats OK, hoods on are ok.
NO visible belly button
Any thing that promotes hate or violence
Sunglasses are only to be worn outside
Hill PTSA Annual Fund
Hill Families, if you value programming for students such as Shakespeare in the Parking Lot, CMAS testing prizes including the tickets to Elitch's, and upcoming teacher appreciation week, then please consider chipping in to Hill's PTSA. They have been a proud supporter of these events plus classroom/extracurricular grants for teachers and staff, and so much more! The Annual Fund fills in the gaps left by DPS, plus gives teachers and staff funding for their special projects that fall outside of their department budgets. Please contribute what you can, the suggested donation is $100/student. Thank you! https://www.coloradogives.org/story/Hillptsaannualfund
Noodles & Co Dine Out:
Support our amazing Hill PTSA and take a night off from cooking by going to Noodles & Co for the next Dine Out. If you present the attached flyer, 25% of your purchase will be donated to Hill. Noodles Dine Out Flyer
MLE PAC Meeting
Families, you are invited you to our second and final MLE Parental Advisory Committee (PAC) meeting of the 2022-2023 school year. It will be held at:
Schlessman Family Branch Library
100 Poplar St., Denver, CO 80220
April 25th 3-5 PM
Attendance is optional, but please consider joining us for an informal discussion of your child's MLE instruction at Hill, summer learning resources, and then staying for a movie. Food and drinks will be provided. Translators will also be present. Please complete this RSVP form if you plan on attending and feel free to email me with any questions at eric_knoll@dpsk12.net.
Calendar Update
Apr 6, 11, 12 CMAS Testing, All Grades
Apr 12 Noodles & Co Dine Out, 4pm-8pm. Bring this flyer for 25% to Hill. Leetsdale & Cherry
Apr 13 CMAS Testing, 8th Grade Science
Apr 14 Shakespeare in the Parking Lot, 9:40am-7th Grade, 10:45am-6th Grade, 2:00pm-8th
Apr 18 Skyhawk Community Workshop, 5:00-6:00pm
Apr 19 Early Release Day, 12:00pm dismissal
Hawk Talk (Espanol) 7 de abril
CMAS – 11 y 12 de abril para todos los estudiantes, 13 de abril para estudiantes de 8.° grado
CMAS – 11 y 12 de abril para todos los estudiantes, 13 de abril para estudiantes de 8.° grado
¡Gracias a las familias y estudiantes por un exitoso primer día de exámenes! Recuerde que todos los grados tienen exámenes la mañana del 11 y 12 de abril, y el 8.º grado solo tiene exámenes todo el día el 13 de abril.
Manténgase al día con los buenos hábitos para que CMAS sea fluido y productivo:
Llegar a tiempo a la escuela. Los estudiantes que lleguen tarde o estén ausentes recuperarán las pruebas durante el tiempo de instrucción regular
Tenga una Chromebook cargada al 100 % para asegurarse de que pueda funcionar durante la totalidad de las pruebas y el aprendizaje.
Duerme bien por la noche y disfruta de una buena comida. Se proporcionan bocadillos, pero nada mejor que un buen desayuno. Los estudiantes pueden obtener un desayuno gratis en la escuela.
Rifa CMAS
Todos los estudiantes que participen en CMAS recibirán un boleto de rifa que los ingresará en un sorteo de premios. ¡Mira a nuestros ganadores desde el primer día de prueba!


¡¡El premio de la rifa para el último día de pruebas serán boletos para ELITCH's!! ¡Asegúrese de que su estudiante esté en la escuela y esté listo para la prueba todos los días de la próxima semana para que pueda tener la oportunidad de ganar!
Voluntarios CMAS
Parte de nuestro éxito en CMAS esta semana fue la ayuda que recibimos de los padres voluntarios. Si quieres ayudar, regístrate AQUÍ. Necesitamos especialmente ayuda para el almuerzo. Se recomienda encarecidamente la verificación de antecedentes. Haga clic en este ENLACE para una verificación de antecedentes, luego en el botón morado en el lado derecho. ¡¡Es fácil!!
¡Gracias por ayudar!
Ganadores de bondad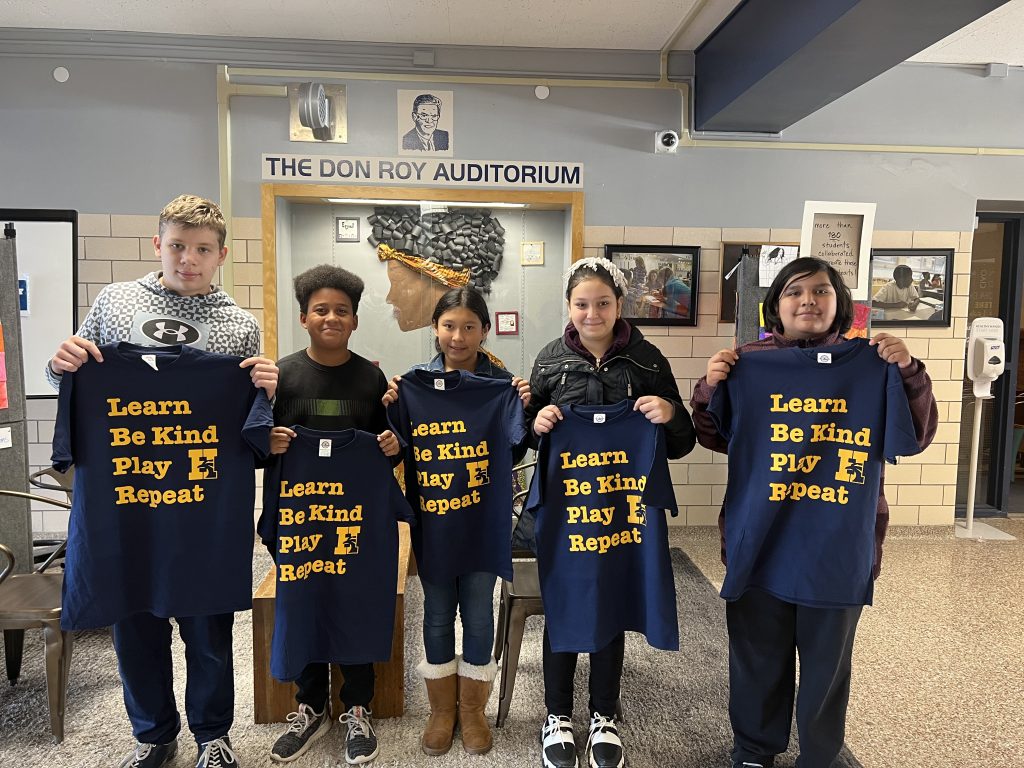 En marzo, nos enfocamos en el rasgo de Bondad. Los estudiantes ganaron calcomanías cada vez que fueron "sorprendidos" siendo amables, y al final del mes Hill celebramos a los estudiantes que fueron ejemplos de esta amabilidad. Felicitaciones a: Estudiantes de 6to grado – Keyla Nunez, Ayaa Alhariri, Gregory Johnson; Estudiantes de 7.° grado: Angelo Hernández, Deshawna McReynolds, Andre Hylton; y estudiantes de octavo grado: Dimitris Kanatas, Rosmary Lovera, Adam Nehal.
Shakespeare en el estacionamiento
Para celebrar la conclusión de las pruebas CMAS, presentaremos a Shakespeare in the Park – ing lot durante el día del viernes 14 de abril. ¡Cada grado verá una presentación resumida de A Midsummer's Night Dream de la DCPA en el estacionamiento de Hill!
Taller comunitario Skyhawk
Todos los miembros de nuestra comunidad Skyhawk están invitados a unirse al director Williams para el taller de la comunidad Skyhawk. Comenzaremos con una actualización de la última reunión y luego nos centraremos en la participación y comunicación familiar. 18 de abril, de 17:00 a 18:00 horas.
Continuación
¡Es difícil creer que los estudiantes de 8.º grado de Hill están a una cuarta parte de la continuación! Si es importante para usted y su hijo de 8.° grado que participen en la continuación y la semana de actividades previas, visite la pestaña de Continuación de 8.° grado en el sitio web de Hill para conocer los requisitos. Los estudiantes pueden ver la lista definitiva en Schoology. Los padres también pueden consultar las calificaciones en el Portal para padres. Nuestro objetivo es que la mayor cantidad de estudiantes posible participe en nuestra semana de eventos y nos asociaremos con los estudiantes y las familias para ayudarlos a cumplir con los requisitos.
Código de vestimenta
A medida que aumenta la temperatura y nos acercamos a la primavera, nos gustaría recordarle el código de vestimenta de Hill. En Hill, entendemos que la ropa es un medio de expresión exterior para los estudiantes, especialmente durante un tiempo de establecimiento de identidad en la escuela intermedia. El código de vestimenta está destinado a ser una guía para mantener el orden, la seguridad y la idoneidad dentro del entorno de aprendizaje sin sofocar la individualidad.
No se ven partes íntimas ni ropa interior.
Los sombreros están bien, las capuchas están bien.
SIN ombligo visible
Cualquier cosa que promueva el odio o la violencia.
Las gafas de sol solo se pueden usar afuera.
Fondo Anual Hill PTSA
Familias de Hill, si valoran la programación para estudiantes como Shakespeare en el estacionamiento, los premios de las pruebas CMAS, incluidos los boletos para Elitch's, y los próximos eventos de la semana de agradecimiento a los maestros, entonces consideren participar en el PTSA de Hill. ¡Han sido un orgulloso partidario de estos artículos, además de subvenciones para el salón de clases/extracurriculares para maestros y personal, y mucho más! El Fondo Anual llena los vacíos dejados por DPS, además brinda a los maestros y al personal fondos para sus proyectos especiales que quedan fuera de los presupuestos de sus departamentos. Por favor contribuya con lo que pueda, la donación sugerida es de $100 por estudiante. ¡Gracias! https://www.coloradogives.org/story/Hillptsaannualfund
Noodles & Co Cenar Fuera
Apoye a nuestro increíble PTSA de Hill y tómese una noche libre de cocinar yendo a Noodles & Co para la próxima cena fuera. Si presenta el volante adjunto, el 25% de su compra será donado a Hill. Folleto para cenar fuera de fideos
Reunión MLE PAC
Familias, están invitados a nuestra segunda y última reunión del Comité Asesor de Padres (PAC) de MLE del año escolar 2022-2023. Se llevará a cabo en:
Biblioteca Sucursal de la Familia Schlessman
100 Poplar St., Denver, CO 80220
25 de abril 3-5 PM
La asistencia es opcional, pero considere unirse a nosotros para una discusión informal sobre la instrucción MLE de su hijo en Hill, los recursos de aprendizaje de verano y luego quédese para ver una película. Comida y bebida serán proveídas. Los traductores también estarán presentes. Complete este formulario de RSVP si planea asistir y no dude en enviarme un correo electrónico con cualquier pregunta a eric_knoll@dpsk12.net.
Actualización del calendario
6, 11 y 12 de abril Exámenes CMAS, todos los grados
12 de abril Noodles & Co Cene fuera, de 4 p. m. a 8 p. m. Traiga este volante por 25% a Hill. Leetsdale y Cherry
13 de abril Pruebas CMAS, Ciencias de 8.º grado
14 de abril Shakespeare en el estacionamiento, 9:40 a. m. a 7° grado, 10:45 a. m. a 6° grado, 2:00 p. m. a 8° grado
18 de abril Taller comunitario Skyhawk, 5:00-6:00 p. m.
19 de abril Día de salida temprana, salida a las 12:00 p. m.