Hawk Talk 8/25
Posted August 25, 2023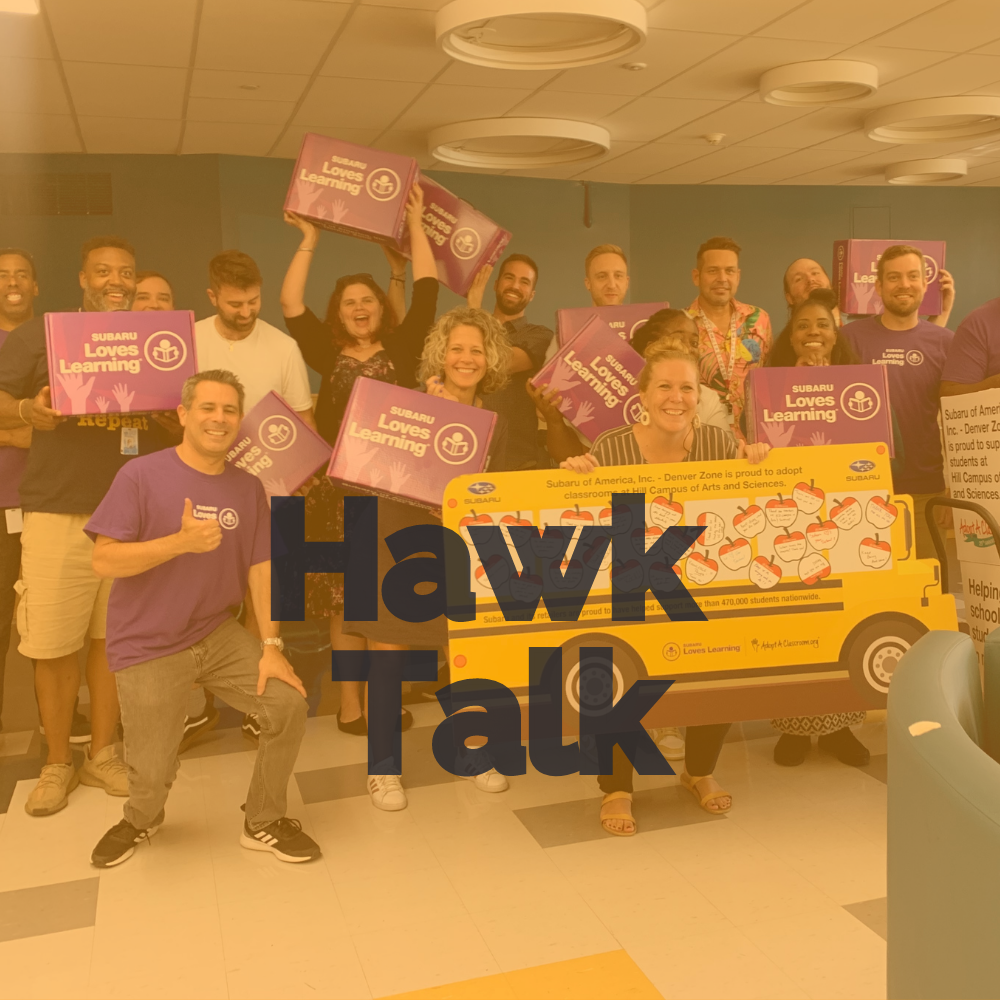 Warm Welcome from Ms. Williams
We had a wonderful first week back! Students have been engaged with their work and are academically focused as we build a "no opt out" culture at Hill. We are here to learn, and middle school matters. It is exciting to see our kids putting pencil to paper and being engaged in their classes already.
Teachers and staff are working hard to build relationships and habits that will support safety, joy, and learning for the year ahead!
In celebration of our amazing staff, Subaru awarded 10 0f our amazing teachers with $500 for classroom supplies! Thank you Subaru!
BACK TO SCHOOL NIGHT, August 31 @ 5:30 pm
Families are invited to Back to School Night at Hill on Thursday, August 31, from 5:30-7:30pm. Families will visit classrooms and meet teachers. We are also asking that parents attend a parent session where we will explain expectations for our school year.
6th Grade Parent Session: 5:45-6:00pm
7th Grade Parent Session: 6:15-6:30pm
8th Grade Parent Session: 6:45-7pm
**If you have more than one student, you will only need to attend 1 session. However, the 8th grade session will have one unique piece of information as we will review Conitnuation Requirements.
FALL SPORTS
Early Fall Athletics are happening! If you haven't signed up yet, the deadline is tonight! Sports Registration
Cross Country Tryouts & Practice
Wed, Aug 30 — open run from 4:15-5:15pm,
Wed. Aug 30 – parent meeting in the courtyard from 5:15-5:30pm
Tues, Sep 5– first practice/timed run from 4:15-5:15
Wed, Sep 6- practice 4:15-5:15 (our practices will be at this time every tues and wed)
Softball Tryouts & Practice
Next week: Tryouts on Mon Aug 28th and Wed Aug 30th (4:15-5:30 both days)
Soccer Tryouts & Practice:
Next Week, Tryouts on Tuesday 8/29 & Wednesday 8/30 from 4:15pm – 5:30 pm
All information regarding Sports can be found on the Hill Website: hill.dpsk12.org
Student Chromebooks
We are continuously issuing Chromebooks to students. Our School Tech Partner is working diligently through the student list for all students in all grades. All teachers have paper assignments until all students are ready with tech.
MY SPARK BENEFIT – $1,000 FOR YOUTH PROGRAMS
Kids in Denver should be able to pursue their passions and find their purpose. My Spark Denver provides eligible DPS middle school families with $1,000 to pay for youth programs like sports, music, art and more.
For families that qualify, each student will receive $1000 (debit card) to spend on extracurricular activities, courtesy of MySpark Denver and Gary Community.
(Ie. The pay to play fee for Middle School sports can be paid for, with the debit card.) Qualification is determined using the YouBenefit! Application. Then complete the MySparkDenver application when you have your determination letter. .
This program is first come, first serve, so get your application done soon!
ReachWell App
This year Hill teachers and staff will be communicating with families via the ReachWell app. Take a moment to download the app to your phone. A code will be sent to you for Hill, and you will be set!
See What Students Learned in Culture Assemblies this Week!
Calendar
Aug 31 Back to School Night, 5:30pm start time
Sep 4 Labor Day, No school
Sep 7 Early Release Day, 1:00pm dismissal
Sep 13 Film in the Field, 6:00pm