Hawk Talk 9/15
Posted September 15, 2023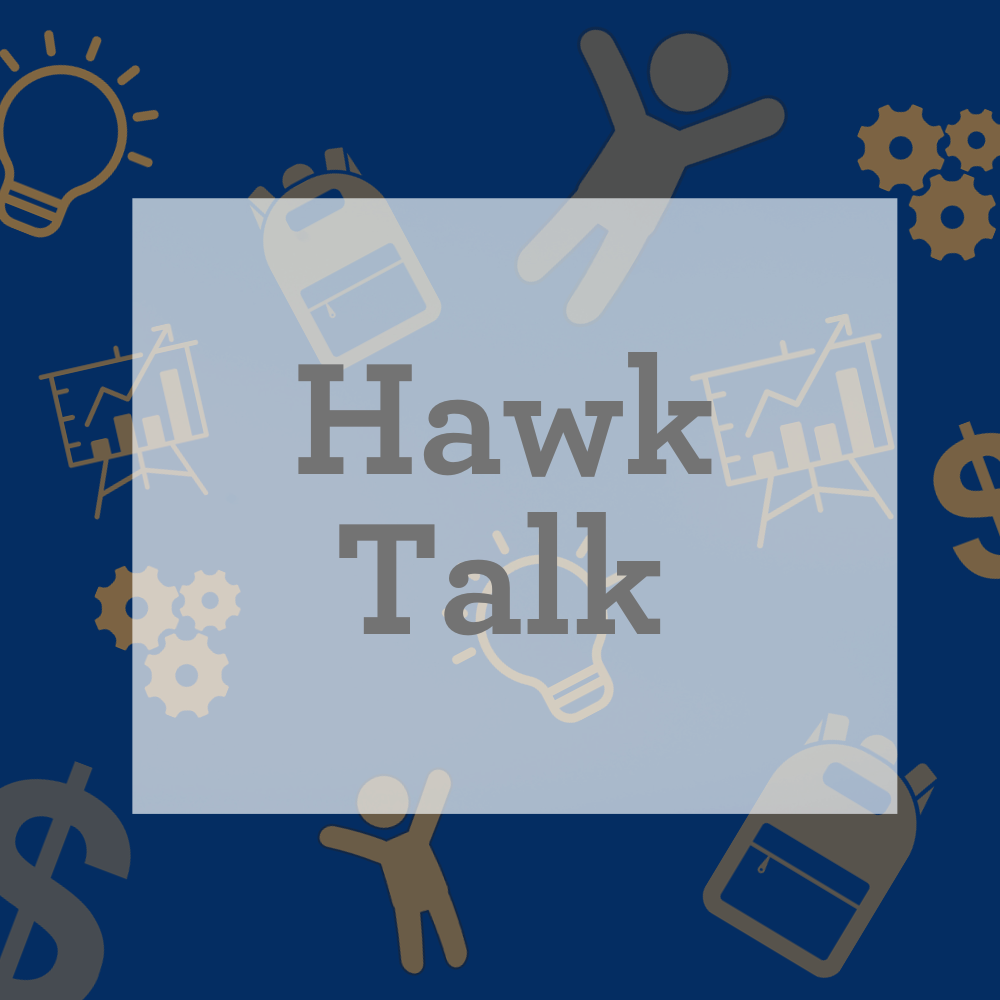 CSC Nominations
The CSC is an important part of Hill's governance, and is comprised of parents, teachers, administration, and community members. We'd like for the committee to be representative of our school population, and are looking for engaged parents who would be committed to helping Hill make decisions that are in the best interest of all students. This is an unpaid, elected position and requires that members attend meetings in the evening.
You may nominate as many as you would like. We will contact them to discuss the role. The deadline for nominations is Sunday, September 17 @ 11:59pm.
Hill Community Workshop
Hill's Community Workshops are an opportunity for parents to come work with Hill leaders as thought partners regarding problems that we are solving. Topics vary and are based on what is happening with Hill students. This workshop will be focused on inclusion. We serve a diverse population of learners, including a wide range of students with unique gifts, varied cultural & language backgrounds, and students with disabilities. We will be discussing how to grow student AND community awareness around inclusion for all students. Our next Community Workshop will be September 21 @ 5:30pm at Hill.
Microwave Donation
Hill students are in need of two new microwaves for the cafeteria. If you are able to donate one, or both, to school, please contact Ms. Liz at liz_muth@dpsk12.net
2023 CMAS Scores Available
CMAS scores are available through Parent Portal. You can view scores by scrolling to the bottom of the home page for your student on the Parent Portal. If you would like a paper copy of your student's CMAS score, please email Jennifer I, jennifer_i@dpsk12.net. With your student's name and parent/guardian name.
Parenting Partners Survey
Parenting Partners is an 8 week program focused on strengthening positive and effective communication, avoiding control battles and developing healthy self-esteem with your child(ren) all toward focusing on having an amazing relationship with them. HIll is hoping to offer the 8 week Parenting Partners program (dates to be determined). Parents meet for structured sessions for about 2 hours a session for 8 consecutive weeks at Hill. Child care and a light dinner will be offered. Sign up here if you are interested.
Hill Travel Group:
Hill Travel Group: Our spots are quickly filling up, we have 14 spots left! Please check out the informational slides and the Tour Webpage for more details.
Hill Promo Video #notprofessionalactors
If you have any questions about the trip, please reach out to Ms. Redmond. She is able to schedule time to talk and help answer any questions.
Fall Sports
What's up Skyhawks! We are ready to roll out Late Fall Sports. This upcoming season we are offering Girls Volleyball and Flag Football. Attached below is the registration link for these sports, a physical form, and a link to local clinics to get a physical completed.
Please register by September 30th. In addition to completing registration, please complete a sports physical so that you are eligible to compete!
If you need support or have any questions please reach out to Director Turner or Director Lewis. See you out there!
23-24 Late Fall Sports Registration Form
https://athletics.dpsk12.org/prep-league-middle-school-athletics/
Calendar
Sep 21 Early Release Day, 1:00 pm dismissal
Sep 21 Hill Community Workshop and CSC Meeting, 5:30 pm
Sep 22 Professional Learning Day, no school for students
Sep 27 Pack the House Challenge, Boys Soccer v McAuliffe 6:30 pm @ GW
Sep 29 Shakespeare in the Parking Lot (students only during school day)
Oct 5 Early Release Day, 1:00 pm Dismissal
Oct 4-6 School Photos
Nominaciones al CSC
El CSC es una parte importante del gobierno de Hill y está compuesto por padres, maestros, administración y miembros de la comunidad. Nos gustaría que el comité fuera representativo de nuestra población escolar y buscamos padres comprometidos que se comprometan a ayudar a Hill a tomar decisiones que sean lo mejor para todos los estudiantes. Este es un puesto electo y no remunerado y requiere que los miembros asistan a reuniones trimestrales por la noche.
Puede nominar tantos como desee. Nos comunicaremos con ellos para discutir el puesto. La fecha límite para nominaciones es el domingo 17 de septiembre a las 23:59 horas.
Taller comunitario de Hill
Los talleres comunitarios de Hill son una oportunidad para que los padres vengan a trabajar con los líderes de Hill como socios de pensamiento sobre los problemas que estamos resolviendo. Los temas varían y se basan en lo que sucede con los estudiantes de Hill. Este taller estará enfocado en la inclusión. Atendemos a una población diversa de estudiantes, incluida una amplia gama de estudiantes con dones únicos, antecedentes culturales y lingüísticos variados y estudiantes con discapacidades. Discutiremos cómo aumentar la conciencia de los estudiantes Y de la comunidad sobre la inclusión de todos los estudiantes. Nuestro próximo taller comunitario será el 21 de septiembre a las 5:30 p. m. en Hill.
Donación de microondas
Los estudiantes de Hill necesitan dos microondas nuevos para la cafetería. Si puede donar uno o ambos a la escuela, comuníquese con la Sra. Liz en liz_muth@dpsk12.net.
Puntajes CMAS 2023 disponibles
Los puntajes de CMAS están disponibles a través del Portal para padres. Puede ver los puntajes desplazándose hasta la parte inferior de la página de inicio de su estudiante en el Portal para padres. Si desea una copia impresa del puntaje CMAS de su estudiante, envíe un correo electrónico a Jennifer I, jennifer_i@dpsk12.net. Con el nombre de su estudiante y el nombre del padre/tutor.
Encuesta sobre socios padres
Parenting Partners es un programa de 8 semanas enfocado en fortalecer la comunicación positiva y efectiva, evitar batallas de control y desarrollar una autoestima saludable con su(s) hijo(s), todo para enfocarse en tener una relación increíble con ellos. HIll espera ofrecer el programa Parenting Partners de 8 semanas (fechas por determinar). Los padres se reúnen para sesiones estructuradas de aproximadamente 2 horas por sesión durante 8 semanas consecutivas en Hill. Se ofrecerá cuidado de niños y una cena ligera. Regístrate aquí si estás interesado.
Grupo de viaje de colina:
Hill Travel Group: Nuestros lugares se están llenando rápidamente, ¡nos quedan 14 lugares! Consulte las diapositivas informativas y la página web del Tour para obtener más detalles.
Diapositivas informativas
Vídeo promocional de Hill #notprofessionalactors
Si tiene alguna pregunta sobre el viaje, comuníquese con la Sra. Redmond. Ella puede programar tiempo para hablar y ayudar a responder cualquier pregunta.
Deportes de otoño
¡Qué pasa Skyhawks! Estamos listos para implementar los deportes de finales de otoño. Esta próxima temporada ofreceremos voleibol femenino y fútbol americano de bandera. Adjunto a continuación se encuentra el enlace de registro para estos deportes, un formulario físico y un enlace a las clínicas locales para completar un examen físico.
Regístrese antes del 30 de septiembre. ¡Además de completar el registro, complete un examen físico deportivo para que sea elegible para competir!
Si necesita ayuda o tiene alguna pregunta, comuníquese con el Director Turner o el Director Lewis. ¡Nos vemos por ahí!
23-24 Formulario de inscripción para deportes de finales de otoño
https://athletics.dpsk12.org/prep-league-middle-school-athletics/
Calendario
21 de septiembre Día de salida temprana, salida a la 1:00 pm
21 de septiembre Taller comunitario de Hill y reunión del CSC, 5:30 pm
22 de septiembre Día del aprendizaje profesional, no hay clases para los estudiantes
27 de septiembre Desafío Pack the House, Boys Soccer v McAuliffe 6:30 pm @ GW
29 de septiembre Shakespeare en el estacionamiento (estudiantes solo durante el día escolar)
5 de octubre Día de salida temprana, salida a la 1:00 pm
4-6 de octubre Fotos escolares