Hawk Talk 10/6
Posted October 6, 2023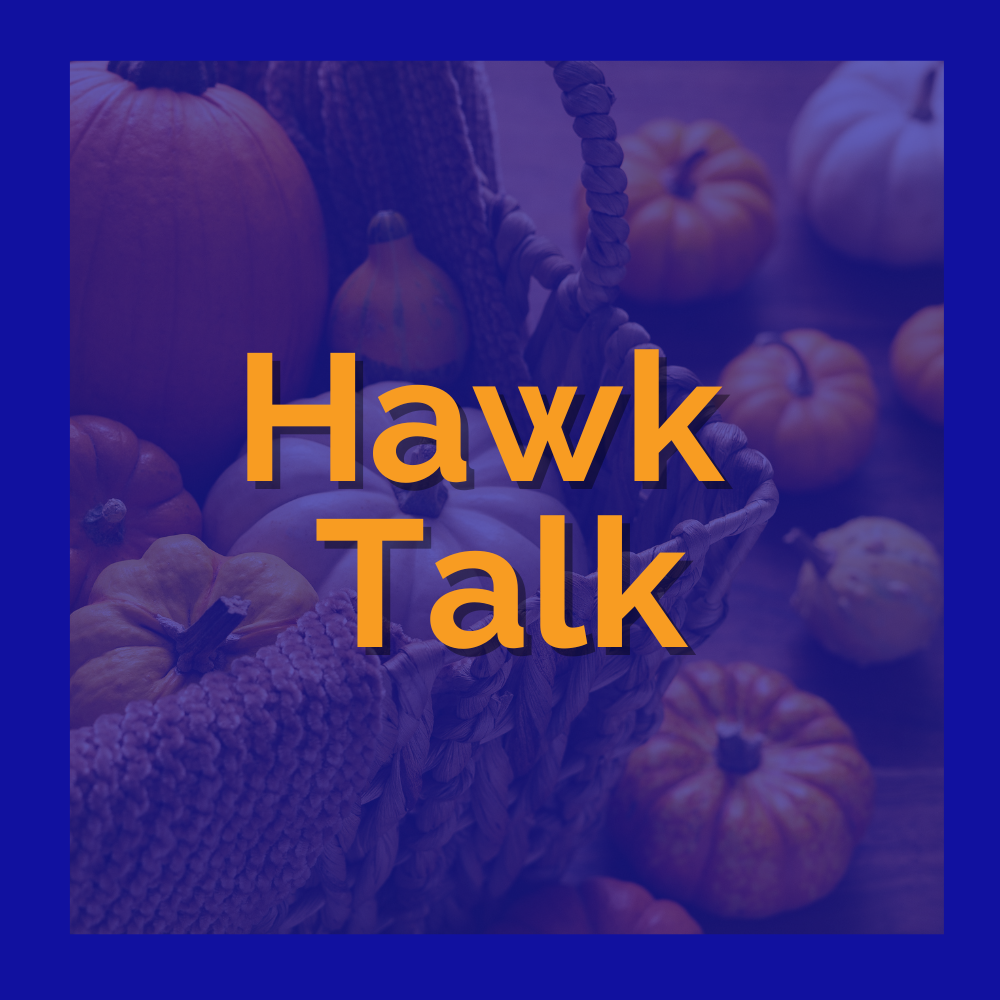 Softball Pack the House Playoff
Hill's Girls Softball Team has an important Play-In game on Monday, October 9 to earn their spot for the DPS Playoffs. Show your support by wearing Navy and Marigold on Monday, and then come to their game @ 4:15pm at Hill vs. Hamilton. This is their biggest game of the season!

Hope to see everyone there! Go Skyhawks!
Fall Break Reminder
There is no school for students Thursday, October 12- Monday, October 16 for Fall Break.. School will resume on Tuesday, October 17.
Fall Family-Teacher Conferences:
We encourage all families to attend Fall Family Conferences on October 19 from 4:30pm-7:30 pm to get an update on your student's academic progress. Conferences are held in an open format, with all teachers available in the gym to meet with families. No appointment is necessary, however, please sign-up here if you plan on attending.

At conferences, families will be able to meet with their student's teachers and view a one page sheet with their student's progress. Families who want a more in-depth conversation about their student are encouraged to email their teacher with questions at any time during the year.
Cool Weather Reminder
As the weather turns cooler, please remind your students that blankets, stuffed animals, and slippers are not allowed at school. These items can be unsafe in classrooms or the school hallways and foster uncleanliness. Students should wear warm clothing on cold weather days. .
Substance Use Prevention for Youth
On October 19th, during Family Conferences, we will be offering a parenting information session on Substance Use Prevention for Youth. Substance use, including vaping, is on the rise among youth and is starting at an earlier age.Parents play a critical role in prevention. This presentation is presented by staff from DPS' Substance Use Prevention Program. The session will be held at 5:30 in the Hill Auditorium. If interested, plan your conference time with teachers and staff before or after the presentation. The presentation will last about a half hour with time for questions and time with our mental health staff afterwards. Translation services will be provided.
Understanding the Middle School Brain & Behavior
On October 24th from 5:30 – 6:30 Mr. Waldon, Hill's Prevention and Therapeutic Specialist, will offer a presentation and discussion on Understanding the MIddle School Brain and Behavior. Exhausted one minute, full of energy the next, middle school students are funny, intense, sometimes self-absorbed, often quite confusing, and oh so lovable. This session will focus on the unique developmental time of the middle school student. This session will be held in the Hill library. Translation services will be provided.
Skyhawk Winter Showcase Save the Date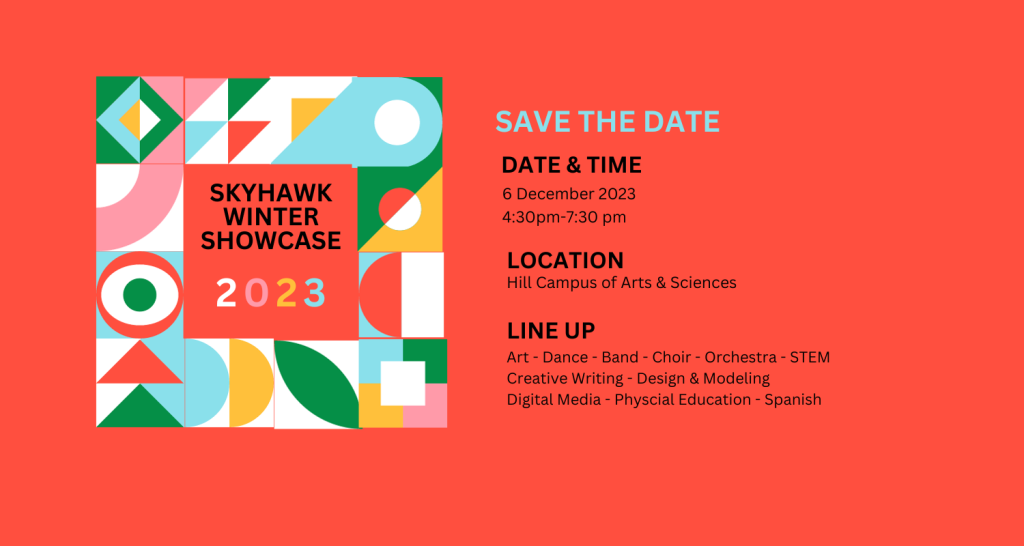 We are happy to announce our inaugural Winter Skyhawk Showcase, a one-night celebration of all Skyhawks students and their achievements in their electives classes. Please save the date: Wednesday, December 6, 2023, 4:30pm-7:00pm
Calendar Update
Oct 11 Quarter 1 ends
Oct 12-16 Fall Break, no school
Oct 19 Early Release Day, 1:00 pm Dismissal
Oct 19 Fall Family Teacher Conferences, 4:30pm-7:30pm
Oct 19 Substance Use Prevention for Youth, 5:30 pm
Oct 26 Understanding the Middle School Brain & Behavior, 5:30pm
Hawk Talk 6 de octobre
Softbol Pack the House Edición Playoff
El equipo de softbol femenino de Hill tiene un importante partido de entrada el lunes 9 de octubre para ganar su lugar para los playoffs de DPS. Muestre su apoyo vistiendo Navy y Marigold el lunes, y luego venga a su juego a las 4:15 p.m. en Hill vs. Hamilton. ¡Este es el partido más importante de la temporada!

¡Espero verlos a todos allí! ¡Vamos Skyhawks!
Recordatorio de vacaciones de otoño
No habrá clases para los estudiantes del jueves 12 de octubre al lunes 16 de octubre durante las vacaciones de otoño. La escuela se reanudará el martes 17 de octubre.
Conferencias de otoño entre familias y maestros
Alentamos a todas las familias a asistir a las conferencias familiares de otoño el 19 de octubre de 4:30 p. m. a 7:30 p. m. para obtener una actualización sobre el progreso académico de su estudiante. Las conferencias se llevan a cabo en formato abierto, con todos los maestros disponibles en el gimnasio para reunirse con las familias. No es necesaria una cita, sin embargo, regístrese aquí si planea asistir.
En las conferencias, las familias podrán reunirse con los maestros de sus estudiantes y ver una hoja de una página con el progreso de sus estudiantes. Se anima a las familias que deseen tener una conversación más profunda sobre su estudiante a enviar un correo electrónico a su maestro con preguntas en cualquier momento durante el año.
Recordatorio de clima frío
A medida que el clima se vuelve más fresco, recuerde a sus estudiantes que no se permiten mantas, animales de peluche ni pantuflas en la escuela. Estos artículos pueden ser peligrosos en las aulas o en los pasillos de la escuela y fomentar la suciedad. Los estudiantes deben usar ropa abrigada en los días de clima frío.
Prevención del uso de sustancias para jóvenes
El 19 de octubre, durante las conferencias familiares, ofreceremos una sesión informativa para padres sobre la prevención del uso de sustancias en los jóvenes. El consumo de sustancias, incluido el vapeo, está aumentando entre los jóvenes y comienza a una edad más temprana. Los padres desempeñan un papel fundamental en la prevención. Esta presentación es presentada por personal del Programa de Prevención del Uso de Sustancias del DPS. La sesión se llevará a cabo a las 5:30 en el Auditorio Hill. Si está interesado, planifique el tiempo de su conferencia con los maestros y el personal antes o después de la presentación. La presentación durará aproximadamente media hora con tiempo para preguntas y luego tiempo con nuestro personal de salud mental. Se proporcionarán servicios de traducción.
Comprender el cerebro y el comportamiento de la escuela secundaria
El 24 de octubre, de 5:30 a 6:30, el Sr. Waldon, especialista terapéutico y de prevención de Hill, ofrecerá una presentación y un debate sobre cómo comprender el cerebro y el comportamiento de la escuela secundaria. Agotados un minuto, llenos de energía al siguiente, los estudiantes de secundaria son divertidos, intensos, a veces ensimismados, a menudo bastante confusos y, ¡oh, tan adorables! Esta sesión se centrará en el momento de desarrollo único del estudiante de secundaria. Esta sesión se llevará a cabo en la biblioteca de Hill. Se proporcionarán servicios de traducción.
Escaparate de invierno reserva la fecha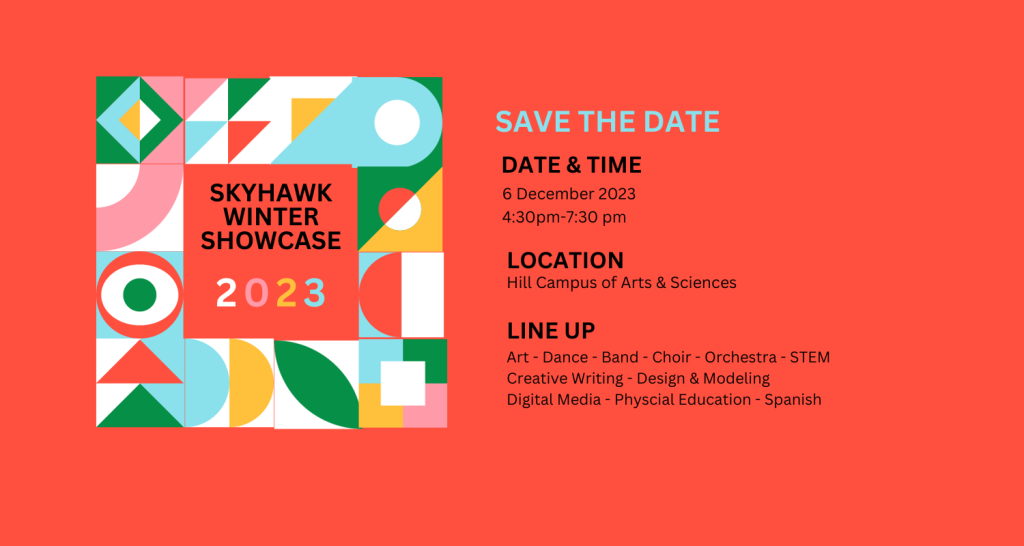 Nos complace anunciar nuestra exhibición inaugural de Winter Skyhawk, una celebración de una noche de todos los estudiantes de Skyhawks y sus logros en sus clases optativas. Por favor reserve la fecha: miércoles 6 de diciembre de 2023, de 16:30 a 19:00 h.
Actualización del calendario
11 de octubre Finaliza el trimestre 1
12-16 de octubre Vacaciones de otoño, no hay clases
19 de octubre Día de salida temprana, salida a la 1:00 pm
19 de octubre Conferencias de maestros familiares de otoño, 4:30 p. m. a 7:30 p. m.
19 de octubre Prevención del uso de sustancias para jóvenes, 5:30 pm
26 de octubre Comprender el cerebro y el comportamiento de la escuela secundaria, 5:30 p. m.