Hawk Talk 10/20
Posted October 20, 2023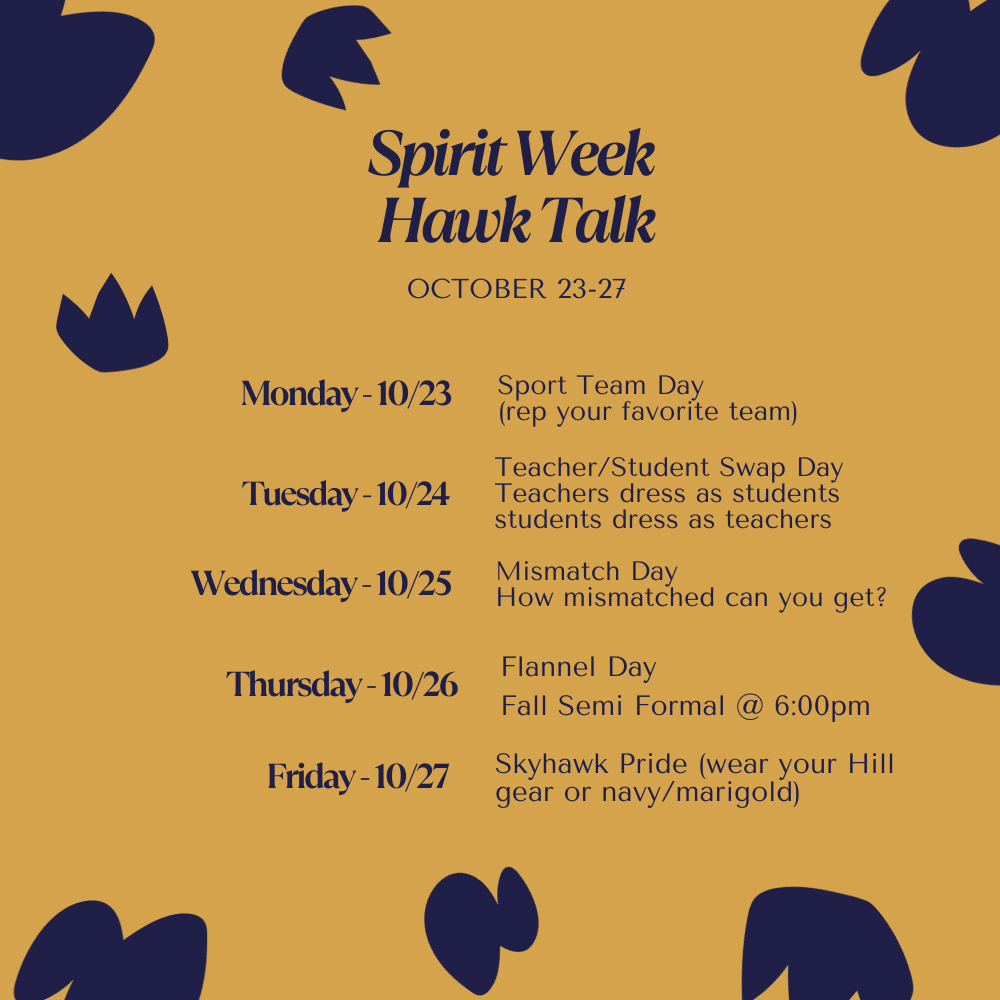 Thanks for Family Teacher Conferences
It was so great to see so many of you at Family Teacher Conferences on Thursday! We hope that you were able to learn how your student was progressing at Hill. We had the biggest turnout we have had in years. We do apologize for the unexpected high temps in October. Due to changing fall temps and our growing participation, we will absolutely be adjusting some logistical pieces for future fall conferences. It's exciting to be growing this event each fall!
For those parents who were not able to attend, or want more information, you are always welcome to reach out and set up a one-on-one meeting with your student's teacher. Email addresses and your student's schedule are available in Parent Portal, or if you know your student's teachers you can find their email addresses on the HIll Website under Staff Directory.
Donations Needed for Podcast Club
My name is Mr. Williams, and I am a Restorative Justice Coordinator at Hill. I am excited to announce that we will be starting a Podcast Club in the coming months! This will be a great opportunity for students to explore interests in media and journalism and build positive connections with one another. We are currently working on gathering the supplies needed to make this club the best it can be, and we need your help! We are seeking donations of microphones and video cameras, as well as financial donations. You can drop any donations, including cash or checks, to the main office. You can also use this QR code for financial donations.
Spirit Week
Monday 10/23 Sport Team Day
Tuesday 10/24 Teacher and Student Swap Day
Wednesday 10/25 Mismatch Day
Thursday 10/26 Flannel Day
Friday 10/27 Skyhawk Pride Day
Fall Dance for Students
The Fall Dance will be held Thursday, Oct. 26 at Hill from 6:00pm-7:30pm. Dress code is Semi-Formal, and there will be a $3 fee at the door. Student that do not meet the eligibility requirements will be notified by the end of the day on Thursday.
Understanding the Middle School Brain & Behavior
On October 24th from 5:30 – 6:30 Mr. Waldon, Hill's Prevention and Therapeutic Specialist, will offer a presentation and discussion on Understanding the MIddle School Brain and Behavior. Exhausted one minute, full of energy the next, middle school students are funny, intense, sometimes self-absorbed, often quite confusing, and oh so lovable. This session will focus on the unique developmental time of the middle school student. This session will be held in the Hill library. Translation services will be provided.
Halloween Dress Policy
Students are allowed to enjoy Halloween at Hill by dressing in a school-appropriate costume. This means no masks, no blood, no props, and of course absolutely nothing that represents a weapon. As always, if a student brings anything representing a weapon to school the incident will be taken with utmost severity according to the DPS Discipline Matrix.
Trunk or Treat – 8th Grade Community Service Opportunity
Families of 8th graders, there is a fantastic volunteer opportunity for your students at Palmer Elementary supporting their Fall Festival Trunk or Treat event!
Students will help with setting up, running, and putting away carnival games for Palmer's elementary students. There will be 30 minute shifts with 2 people managing each game. For more information, click on this Sign-Up Genius Link And don't forget to bring a Community Service Form
As a reminder, 8th grade students are required to have 6 community service hours in order to participate in 8th grade continuation events at the end of the year. More information on 8th Grade Requirements can be found on the Hill Website under "Academics".
PAC Meeting
Mr. Knoll, our provider of ELD (English Language Development) services to your child at Hill Campus of Arts and Sciences, would like to formally invite you to our first MLE Parental Advisory Committee (PAC) meeting of the year. It will be held in room 112 at Hill Campus of Arts and Sciences on November 2nd from 2-3 PM.
The purpose of this meeting is to:
Provide information about the MLE program at Hill Campus
Increase communication between parents and the school
Listen to concerns and/or feedback from parents and guardians of MLE students at Hill Campus
Attendance is optional, but please consider joining us for an informal discussion of your child's MLE instruction at Hill. Food and drinks will be provided. Translators will also be present. Please complete this RSVP form if you plan on attending and feel free to email me with any questions at eric_knoll@dpsk12.net.
Picture Retake Day, November 8
Students who missed Picture Day earlier this month have an opportunity for picture retakes in the morning of November 8. If you ordered school photos of your student and you would like for them to retake their picture, please have them talk to Ms. Liz or email liz_muth@dpsk12.net.
Calendar Update
Oct 23-27 Spirit Week
Oct 26 Understanding the Middle School Brain & Behavior, 5:30pm
Oct 26 Fall Dance, 6:00-7:30pm
Nov 2 Early Release Day, 1:00pm Student Dismissal
Nov 2 PAC Meeting, 2:00-3:00pm
Nov 2 Community Workshop & CSC MeetingNov 8 Picture Retake Day
Hawk Talk 20 de octubre
Gracias por las conferencias de maestros de familia
¡Fue genial ver a tantos de ustedes en las Conferencias de Maestros de Familia el jueves! Esperamos que haya podido saber cómo estaba progresando su estudiante en Hill. Tuvimos la mayor participación que hemos tenido en años. Nos disculpamos por las altas temperaturas inesperadas en octubre. Debido a los cambios en las temperaturas de otoño y nuestra creciente participación, definitivamente ajustaremos algunas piezas logísticas para futuras conferencias de otoño. ¡Es emocionante hacer crecer este evento cada otoño!
Para aquellos padres que no pudieron asistir o que desean obtener más información, siempre pueden comunicarse y programar una reunión individual con el maestro de su hijo. Las direcciones de correo electrónico y el horario de su estudiante están disponibles en el Portal para padres, o si conoce a los maestros de su estudiante, puede encontrar sus direcciones de correo electrónico en el sitio web de HIll en el Directorio de personal.
Se necesitan donaciones para el club de podcasts
Mi nombre es Sr. Williams y soy Coordinador de Justicia Restaurativa en Hill. ¡Me complace anunciar que iniciaremos un club de podcasts en los próximos meses! Esta será una gran oportunidad para que los estudiantes exploren sus intereses en los medios y el periodismo y establezcan conexiones positivas entre ellos. Actualmente estamos trabajando para reunir los suministros necesarios para que este club sea lo mejor posible y ¡necesitamos su ayuda! Buscamos donaciones de micrófonos y cámaras de video, así como donaciones financieras. Puede dejar cualquier donación, incluido efectivo o cheques, en la oficina principal. También puedes utilizar este código QR para donaciones financieras.
Semana del espíritu
Lunes 23/10 Día del Equipo Deportivo
Martes 24/10 Día de intercambio de profesores y alumnos
Miércoles 25/10 Día del desajuste
Jueves 26/10 Día de la Franela
Viernes 27/10 Día del Orgullo Skyhawk
Baile de otoño para estudiantes
El baile de otoño se llevará a cabo el jueves 26 de octubre en Hill de 6:00 p. m. a 7:30 p. m. El código de vestimenta es semiformal y habrá una tarifa de $3 en la puerta. Los estudiantes que no cumplan con los requisitos de elegibilidad serán notificados al final del día jueves.
Comprender el cerebro y el comportamiento de la escuela secundaria
El 24 de octubre, de 5:30 a 6:30, el Sr. Waldon, especialista terapéutico y de prevención de Hill, ofrecerá una presentación y un debate sobre cómo comprender el cerebro y el comportamiento de la escuela secundaria. Agotados un minuto, llenos de energía al siguiente, los estudiantes de secundaria son divertidos, intensos, a veces ensimismados, a menudo bastante confusos y, ¡oh, tan adorables! Esta sesión se centrará en el momento de desarrollo único del estudiante de secundaria. Esta sesión se llevará a cabo en la biblioteca de Hill. Se proporcionarán servicios de traducción.
Política de vestimenta de Halloween
A los estudiantes se les permite disfrutar de Halloween en Hill vistiéndose con un disfraz apropiado para la escuela. Esto significa que no hay máscaras, ni sangre, ni accesorios y, por supuesto, absolutamente nada que represente un arma. Como siempre, si un estudiante trae a la escuela algo que represente un arma, el incidente se tomará con la mayor severidad de acuerdo con la Matriz de Disciplina de DPS.
Trunk or Treat – Oportunidad de servicio comunitario para octavo grado
Familias de estudiantes de octavo grado, ¡existe una fantástica oportunidad de voluntariado para sus estudiantes en Palmer Elementary apoyando su evento Fall Festival Trunk or Treat!
Los estudiantes ayudarán a configurar, ejecutar y guardar los juegos de carnaval para los estudiantes de primaria de Palmer. Se realizarán turnos de 30 minutos con 2 personas gestionando cada partido. Para obtener más información, haga clic en este enlace Genius de registro y no olvide traer un formulario de servicio comunitario.
Como recordatorio, los estudiantes de octavo grado deben tener 6 horas de servicio comunitario para poder participar en los eventos de continuación de octavo grado al final del año. Puede encontrar más información sobre los requisitos del octavo grado en el sitio web de Hill en "Academics".
Reunión del PAC
El Sr. Knoll, nuestro proveedor de servicios ELD (Desarrollo del Idioma Inglés) para su hijo en Hill Campus of Arts and Sciences, desea invitarlo formalmente a nuestra primera reunión del año del Comité Asesor de Padres (PAC) de MLE. Se llevará a cabo en el salón 112 del Campus de Artes y Ciencias de Hill el 2 de noviembre de 2 a 3 p.m.
El propósito de esta reunión es:
Proporcionar información sobre el programa MLE en Hill Campus
Incrementar la comunicación entre los padres y la escuela.
Escuche inquietudes y/o comentarios de padres y tutores de estudiantes de MLE en Hill Campus
La asistencia es opcional, pero considere unirse a nosotros para una discusión informal sobre la instrucción MLE de su hijo en Hill. Comida y bebida serán proveídas. También estarán presentes los traductores. Complete este formulario de confirmación de asistencia si planea asistir y no dude en enviarme un correo electrónico si tiene alguna pregunta a eric_knoll@dpsk12.net.
Día de retoma de fotografías, 8 de noviembre
Los estudiantes que se perdieron el Día de las fotografías a principios de este mes tienen la oportunidad de volver a tomar fotografías en la mañana del 8 de noviembre. Si ordenó fotografías escolares de su estudiante y desea que las vuelvan a tomar, pídales que hablen con la Sra. Liz o envíen un correo electrónico. liz_muth@dpsk12.net.
Actualización del calendario
23-27 de octubre Semana del Espíritu
26 de octubre Comprender el cerebro y el comportamiento de la escuela secundaria, 5:30 p.m.
26 de octubre Baile de otoño, 6:00-7:30 p.m.
2 de noviembre Día de salida temprana, 1:00 p. m. Salida de estudiantes
2 de noviembre Reunión del PAC, 2:00-3:00 p.m.
2 de noviembre Taller comunitario y reunión del CSC
8 de noviembre Día de retomar fotografías