Hawk Talk 10/27
Posted October 27, 2023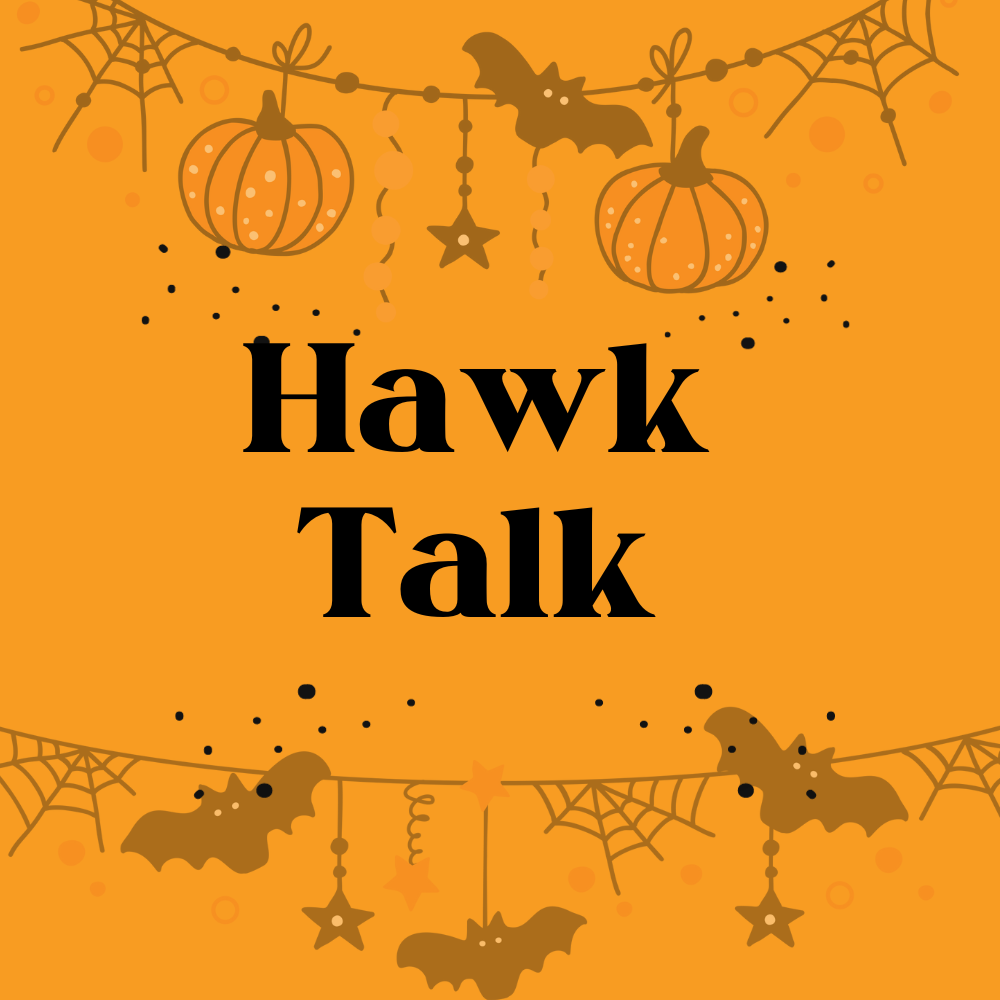 Spirit Week Recap and Dance Thank You
The first Spirit Week of the year was a rousing success! It was fun to see so many students and staff dressed up in their favorite team's jersey, as a Teacher/Student, or just in their favorite Skyhawk gear. We had a fitting end to a great Spirit Week with the Fall Ball on Thursday evening. So many of our Skyhawk friends came ready to have a fun and safe  time dancing, and hanging out with their peers. We are so grateful for the Skyhawk Community. Thank you!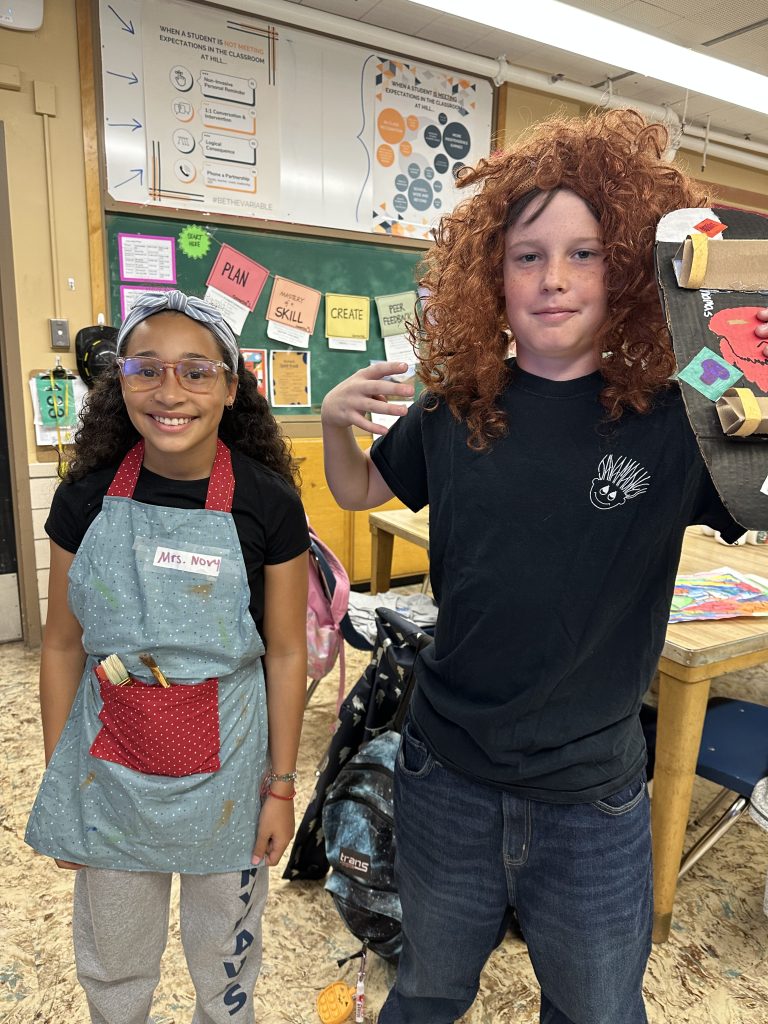 Donations Needed for Podcast Club
My name is Mr. Williams, and I am a Restorative Justice Coordinator at Hill. I am excited to announce that we will be starting a Podcast Club in the coming months! This will be a great opportunity for students to explore interests in media and journalism and build positive connections with one another. We are currently working on gathering the supplies needed to make this club the best it can be, and we need your help! We are seeking donations of microphones and video cameras, as well as financial donations. You can drop any donations, including cash or checks, to the main office. You can also use this link: Podcast Club Donations
Halloween Dress Policy
Students are allowed to enjoy Halloween at Hill by dressing in a school-appropriate costume. This means no masks, no blood, no props, and of course absolutely nothing that represents a weapon. As always, if a student brings anything representing a weapon to school the incident will be taken with utmost severity according to the DPS Discipline Matrix.
PAC Meeting
Mr. Knoll, our provider of ELD (English Language Development) services to your child at Hill Campus of Arts and Sciences, would like to formally invite you to our first MLE Parental Advisory Committee (PAC) meeting of the year. It will be held in room 112 at Hill Campus of Arts and Sciences on November 2nd from 2-3 PM.
The purpose of this meeting is to:
Provide information about the MLE program at Hill Campus
Increase communication between parents and the school
Listen to concerns and/or feedback from parents and guardians of MLE students at Hill Campus
Attendance is optional, but please consider joining us for an informal discussion of your child's MLE instruction at Hill. Food and drinks will be provided. Translators will also be present. Please complete this RSVP form if you plan on attending and feel free to email me with any questions at eric_knoll@dpsk12.net.
Picture Retake Day, November 8
Students who missed Picture Day earlier this month have an opportunity for picture retakes in the morning of November 8. If you ordered school photos of your student and you would like for them to retake their picture, please have them talk to Ms. Liz or email liz_muth@dpsk12.net.
Calendar Update
Nov 2 Early Release Day, 1:00pm Student Dismissal
Nov 2 PAC Meeting, 2:00-3:00pm
Nov 2 Community Workshop & CSC Meeting
Nov 8 Picture Retake Day
Nov 16 Early Release Day, 1:00pm Student DismNov 20-24 Thanksgiving Break, No School
Hawk Talk 27 de octubre
Resumen de la semana espiritual y baile gracias
¡La primera Semana del Espíritu del año fue un gran éxito! Fue divertido ver a tantos estudiantes y personal vestidos con la camiseta de su equipo favorito, como Maestro/Estudiante, o simplemente con su equipo Skyhawk favorito. Tuvimos un final apropiado para una gran Semana del Espíritu con el Baile de Otoño el jueves por la noche. Muchos de nuestros amigos de Skyhawk vinieron listos para pasar un rato divertido y seguro bailando y pasando el rato con sus compañeros. Una y otra vez, la comunidad de Skyhawk nos recuerda lo afortunados que somos de trabajar en Hill. ¡Gracias!
Se necesitan donaciones para el club de podcasts
Mi nombre es Sr. Williams y soy Coordinador de Justicia Restaurativa en Hill. ¡Me complace anunciar que iniciaremos un club de podcasts en los próximos meses! Esta será una gran oportunidad para que los estudiantes exploren sus intereses en los medios y el periodismo y establezcan conexiones positivas entre ellos. Actualmente estamos trabajando para reunir los suministros necesarios para que este club sea lo mejor posible y ¡necesitamos su ayuda! Buscamos donaciones de micrófonos y cámaras de video, así como donaciones financieras. Puede dejar cualquier donación, incluido efectivo o cheques, en la oficina principal. También puede utilizar este enlace: Donaciones del club de podcasts
Política de vestimenta de Halloween
A los estudiantes se les permite disfrutar de Halloween en Hill vistiéndose con un disfraz apropiado para la escuela. Esto significa que no hay máscaras, ni sangre, ni accesorios y, por supuesto, absolutamente nada que represente un arma. Como siempre, si un estudiante trae a la escuela algo que represente un arma, el incidente se tomará con la mayor severidad de acuerdo con la Matriz de Disciplina de DPS.
Reunión del PAC
El Sr. Knoll, nuestro proveedor de servicios ELD (Desarrollo del Idioma Inglés) para su hijo en Hill Campus of Arts and Sciences, desea invitarlo formalmente a nuestra primera reunión del año del Comité Asesor de Padres (PAC) de MLE. Se llevará a cabo en el salón 112 del Campus de Artes y Ciencias de Hill el 2 de noviembre de 2 a 3 p.m.
El propósito de esta reunión es:
Proporcionar información sobre el programa MLE en Hill Campus
Incrementar la comunicación entre los padres y la escuela.
Escuche inquietudes y/o comentarios de padres y tutores de estudiantes de MLE en Hill Campus
La asistencia es opcional, pero considere unirse a nosotros para una discusión informal sobre la instrucción MLE de su hijo en Hill. Comida y bebida serán proveídas. También estarán presentes los traductores. Complete este formulario de confirmación de asistencia si planea asistir y no dude en enviarme un correo electrónico si tiene alguna pregunta a eric_knoll@dpsk12.net.
Día de retoma de fotografías, 8 de noviembre
Los estudiantes que se perdieron el Día de las fotografías a principios de este mes tienen la oportunidad de volver a tomar fotografías en la mañana del 8 de noviembre. Si ordenó fotografías escolares de su estudiante y desea que las vuelvan a tomar, pídales que hablen con la Sra. Liz o envíen un correo electrónico. liz_muth@dpsk12.net.
Actualización del calendario
2 de noviembre Día de salida temprana, 1:00 p. m. Salida de estudiantes
2 de noviembre Reunión del PAC, 2:00-3:00 p.m.
2 de noviembre Taller comunitario y reunión del CSC
8 de noviembre Día de retomar fotografías
16 de noviembre Día de salida temprana, 1:00 p. m. Salida estudiantil
20-24 de noviembre Vacaciones de Acción de Gracias, no hay clases