Principal Message 9.18.2020
Posted September 18, 2020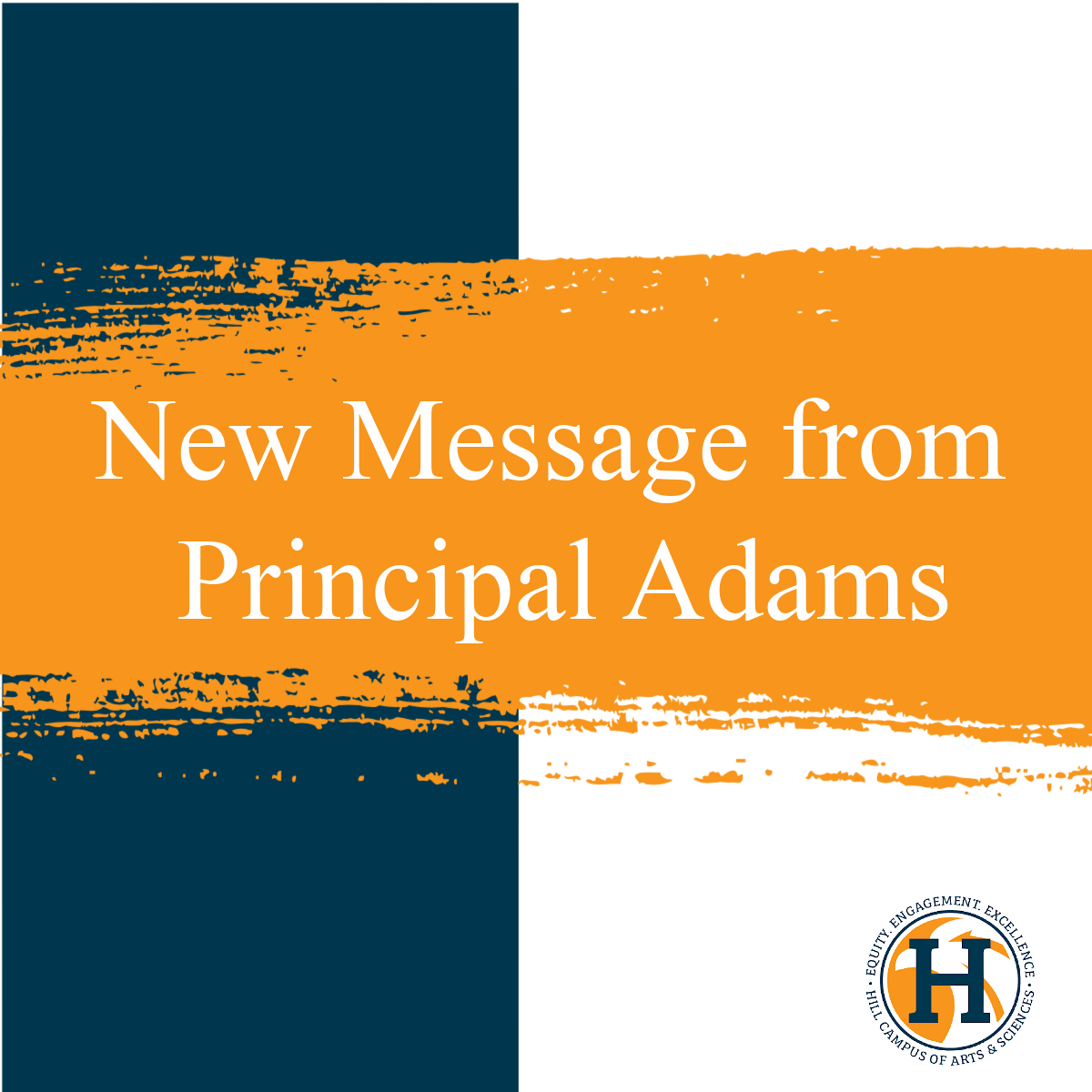 Hill Families,
I want to thank you all again for your grace as we plan for in-person opportunities. This past Wednesday, I had a chance to host a Community Meeting to share multiple schedules for the return to in-person with our students. To continue to unpack this as a staff, we are asking our families and students to weigh in on this decision with the understanding that we will select a schedule that directly aligns with our values of Equity and Engagement. This means that our plan will ensure that ALL students have access to high-quality learning opportunities. Here is the Zoom recording and the deck from Wednesday's meeting.
Additionally, after you watch the recording, please take a moment to provide feedback in this form. Below are some items that I mentioned that I would share regarding quarantining and the Hill's Safety Plan. The school will release our final return to in-person schedule tentatively on Friday, September 25th.
Hill Safety Plan: This plan provides families a look into the steps that Hill will take to ensure that our staff and students are safe for our in-person return.
Quarantine Flow Chart: Although this does not fully demonstrate the impact of the number of students or staff who may need to quarantine at one time, it does provide families the steps that schools will follow in order to determine when quarantining is needed.
Student Survey For Return to In-person Opportunities: In order to capture students' voices, here is a link for our students to share their thoughts on the return to in-person. Students can listen to the Community Meeting and discuss with their families options they would like to participate in for in-person.
UPDATE ON AFU: Today, DPS announced that families would now have until September 23rd to select an option for in-person or virtual. This will provide families more time to unpack the models that we shared.
Skyhawk Express (Back to School Night): Set your calendar join us for Skyhawk Express Itinerary Night (Back to School Night) on September 30th at 3 pm, 4pm or 5pm! You can choose one of the times to join us as we prepare to take off and soar this school year! 
REMINDER: ICAP for 8th Grade Families: Next week, September 22nd at 5 pm, we will be hosting the ICAP for families! Remember ICAP is a requirement for students to participate in 8th grade Continuation. See the website tab under Student and Family Resources under Preparing for High School here. Zoom Link: https://us02web.zoom.us/j/83057150856?pwd=cnR5RjRGSWg2ZG9CMUFzQmc2czNndz09
Nurse's Corner: Please click this link for a message from Nurse Merri.
Again, thank you for the questions and grace as we worked to create a model that puts all students first for in-person opportunities.
Principal Adams
---
Hill Familias,
Quiero agradecerles a todos nuevamente por su gracia mientras planeamos oportunidades en persona. El miércoles pasado, tuve la oportunidad de organizar una reunión comunitaria para compartir múltiples horarios para el regreso en persona con nuestros estudiantes. Para continuar desempeñando esto como equipo, estamos pidiendo a nuestras familias y estudiantes que opinen sobre esta decisión con el cronograma de comprensión del cual seleccionaremos un programa que se alinee directamente con nuestros valores de Equidad y Compromiso. Esto significa que nuestro plan asegurará que TODOS los estudiantes tengan acceso a oportunidades de aprendizaje de alta calidad. Aquí está la grabación de Zoom y la plataforma de la reunión del miércoles.
Además, después de ver la grabación, tómese un momento para enviar comentarios en este formulario. A continuación, se muestran algunos elementos que mencioné que compartiría con respecto a la cuarentena y el Plan de seguridad de Hill. La escuela comunicará nuestro plan final tentativamente el viernes 25 de septiembre.
Este plan proporciona a las familias una mirada a los pasos que Hill tomará para asegurar que nuestro personal y estudiantes estén seguros para nuestro regreso en persona.
Diagrama de flujo de cuarentena: aunque esto no demuestra completamente el impacto de la cantidad de estudiantes o personal que pueden necesitar la cuarentena al mismo tiempo, proporciona a las familias los pasos que seguirán las escuelas para determinar cuándo se necesita la cuarentena.
Encuesta para estudiantes para oportunidades de regreso en persona:
Para capturar las voces de los estudiantes, aquí hay un enlace para que nuestros estudiantes compartan sus pensamientos sobre el regreso en persona. Los estudiantes pueden escuchar la reunión comunitaria y discutir con sus familias las opciones en las que les gustaría participar en persona.
ACTUALIZACIÓN SOBRE AFU:
Hoy, DPS anunció que las familias ahora tendrían hasta el 23 de septiembre para seleccionar una opción en persona o virtual. Esto les dará a las familias más tiempo para desempacar el modelo que usaremos en persona.
Noche de Regreso a la Escuela
Establezca su calendario y únase a nosotros para la Noche del Itinerario Skyhawk Express (Noche de Regreso a la Escuela) el 30 de septiembre a las 3 pm, 4 pm o 5 pm. ¡Puede elegir uno de los momentos para unirse a nosotros mientras nos preparamos para despegar y volar este año escolar!
RECORDATORIO: ICAP para familias de 8º grado: ¡La próxima semana, 22 de septiembre a las 5 pm, organizaremos el ICAP para familias! Recuerde que ICAP es un requisito para que los estudiantes participen en la continuación del octavo grado. Vea la pestaña del sitio web en Recursos para estudiantes y familias en Preparación para la escuela secundaria aquí. Zoom Link: https://us02web.zoom.us/j/83057150856?pwd=cnR5RjRGSWg2ZG9CMUFzQmc2czNndz09
Nuevamente, gracias por las preguntas y la gracia mientras trabajamos para crear un modelo que pone a todos los estudiantes en primer lugar para las oportunidades en persona.
Rincón de la enfermera
Haga clic aquí para ver un mensaje de la enfermera Merri.
Principal Adams