Hawk Talk 10/22
Posted October 22, 2021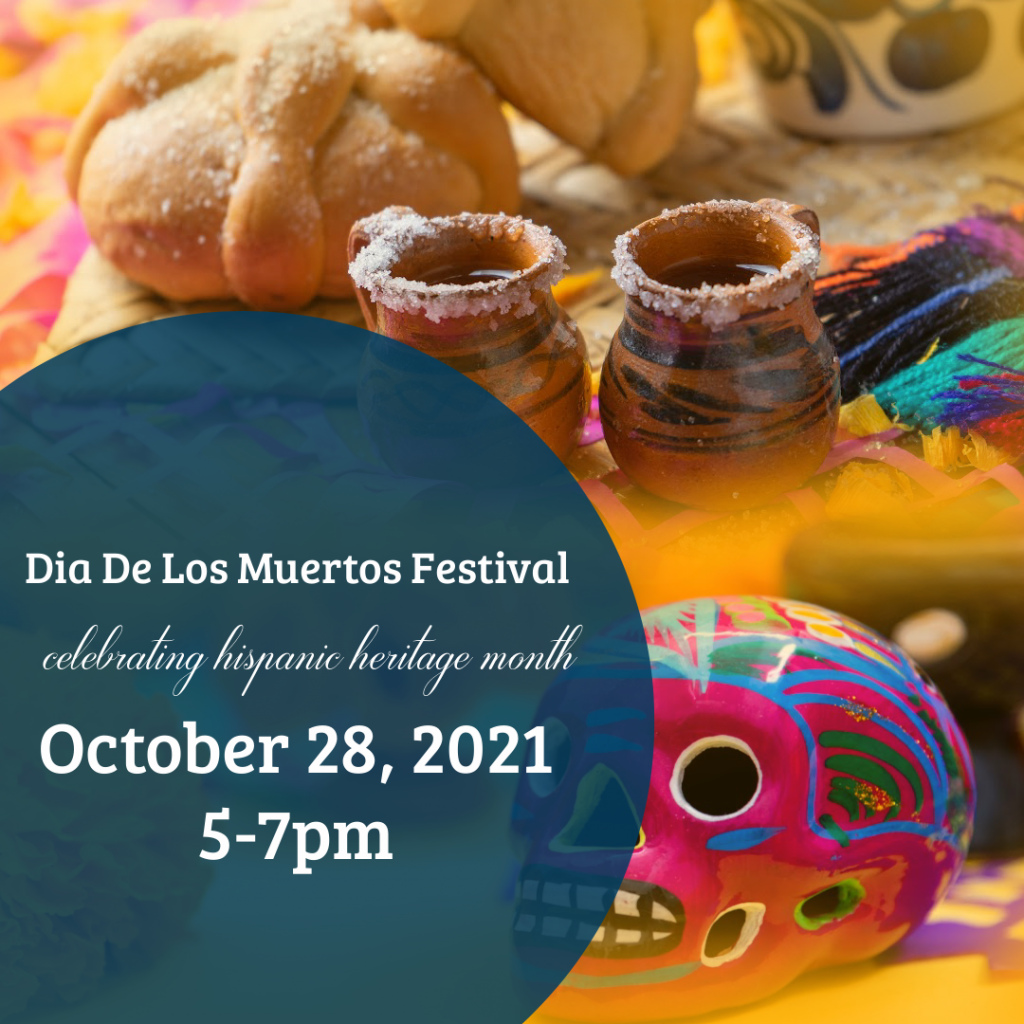 We are ending our celebration for Hispanic Heritage Month by honoring our ancestors in the traditional celebration of Dia De Los Muertos. We will have an alter up beginning Monday afternoon in the lobby for students and families to bring in photos of family members who have passed. THURSDAY we will have sopaipillas and drinks while we watch CoCo in the auditorium from 5pm-7pm all family members are welcome to attend. RSVP HERE
Standards Based Grading
Standards Based Grades will be posted for families to access in portal family portal on Tuesday, October 26, 2021. Check out our resources that explain our Standards Based Grading: Family SBG Letter and  Informative One Pager Spanish version:
Family Night Survey
Thank you to all the families who attended Family Night! Help us make it better next time by completing this survey: Family Night Survey
Prospective Student Tours
Our first Prospective Student Tour will be on Friday, October 29 from 8:30am-9:30am. Encourage friends who have rising 6th graders to register for one of our informative daytime tours or an evening Open House. Prospective Student Tour Sign-Up
Coat Drive
The temps are falling and some of our students will need a warm jacket, sweatshirt, or other warm weather gear. Please bring your gently used clothing to room 135 at Hill. Questions? Contact Jennifer I, jennifer_i@dpsk12.org
Harvest Basket Family
Thanksgiving break is around the corner, and we are preparing for another Harvest Basket distribution. Each basket will have non-perishable items for a celebratory dinner, and other goodies. If you are interested in receiving a basket, please complete this form, or contact Beth Crance (elizabeth_crance@dpsk12.org) or Jennifer I (jennifer_i@dpsk12.org) to have your family added to the list.
Hill After School Clubs
Even though the Sign-Up Genius is closed, there is still time to join. Click on the CLUBS link, peruse the available options, add your name and show up for the next one. Clubs are Monday, Tuesday, Thursday and Friday from 3:20-4:00.
Halloween
Students will be allowed to dress-up that is appropriate for school in celebration of Halloween. Students choose to dress up for Halloween, masks and props should be left at home so as not to distract from the learning environment. Students who come to school with masks, etc. will have their accessories held in Room 135 until the end of the day.
CSC Meeting reminder
The next Collaborative School Committee (CSC) meeting is scheduled for Tuesday, Nov 2 at 5:30pm. You can join in-person at Hill Room 202 or virtually, ZOOM LINK HERE
Meeting ID: 849 8896 5151
Passcode: Skyhawks
Half-Day Early Release
On half-day Wednesdays, when students are dismissed at 12pm, there will be no early releases between 11:45am-12pm. This is due to the bus lane being occupied and the logistical arrangements of students already leaving at 12pm.
Sports Updates
Congratulations to our Boys Soccer and Girls Softball teams! Both teams had winning seasons and advanced through their playoff brackets to the championship finals!!
Boys Soccer played a competitive match against McAuliffe with the game ending in a tie at the end of regulation. In an exciting shoot-out, Hill's Boys did their best to bring home the trophy but fell short, losing to McAuliffe in the end.
On the Girls Softball side, Hill went up against an undefeated Merrill team who had rung up 20+ runs against most teams in DPS. The girls played great defense behind pitcher Amelia Nelson and kept the Merrill team score to its lowest of the season, but their performance wasn't enough to bring home the trophy.
Both Teams displayed great sportsmanship during the season and we are proud of their hard work and dedication!
State Cross Country Meet this Saturday Oct. 23rd at Fehringer Ranch Park. 8:45-11:45am
---
Terminamos nuestra celebración del Mes de la Herencia Hispana honrando a nuestros antepasados ​​en la celebración tradicional del Día de los Muertos. Tendremos un cambio a partir del lunes por la tarde en el vestíbulo para que los estudiantes y las familias traigan fotos de los miembros de la familia que han fallecido. JUEVES tendremos sopaipillas y bebidas mientras vemos CoCo en el auditorio de 5 pm a 7 pm todos los miembros de la familia son bienvenidos. RSVP AQUÍ
Calificación basada en estándares
Las calificaciones basadas en estándares se publicarán para que las familias accedan en el portal familiar el martes 26 de octubre de 2021. Consulte nuestros recursos que explican nuestras calificaciones basadas en estándares: carta SBG para familias y una página informativa
Encuesta de noche familiar
¡Gracias a todas las familias que asistieron a la Noche Familiar! Ayúdenos a mejorarlo la próxima vez completando esta encuesta: Encuesta de noche familiar
Tours para estudiantes potenciales
Nuestro primer Tour para estudiantes potenciales será el viernes 29 de octubre de 8:30 am a 9:30 am. Anime a los amigos que tienen estudiantes de sexto grado a que se registren en uno de nuestros recorridos informativos durante el día o en una jornada de puertas abiertas por la noche. Inscripción en el tour para estudiantes potenciales
Recogida de abrigos
Las temperaturas están bajando y algunos de nuestros estudiantes necesitarán una chaqueta abrigada, una sudadera u otro equipo para el clima cálido. Por favor traiga su ropa usada en poco tiempo a la habitación 135 en Hill. ¿Preguntas? Póngase en contacto con Jennifer I, jennifer_i@dpsk12.org
Familia de canastas de cosecha
Las vacaciones de Acción de Gracias están a la vuelta de la esquina y nos estamos preparando para otra distribución de la Cesta de la Cosecha. Cada canasta tendrá artículos no perecederos para una cena de celebración y otras golosinas. Si está interesado en recibir una canasta, complete este formulario o comuníquese con Beth Crance (elizabeth_crance@dpsk12.org) o Jennifer I (jennifer_i@dpsk12.org) para que su familia se agregue a la lista.
Clubes después de clases de Hill
Aunque el Sign-Up Genius está cerrado, todavía hay tiempo para unirse. Haga clic en el enlace CLUBS, examine las opciones disponibles, agregue su nombre y preséntese para la siguiente. Los clubes son los lunes, martes, jueves y viernes de 3: 20-4: 00.
Víspera de Todos los Santos
A los estudiantes se les permitirá vestirse apropiadamente para la escuela en celebración de Halloween. Los estudiantes eligen disfrazarse para Halloween, las máscaras y accesorios deben dejarse en casa para no distraer la atención del entorno de aprendizaje. Los estudiantes que vengan a la escuela con máscaras, etc., tendrán sus accesorios en el salón 135 hasta el final del día. (Liz)
Recordatorio de reunión de CSC
La próxima reunión del Comité Escolar Colaborativo (CSC) está programada para el martes 2 de noviembre a las 5:30 pm. Puede unirse en persona en Hill Room 202 o virtualmente, ZOOM LINK.
ID de la reunión: 849 8896 5151
Código de acceso: Skyhawks
Salida anticipada de medio día
Los miércoles de medio día, cuando los estudiantes salen a las 12 p. M., No habrá salidas tempranas entre las 11:45 a. M. Y 12 p. M. Esto se debe a que el carril bus está ocupado y a los arreglos logísticos de los estudiantes que ya se van a las 12 pm.
Actualizaciones deportivas
¡Felicitaciones a nuestros equipos de fútbol masculino y softbol femenino! ¡Ambos equipos tuvieron temporadas ganadoras y avanzaron a través de sus paréntesis de playoffs a la final del campeonato!
Boys Soccer jugó un partido competitivo contra McAuliffe y el juego terminó en empate al final del tiempo reglamentario. En una emocionante tanda de penaltis, Hill's Boys hizo todo lo posible para llevarse el trofeo a casa, pero se quedó corto y al final perdió ante McAuliffe.
En el lado del Softbol Femenino, Hill se enfrentó a un equipo invicto de Merrill que había acumulado más de 20 carreras contra la mayoría de los equipos en DPS. Las chicas jugaron una gran defensa detrás de la lanzadora Amelia Nelson y mantuvieron el puntaje del equipo Merrill en su nivel más bajo de la temporada, pero su desempeño no fue suficiente para llevarse el trofeo a casa.
Ambos equipos demostraron un gran espíritu deportivo durante la temporada y estamos orgullosos de su arduo trabajo y dedicación.
State Cross Country Meet este sábado 23 de octubre en Fehringer Ranch Park. 8: 45-11: 45am